Sonus Faber Lumina III loudspeaker Page 2
The Lumina IIIs reproduced the 1/3-octave warble tones on
Editor's Choice
with good power down to the 80Hz band. While the 63Hz and 50Hz tones were quieter, the 40Hz and 32Hz tones had reasonable weight, the latter aided by the lowest-frequency mode in my room. The 25Hz and 20Hz warble tones were inaudible at my usual listening level. The half-step–spaced tonebursts on
Editor's Choice
spoke cleanly down to 100Hz but were lighter in weight in the bottom two octaves. When I listened to the speakers' back and side panels with a stethoscope while these tones played, I could hear some fairly strong vibrational modes between 500Hz and 1kHz.
It was time for music.
Since New York City's lockdown in March 2020, I have taken a daily walk in my neighborhood, masked and socially distanced. I had not previously noticed that some houses have a small, standmounted bookcase in their front yard. Closer inspection revealed that these were examples of a free lending library (see LittleFreeLibrary.org). I started donating and borrowing books. One recent example of the latter was Walking on the Moon by Chris Campion, about the Police, including their rise to worldwide fame amidst the late-1970s punk rock scene. I started my serious listening to the Sonus Fabers the day I started reading this book. I loaded the 2003 dual-layer SACD Every Breath You Take: The Classics (A&M Chronicles 069 493 607-2) into the MBL N31's CD slot, cued up "Invisible Sun," and pressed play (footnote 1).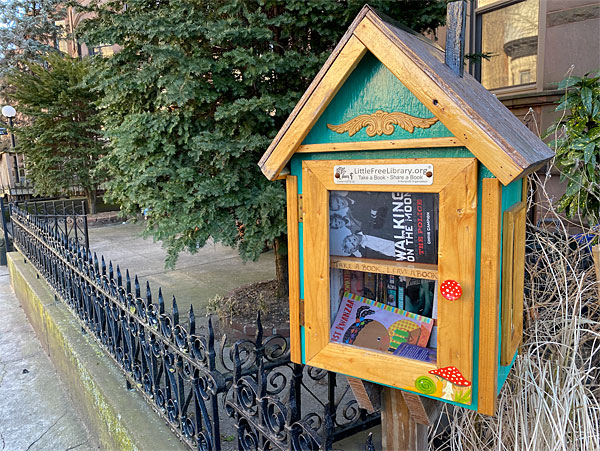 The kickdrum in the song's chorus was produced with good weight; so was the bass guitar. Neither instrument suffered from undercontrolled reflex-speaker "boom." Vocals lacked a little body. Stewart Copeland's tom-toms had excellent leading-edge definition. The cymbal crashes that punctuate the chorus had suitable sizzle, as did the hi-hat on "De DoDoDo, DeDaDaDa." Sting's voice sounded more substantial on this track and on his "Practical Arrangement" from The Last Ship (24/96 ALAC, A&M), suggesting that the Lumina IIIs were faithfully reproducing what the mixing engineer intended.
A consistent factor in my listening was the Sonus Fabers' excellent top-octave clarity, which made the improvement offered by the Grimm server's upsampling easy to hear. When a recording's treble was balanced a little too forward, as on Patricia Kopatchinskaja's close-miked performance of the Tchaikovsky Violin Concerto with MusicAeterna conducted by Teodor Currentzis (16/44.1 FLAC file ripped from CD, Sony Classical 88875165122), the high frequencies became too prominent. But with more naturally balanced recordings, like Eiji Oue and the Minnesota Orchestra performing Rimsky-Korsakov's The Snow Maiden (from Exotic Dances from the Opera, 16/44.1 FLAC, Reference Recordings/Tidal), the Lumina IIIs sounded appropriately rich, with sufficient weight to the bass drum and natural tone colors in the violins. This Professor Johnson recording was also reproduced with good image depth.
I am sometimes surprised when conventional rock recordings turn out to have good soundstage depth. The Police tracks I played did not excel in this department; everything sounded close to the plane of the speakers. But on "Telegraph Road" from Dire Straits' Love Over Gold (16/44.1 MQA-encoded FLAC, unfolded to 24/88.2 by Roon, Warner Bros/Tidal), the Lumina IIIs placed the sound effects that open the song well behind Mark Knopfler's guitar, as they did the piano and occasional percussion.
On my own recordings, I always try to manage the miking and mixing to preserve soundstage depth. This is not a straightforward process when I have to use close miking. For example, I recorded Marc Neikrug's Pueblo Children's Songs at the 1998 Santa Fe Chamber Music Festival with a pair of directional cardioid mikes arranged in an ORTF configuration as the main microphones (footnote 2). This gave a well-defined stereo image, but soprano Heidi Grant Murphy's voice lacked bloom in her lower-frequency range. I therefore used DPA omnis as spot microphones for Murphy. In the mixdown, I worked with the relative timing and level of the close-miked track to place her image in front of Marc Neikrug's Steinway piano.
Played back on the Sonus Faber Lumina IIIs, that is what I heard. Murphy's voice sounded natural, without any sibilance, but I also felt that when she sang at high levels in her upper registers, the clarity was reduced a little.
Solo piano recordings are my go-to diagnostic tool for upper-midrange issues. I cued up another Stereophile recording, though not one I made: Robert Silverman performing the two Rachmaninoff piano sonatas, which we had reissued in 2008 (16/44.1 ALAC files, ripped from Stereophile STPH019-2). The first sonata was recorded in analog in 1980; Silverman's performance of this epic-proportioned work, with its haunting melodies, sensual harmonies, and massive dynamic contrasts, has become a favorite. The Lumina III's clarity allowed me to hear an occasional touch of wow—the analog master was not in the best shape when the digital transfer was made—but I was not aware of any upper-midrange coloration: No notes were being pushed forward.
I returned to the Police for my final session with the Sonus Fabers, specifically "Wrapped Around Your Finger," which I hadn't played for more than a decade. Listening to this track on the Lumina IIIs left me forgetting the sound and marveling anew at the musicianship—especially of guitarist Andy Summers—the intelligence of the arrangement, and the ingenuity of the minds behind what could be dismissed as a "pop" song. In other words, the speakers stepped out of the way of the music.
Conclusion
Sonus Faber's Lumina III offers excellent sound quality even without taking its affordable price into consideration. No, it doesn't offer powerful, extended bass; for that you will have to spend a lot more money. The Lumina III's woofer alignment is tuned for clarity and articulation, and I found that experimenting with room placement is necessary to optimize the low-frequency performance. I don't recommend this speaker for use with source components that are themselves too forward in the treble, even with the toe-in adjusted to give the most-neutral treble, but in the right system and room, this elegant-looking tower will excel at communicating the music's message.
---
Footnote 1: 3 Although the N31 is capable of DSD file playback, its transport is CD-only. JA was listening to the CD player.—
Editor
Footnote 2: This recording is found on the CD Bravo! (Stereophile STPH014-2).