Sanctuary with the Sennheiser Momentum Wireless M2 AEBT
This story originally appeared at InnerFidelity.com
Sennheiser Momentum Wireless M2 AEBT($499)
The audiophile in me was disappointed when I learned that Sennheiser's big reveal at CES this year would be some physical changes to, and wireless versions of, their Momentum and Urbanite lines. What hot blooded headphone enthusiast doesn't yearn for the next Sennheiser flagship? The pragmatist inside me understood the move perfectly, Sennheiser is invested in the two brands and is strengthening them for the long haul. Fair enough.
To my eyes the changes and additions to the Momentum line were quite welcome. A folding mechanism was added to the headband...something this headphone desperately needed as there were no folding features at all, which made for a fairly large carry case. The size of the ear-cups were significantly increased and the swivel fitting that attaches the ear-cup to the headband improved—very welcome improvements as the first iteration of the Momentum had some fitment problems. I very much appreciate Sennheiser's careful and considered improvements to the line, the changes are modest but absolutely spot-on.
On the other hand, extending the Momentum line to include a wireless product is big step, made much bigger by including noise canceling with these headphones. Adding the electronics to the ear-cups for wireless operations can mess with the acoustic design and degrade performance. Adding noise canceling, in my experience, is usually devastating to sound quality. Let's take a look and see how well Sennheiser has done.
Styling, Comfort, and Build
The Sennheiser Momentum Wireless is a full sized, sealed headphone with noise canceling and Bluetooth wireless operation. The overall design is simple and elegant. The sweeping arc of the real leather covered stainless steel headband is perfectly proportioned to the ear-cups. Two colors are available (black and ivory) and the mix of materials and colors on each is tastefully understated. This is a very handsome pair of headphones.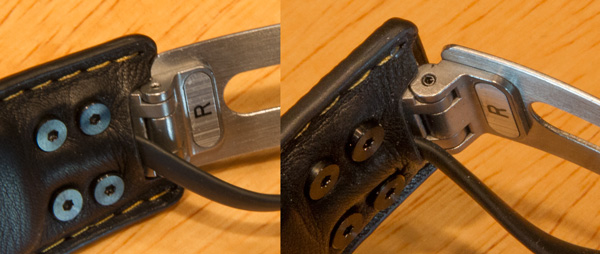 Headphone hinges are often a weak point, but the hinge on the Momentum is solid stainless steel and confidence inspiring. A clever detent is built within the hinge allowing it to hold its position nicely when open, and to close easily on demand.
Ear-cups are attached to the headband with a swivel fitting and slide up and down the headband smoothly, but with enough resistance to remain securely in place when wearing or while removing from or replacing them on your head. This swivel seems to have been redesigned to allow greater range of motion than the previous model, and this revised model does seem to fit better on my head.
Ear-cushions have been fairly dramatically redesigned. The leather has an extremely pliable, almost "gooey" feel—really nice. Not only are they larger in circumference and depth than the previous model (55x38x19mm vs. 48x34x17mm LxWxD), they're also angled. The result is a very comfortable fit; I easily wore them for many hours on a plane recently. I will mention, however, that because of the larger pads they are less comfortable when worn around the neck than the first version. Cushions are replaceable, but fair warning, they are not easy to put back on. The groove is very narrow and the fit tight.
The headband pad...just isn't. There doesn't appear to be any padding whatsoever under the leather of the headband pad, and frankly, I don't think it matters. I spent quite a bit of time pondering this and came up empty; I'm going to have to talk with the Sennheiser engineers next CES and get a bit of schooling on the subject. I think this is one of those times when there's a lot I don't know that I don't know I don't know. I've had headphones with soft cushions that hurt the top of my head, and now I've experienced a headphone with no cushion at all that's perfectly comfortable. I suspect, in this case, that the low weight of these cans (258grams) and having twin spars on top to distribute the weight between two places makes cushions unnecessary.
The included cable is plenty long for mobile use at 57", and is relatively thin and pliable. It's terminated at the headphone end with a 2.5mm TRRS connector with locking detents molded into the connector body. The player end of the cable is terminated in very compact and stylish metal-bodied 90 degree angled 3.5mm TRS plug. If you're wondering why there's a TRRS (tip-ring-ring-sleeve) plug on the headphone end and a TRS plug on the player end, well, join the club. Not sure what's going on here, it's certainly not going to provide remote functions through the cable. More on that in a moment.
Included with the headset is a very nice stiff-sided, clam-shell carry case (picture on next page), a fabric storage pouch, USB charging cable, and an airline adapter.
Features and Functions
The Momentum Wireless M2 AEBT has three modes of operation: wired passive, wired active, and wireless active. When the power is on, noise canceling is active; you cannot turn off the noise canceling while using it in Bluetooth or wired active mode. Oddly, in any wired mode, the M2 will not act as a smartphone headset. There is a work-around for this: simply buy a cable for the regular Momentum On-Ear (Part#556941 $50.23) as it has a remote and mic in-line. Unplugging the wire when powered on will activate the Bluetooth electronics.
All the external mics, indicators, and controls for the Momentum Wireless are mounted in the dark ring around the ear-cup next to the pads. The two controls are the power on/off button and a multi-function switch.
Controls act very much as expected for a Bluetooth 4.0 device. It does have the aptX codec, and is compatible with devices that support the following profiles: Hands Free (HFP); Headset (HSP); Audio/Video Remote Control (AVRCP); Advanced Audio Distribution (A2DP); and Device ID (DIP). Powering it on will cause the M2 to try to pair with it's last two paired devices. Powering it on and holding down the power button for about seven seconds causes the M2 to enter pairing mode and will search for a new device. An NFC (near field communications) chip is in the left ear-piece for fast Bluetooth pairing with NFC enabled devices. Pairing was always quick and painless.
The other control is a multi-function switch that can be momentarily slid up or down (usually to control volume) or momentarily pushed in (to answer calls and, with music playing pause/play, or with multiple pushes, track forward and back). Voice prompts from a female robot with an English accent keep you updated with statements like: "power on"; "device connected"; "pairing"; "max volume"; etc.
Throughout the entire period using these headphones—about two months of fairly regular use—the Momentum Wireless M2 has operated flawlessly and I've had no problems whatsoever. Battery life on a full charge is about 20 hours; it takes about three hours to fully charge from a dead battery. Unlike some other noise canceling headphones I've used, the acoustics of the noise canceling seem stable—I have had no problems using it with my head on a pillow or with the cans blocked by the hood of my jacket. (Some noise cancelers will go into low frequency oscillation in those cases.) Controls are intuitive and ergonomically placed on the headphones. (For complete details see instruction manual here.) Top notch styling and comfort, and simple functionality makes getting comfortable with the Momentum Wireless M2 AEBT very easy.
Flip the page and we'll have a listen.