The Rolling Stones: Their Satanic Majesties Request 50th Anniversary Edition
While it may elicit shakes of the head, nasty, distasteful looks, or vociferous yawps about its being nothing more than a load of warmed-over psychedelic pandering, the time may have come to listen again to
Their Satanic Majesties Request
, the much-maligned 1967 album by the Rolling Stones—and perhaps think of it in a slightly more humane light. Few records from that or any other era have been as widely savaged. It's easy to make the argument that any record with such a pretentious title deserves to be ridiculed. The music itself is scattered and feels unfinished in spots. Then there's that cover image. Glued to the front of the album jacket of original pressing copies in the US and UK was a lenticular, three-dimensional image of the band decked out in fairy-tale/hippie outfits and sitting in a menagerie, reminiscent of the cover art of the Beatles'
Sgt. Pepper's Lonely Hearts Club Band
. It struck most people as a ridiculous gimmick—or, worse, the best thing about the album.
Sgt. Pepper's came out in June 1967, just as the Stones were getting serious about recording Satanic Majesties. When the album was released that November, it was immediately labeled as a less-than-thrilling response to the Beatles album, and has never been thought of as being in the same rarified company as Let It Bleed or Exile on Main Street. Released after Between the Buttons (January 1967) and before Beggars Banquet (November 1968), (and the odds and sods US compilation/placeholder Flowers, June 1967), Satanic Majesties—the band's sixth UK and eighth US album—was the first Stones album to have an identical track list in both its British and American editions. With string arrangements by soon-to-be Led Zeppelin bassist and keyboardist John Paul Jones, and, in "In Another Land," backing vocals by Ronnie Lane and Steve Marriott, the record is the Stones' attempt at integrating into their music psychedelic elements that are now once again fashionable. Satanic Majesties has more instruments on it than any other Stones record. Somewhere on this album can be heard every percussion instrument imaginable, and then some.
Most arguments against Satanic Majesties being worth even a single listen concern the quality of the songs themselves. While a single released before the album, "We Love You" (with backing vocals by John Lennon and Paul McCartney) b/w "Dandelion," was fine, so-called "workout" songs like "Sing This All Together" (it appears twice, à la "Sgt. Pepper's Lonely Hearts Club Band") and "Gomper" are so loose as to verge on filler. And while it's true that this is not top-drawer Glimmer Twins songcraft, other factors must be taken into account. The Stones' manager and producer, Andrew Loog Oldham, quit in the middle of the Satanic Majesties sessions, leaving the band to record and produce the rest of the album themselves, at a time when several members were dealing with drug-related issues and were generally wallowing in personal excess.
While Mojo magazine, in a review of the later 1968 single "Child of the Moon" (February 7, 2014), has referred to Satanic Majesties as "high Mephistophelian baroque" and "wretched psychedelic excess," the most damning comments over the years came from Mick Jagger ("rubbish") and Keith Richards ("a load of crap").
But time passes. And sometimes a work of art, plus age, can equal a masterpiece. Fifty years after the album's release, a creakier, less rambunctious version of the Rolling Stones is still on the road, and it's time to reconsider Satanic Majesties. That's been made easier thanks to a new two-LP, two-SACD 50th Anniversary Special Edition from ABKCO Records, the label founded by Allen B. Klein and now run by his son Jody. ABKCO owns the masters and publishing for the Stones' catalog on Decca/London up through "Get Yer Ya-Ya's Out!" The Rolling Stones in Concert, and the label's relationships with the Stones and the Beatles have been fraught with innumerable controversies, most of them detailed in Fred Goodman's excellent book Allen Klein: The Man Who Bailed Out the Beatles, Made the Stones, and Transformed Rock & Roll (Eamon Dolan/Houghton Mifflin Harcourt, 2015). Like most ABKCO releases over the last 30 years, the new reissue of Their Satanic Majesties Request is the work of ABKCO's chief engineer, Teri Landi, and the great Bob Ludwig of Gateway Mastering, in Portland, Maine.
After working literally across the street from the ABKCO offices for years without ever paying them a visit, I decided that, now that we've moved to new offices uptown, it was high time to head south on Fifth Avenue to see Landi and hear the new remastering of Satanic Majesties. Having listened to and enjoyed so many of the projects she's helmed over the years, by such acts as the Stones, the Kinks, and Sam Cooke, I was anxious to meet her and talk about her rarified gig. We got along famously. Landi clearly has engineering gravitas, and trained ears worthy of respect. Inside ABKCO's modern HQ, which features an innovative and attractive lighting fixture made of retired microphones, Landi's mastering studio is very clearly her lair. It reminds me of my own mess of an office: Tape machines lurk in corners, and unopened CDs she's trying to find time to listen to are piled here and there; there are even vintage equalization units from Olympic Studios, in London, where the Stones often worked.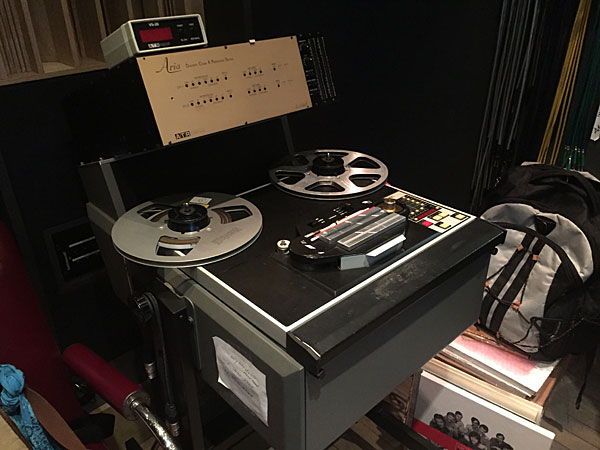 As I sat in Landi's studio, reading the hand-written editing notes of the original engineers on boxes of ¼" tape—and actually holding the master tapes of Beggars Banquet—I felt I first had to try to clear up a point of contention about the Stones' recorded legacy. Considering the plethora of tales about master tapes being found in Malaysia, and other masters being ragged masses of splices that are now virtually useless, I was curious to know from Landi if the master tapes owned by ABKCO are being carefully stored, and what their present condition is.
"The Rolling Stones tapes that we have are really pretty excellent. Like with any tape library, you're going to have some tapes that pose a problem. I don't think anybody who does this work has not come upon something that was a problem. It's various kinds of tapes. Scotch 201 in some of them, which is the tape that you cross your fingers and pray when you put it up. Even if it's something you had up ten years ago, ten years later you put it up and hope that nothing's deteriorated. It's the tape that's famous for the oxide just falling off.
"Some of them are on RCA Red Seal, better versions of Scotch, BASF, and EMI tape, which always holds up really, really well. You sometimes have Scotch, BASF, and EMI on one reel, and they all sound different. My job is to transfer them correctly, and then it's Bob [Ludwig]'s job to make them sound like one uniform record album."
How were the tapes for Satanic Majesties?
"There are a couple problems, but we were able to resolve them. We'll leave it as a mystery," she said with a sly smile.
I had to guess. Speed corrections?
"No, not really speed corrections."
Bad splices?
"Yeah, you got it."