Roksan Kandy K2 BT integrated amplifier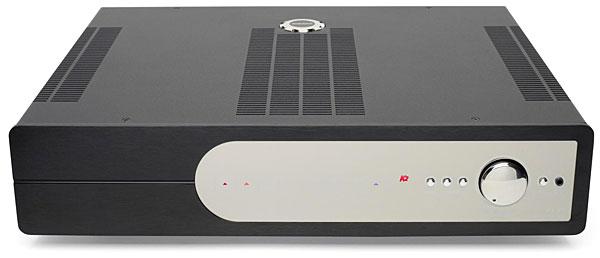 It was spring. I was planting kale and cabbage, wearing bib overalls, and listening to Pigboy Crabshaw (aka Elvin Bishop) on my iPhone. My girlfriend, "bb," came out, and just stood there laughing. "What's this?
American Gigolo: The Alabama Years
?"
Now, please, don't start worrying about your newest Stereophile reviewer. I've owned my share of Julie London and Jennifer Warnes records, but these days I'm more into Hazel Dickens and Maybelle Carter. It's summertime, fish are jumpin', and that dirt-road American music is getting me high.
But wait! Before I go fishing and napping, I have an important question. Can hillbilly-trucker gospel recordings be useful for evaluating sophisticated audiophile equipment? Steve Guttenberg and I have this discussion all the time. Steve maintains that any reviewer who wants to accurately assess imaging, ambience, and realistic instrumental timbre must employ purely acoustic, simply miked recordings made by master recordists like David Chesky, Kavichandran Alexander, Todd Garfinkle, or my esteemed editor. I completely agree. "But Steve!" I always argue, "I do use high-pedigree acoustic recordings to evaluate those qualities. But you know I can't think and listen to music at the same time!"
The moderately priced integrated amplifiers I've been reviewing have had astonishingly different characters. Each has emphasized different aspects of music playback. Therefore, I believe that if I were to compare them all to some real or imaginary reference—as in, which integrated makes such-and-such reference recording sound the best?—I would entirely miss out on discovering and describing their true and unique personalities.
I was listening to Carl Perkins sing "Give ol' Tennessee credit for music . . . ," from the compilation The Music of Tennessee (2 CDs, Oxford American Southern Music CD 15), when a second question came to mind. If all this sophisticated high-end audio gear can't play the hell out of country blues and gospel, what good is it? Well? Right now, I am here to testify that, from the first disc I played to the last, Roksan Audio's K2 BT integrated amp ($1900) played the frickin' dickens out of a barn full of great American music.
What this is?
In his review of Roksan's original Kandy K2, in the May 2010 issue, Art Dudley used, out of complete necessity, 264 words to tell the reader how to turn the thing on. Now I understand—without a manual, it took me 26 hours to figure out how to turn the new Kandy K2 BT off. Because the mains switch is at the left front of the bottom panel.
The more I used the K2 BT, the more I understood (and enjoyed) the left-to-right intelligence of its red lights and bright chrome layout. The three most important buttons are just to the left of the volume control. The first, Mode, activates the amplifier from Standby. Pressing Mode once with the K2 BT already activated lowers the volume level by 20dB, the Mode indicator light changes from red to amber, and the amp remains fully functional. Press Mode again and the volume returns to full level and the indicator light reverts to red.
My favorite controls were just to the right of Mode: the back and forward input-select buttons. I know it sounds silly, but more than with any other amp or preamp I've used, I really enjoyed the feel of selecting inputs with the K2 BT. As I pressed one of these buttons, the red indicator lights moved left or right: Mode–CD–Aux 1–AV–Aux 2–Aux 3–Phono–BT (Bluetooth). It wasn't just the sensation; it was the fact that I could actually see, without straining, what I'd selected. Nice work, Roksan.
The owner's manual (supplied on a USB drive) recommends leaving the K2 BT on at all times, unless you plan to be away from the house for a long period. I can confirm that the longer the Roksan cooked, the sweeter and more relaxed it sounded.
Besides its Bluetooth input and a phono stage (moving-magnet), the K2 BT has a preamp output (for multi-amping or a subwoofer), a bypass input (when the bypass switch is set to On), three line inputs, and an AV input (for when the bypass switch is set to Off).
Up in Nashville
Continuing my exploration of the American South, I listened to Mother Maybelle Carter strumming and singing "Broken Hearted Lover," on the Carter Family's Home Among the Hills (LP, Columbia Harmony HL 7344). It was a lazy summer day—I could see Maybelle and me sitting on a blanket by a weeping willow near the Cumberland River. A nice vision, but at this early stage of my auditioning the Roksan K2 BT, it sounded a touch benign and unspectacular—a little low on energy. When I played the album a second time, the energy picked up some, and my cherished Maybelle began to come to life. (This was when I decided to heed the manual and leave the amp on 'round the clock.)
If you promise not to make me define these words, I will tell you that while listening to this Carter Family LP, the words natural and uncolored kept floating into my consciousness. So did "not as transparent or detailed as the costly stuff." But, interestingly, nothing in the K2 BT seemed to get hold of the music and bend or twist it, or coat it with its own electromechanical gunk. Even more than the Rogue Audio Sphinx and the Naim NAIT 5si, which I respectively reviewed in the August and October 2014 issues, the Roksan K2 BT let the music go by in an easy, untethered fashion. Tempo and melody seemed neither pushed nor pulled. Another early thought: Wow! At last—a really good phono stage in a modestly priced integrated.
Next up was another Tennessean, O.V. Wright. When I first played his Nucleus of Soul, from 1969 (LP, Back Beat BLP-67), I got a weird feeling about the lack of clarity and scale in the stereo presentation. This got me wondering whether the K2 BT's phono input might be inverting absolute phase. [It doesn't.—Ed.] You see, each active stage of an amplifier rotates the phase 180°. Amplifiers with an odd number of stages require a wiring adjustment to maintain absolute phase. Concerned and confused, I reversed both speaker leads and played one side again. My experiment was inconclusive.
Hoping for more "absolute" confirmation, I put on a peaceful old mono favorite that I've heard a thousand times: "500 Miles," from Peter, Paul and Mary (LP, Warner Bros. W1449). I played the song three times, reversing the loudspeaker connections each time, and still couldn't decide. Reversing the phase while playing a mono recording usually causes a loss of instrumental body. With a stereo recording, the soundstage gets a little fuzzy and misshapen. Both records demonstrated great tone and momentum—both played enjoyably—but neither confirmed or denied my suspicion that the K2 BT was reversing absolute phase. Remembering that such obsessions kill a musical buzz, I decided to forget all this and get back to playing discs.
So who's the real American Gigolo? My girlfriend thinks it's definitely not me, but I think the real AG is the devilish, bowtie-sporting Jimmie Rodgers. Many now think of Rodgers as the first popular "hillbilly," or country singer. But trust me—Jimmie would punch anyone who said so. Known commercially as the Singing Brakeman or the Blue Yodeler, this handsome American legend stands at the axis mundi of indigenous American music, black and white. In the fall of 1927, Rodgers left Asheville, North Carolina, and his weekly radio show, for the marquee lights of New York City. In honor of that day, I played one of his first Ralph Peer Victor recordings, "Blue Yodel No. 1," aka "T for Texas," from The Essential Jimmie Rodgers (CD, RCA 67500-2). Maybe you own those big-city Wilsons powered by them sexy D'Agostino's? A $5000 moving-coil cartridge, perhaps? But tell me now, is your system really ready for some old-timey strumming and yodeling? "I'm gonna buy me a pistol just as long as I'm tall . . . / If you don't want me mama, you don't have to stall / for I can get more women than a passenger train can haul!"
The Roksan K2 BT driving the KEF LS50 speakers played this iconic song with big-city swagger and country charm. It wasn't all etched and focused and hi-rez sounding, it wasn't all driving and punchy, but it sounded extremely close to what I imagine went down in the Victor studios in Camden, New Jersey, that historic night in 1927.
Dark nights a-comin'
A bunch of you probably know Depeche Mode's version of "John the Revelator." Now I want to you squint your eyes and see that faint light shining through the night fog of our collective American heritage. Can you see those legions of "blind" blues singers? Can you see that tall black man walking near the front, in a necktie and crumpled suit? That is the greatest gospel singer I know: Blind Willie Johnson. When he sings "Dark Was the Night—Cold Was the Ground" or "John the Revelator," from The Complete Blind Willie Johnson (2 CDs, Columbia/Legacy C2K 52835), I promise—you will feel the hand of the Big Spirit touching yours. No singer ever sang with more intensity or with more gravel in his voice than the Rev. Johnson. On these recordings the mike was no more than 10" from his throat. When Johnson calls out, "Well who's that writin'?," your heart will pound and your socks will go up and down. If your stereo rig can't make this happen, put it on eBay now.