Robert's Final Report from the 2019 Montreal Audio Fest
Magico's three-way A3 speakers ($CD13,000) were the first things I spotted when I entered Sonor-Filtronique's third room. I fondly remembered them from last year—in my 2018 report, I gushed over the sound of the A3s, then driven by Ayre electronics. Magico's most affordable model, the A3 has an enclosure made of 6061 T6 aircraft-grade aluminum, while their drivers boast diaphragms made of beryllium and graphene.
Driven by Luxman's solid-state, class-A, 30Wpc, phono stage-equipped L-590AXII integrated amplifier ($CD11,695), the same company's DSD-compatible DA-06 USB DAC ($CD6495), and Melco's N1A streamer ($CD2695), the Magicos delivered sound that was smooth, tonally rich, foundationally solid, and notably free of cabinet resonances. Modulum racks and AudioQuest cables completed the picture.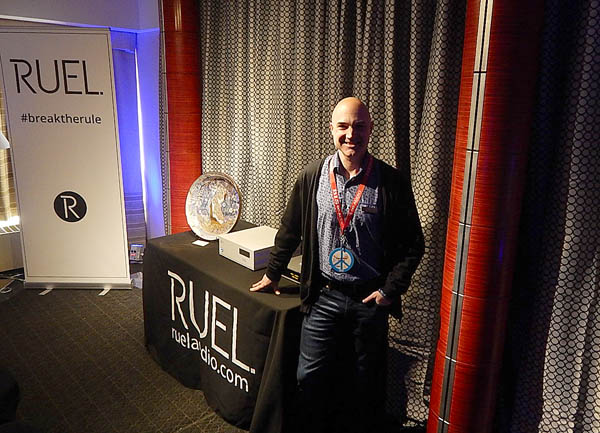 I didn't visit all the rooms at the fest, but I doubt there was one that beat Ruel Audio for sheer originality. Company owner Thierry Ruel (above photo) demonstrated the Ruel RT system (price varies depending on configuration), which included a Lindemann Musicbook DAC/preamp/streamer and a Ruel amplifier/equalizer. But the indisputable star of the show was what initially appeared to be a pair of slim, floor-to-ceiling speaker towers, but were in fact stacks of identical, bookshelf-sized speakers, or modules. Each module is equipped with a vertical array of seven front-firing 1.5" cones concealed directly behind a vertical slit at the center of the speaker's cabinet, so that each column seems to have one uninterrupted slit, from top to bottom. This full-range, crossoverless line-source is claimed to project the sound into the room in a 180-degree pattern, meaning everywhere, resulting in images being placed solidly in space in a horizontal plane in front of you, regardless of where you sit (or stand).
And that's mostly what I heard: sound that seemed to exist in its own world, free of the phase-shift-related anomalies caused by room reflections and nodes, and whose presentation remained consistent regardless of how I positioned my head. I might have preferred the music to sound a little more grounded, and I didn't get to hear music that contained wide dynamic swings or very low bass, but I did hear low-ish bass, and plenty of small-scale dynamics, and what was played for me certainly sounded nice.
I was pleased as pie to see that, after a long absence from the fest, speakers by the German manufacturer Avantgarde Acoustic were back—not with just one model but with two, taking pride of place in adjacent rooms sponsored by Canadian distributor American Sound of Canada. The bigger room featured Avantgarde's semi-active, 107dB-sensitive, 18-ohm Duo XD ($US45,000), its bass provided by two 12" drivers powered by a 1000W class-D amp, accompanied by Air Tight's 120W ATM-3211 monoblocks with 211 tubes ($CD95,000), an ACT 5 preamp ($CD12,800), Aurender's N10 streamer ($CD10,000), and DCS's Debussy DAC ($CD12,000).
Seen in the photo above is American Sound of Canada's Ashraf Nashed adjusting the bass output of Avantgarde's newest entry to its horn speaker stable, the semi-active, high-sensitivity Uno Fino ($CD33,500), which was partnered with VAC's new 85Wpc, US-made 170i tubed integrated amp ($CD13,500), and T+A's MP8 CD/streamer ($CD6300) and DSD DAC8 ($CA5900). Stands and cabling in both systems came courtesy of HRS and AudioQuest.
The bigger system may have sounded overall more refined, realistic, and grandiose than the smaller one, but they also had much in common: both made music that sounded highly expressive, resolved, glare-free, dynamic, tactile, and just plain beautiful.
By all accounts, it was a great show: attendance was higher than in recent years, John Atkinson received a prestigious festival award in honor of his incredible contributions to the audio industry and to the hobby we all love, and—
—there were more ducks in the rooftop duck park than I've ever seen before. Until next time, love and kisses from Montreal.