Montreal Audio Fest 2019 Hits the Ground Running
At 1:00 on Friday I spoke with Sarah Tremblay (above), co-organizer (with Michel Plante) of the Montreal Audio Fest. The 2019 show had opened only two hours before we ran into one another, and already over 4600 attendees had pre-registered and 1400 of them had arrived on-site. (Admission is free, but the organizers ask of each attendee their name and gender, and whether they'd attended previous Montreal shows.) Tremblay told me that approximately 50% of registrants so far were first-timers: an excellent sign.
Indeed, at 11:00am on the dot, as I exited a pre-show press conference, I was startled by the line of would-be attendees that John Atkinson describes elsewhere in our coverage, stretching from the registration desk to the nearest bank of elevators. And this on a weekday morning!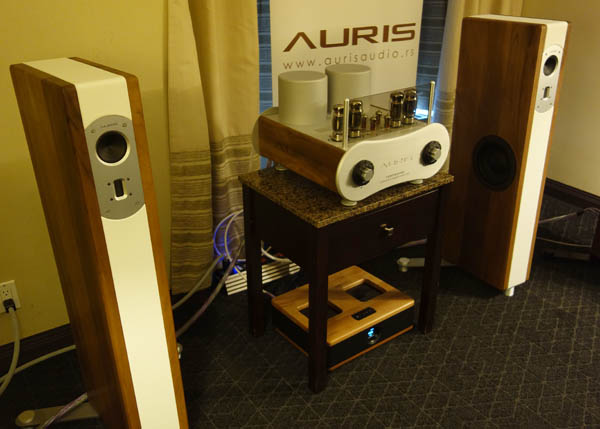 The show was off to a good start for the organizers, and for me: the first exhibit room I entered, sponsored by Motet Distribution, featured a single-brand system from the Serbian manufacturer Auris, founded in 2013 and specializing in tube electronics. The system included Auris's Fortissimo integrated amplifier ($CD15,000), which gets 100Wpc from two KT-120 pentode tubes per side, operated in a class-AB Ultralinear circuit, and the 93dB-sensitive Auris Poison 88 loudspeaker ($CD22,000/pair). An unfamiliar but very engaging track by singer Agnes Obel, featuring piano, electric bass, plucked strings, and a slightly Kate Bush-y vocal, sounded amazing: I thoroughly enjoyed sound and music alike.
In the next room down the line, Hegel's H90 integrated amplifier-D/A processor ($CD2200) sounded great through a pair of Totem Tribe Tower loudspeakers ($CD5500/pair), especially on Diana Krall's appropriately breathy version of "Walk On By," and even more so on a recent recording by the Norwegian songstress Anette Askvik. In the latter, the system reproduced multitracked vocal performances with good solidity and spatial presence, and a solo on tenor saxophone, portions of which explored the lowest range of the instrument, had gorgeously realistic tone.
In another room sponsored by Motet Distribution was an even grander and more potent collection of gear, although I've no idea what components were responsible for which aspects of the very good sound I heard there: Granted, it was only the third room I visited on Friday morning, but I couldn't help noting it had the best sound "so far"—a distinction maintained as I write this on Friday evening. The analog front end comprised a Music Hall MMF 11.1 turntable-tonearm combination ($US4500) with a Grado cartridge, feeding VTL's TP-2.5i phono preamplifier ($US3750).
The amplifier of choice was VTL's IT-85i integrated amplifier ($US5250), which uses EL34 pentodes, operated as pentodes.
The VTL drove a pair of Triangle Duetto Magellan stand-mounted loudspeakers in an installation aided and abetted by Stillpoints' new Aperture II room-treatment panels ($US800 each), which Michael Fremer reviews in the June 2019 Stereophile. Also in the system were various Stillpoints racks and supports, along with XLO cabling. From this system I heard an amazing combination of color, touch, and perfect musical timing on an LP version of the collection Dolce Duello by Cecilia Bartoli and Sol Gabetta.
Having some years ago thrown in the towel and given up on Lowther full-range drivers—which can sound beguilingly immediate and tactile, yet can also sound raspier than a rat-tail file—I am occasionally mocked by modern Lowther-alikes that deliver the breed's best qualities without its worst. So it was in the first of two rooms sponsored by distributor Tri-Cell, in which a Madeleine Peyroux LP sounded amazing through a pair of Cube Audio's top-of-the-line single-driver loudspeakers ($CD20,000/pair). Not many other details were available when I visited, but I learned that the turntable was by Transrotor.
Notwithstanding a scarcity of details and pricing information on their demo system, the Tri-Cell room held one nice surprise: A pair of new-production Western Electric 300B tubes, projected to sell for $US1695/pair and displayed with the assurance that stock will arrive in approximately three weeks.
In another room sponsored by Tri-Cell, a pair of German-made Odeon No.28 SE horn loudspeakers ($CD25,800/pair) were driven by a distinctly affordable single-ended-triode integrated amplifier: the Mira Ceti ($CD3500) from Fezz Audio of Poland. Also in the room were a number of Synergistic Research's tiny HFT turning devices, applied to the walls at apparently regular intervals; stands and supports were by Harmonic Resolution Systems, with cables by Cardas. In this room as in others, Pink Floyd's Dark Side of the Moon was the demonstration fare of choice, and was being played at a slightly higher-than-comfortable volume level: The sound was mostly very good, yet the treble range seemed very slightly overwhelmed and congested during the loudest passages. (And interestingly, the very moment I wrote those words, the exhibitor walked over to the amp and turned down the volume a tad.)