RMAF 2016: More Marvels on the Marriott Mezzanine
Mmmmm…!
Forgive the alliteration overdose, but that was my reaction to Peachtree Audio and Zu Audio making good sound together. Peachtree's David Solomon, operating an iPad while jacked up on enough caffeine to enable a mouse to fly to the moon on its own steam, seemed caught by surprise as non-industry showgoers appeared in his room during the time reportedly reserved for the press. (What was going on with that, folks at the RMAF registration desk?) Packaging was still strewn about, and this security-minded veteran of both a New York junkie neighborhood and an Oakland barrio had to move some of David's personal belongings to the far corner in order to take a mostly clean shot of the brand new, soon-to-be-available Peachtree Decco125 ($999 without WiFi, $1199 with) driving the same Zu Soul Supreme loudspeakers ($4500/pair) that Herb Reichert recently raved about in Stereophile.
Wirelessly streaming "Alexandra Leaving" by Leonard Cohen and Sharon Robinson, the system sounded really tight, surprisingly warm, and totally amazing. The midrange was exceptionally warm. There was a little brightness on a 24/192 track from Laith Al-Saadi, but that didn't stop this system from being an absolute contender for my Lower Priced System award. As with all three systems in the room, the cabling was Zu Mission ($1000 total).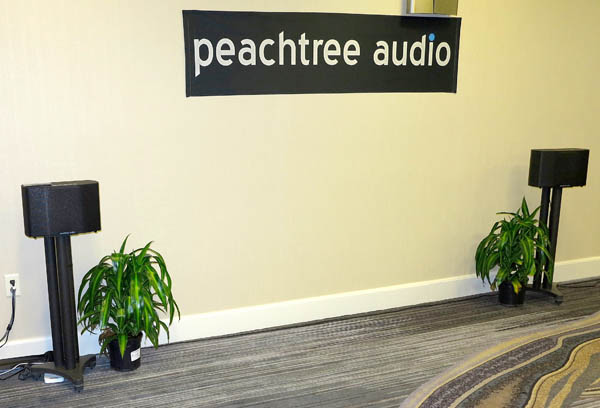 Turning 180 degrees—it really called for a bit of a whirling-dervish mindset to keep up with David—revealed Peachtree deepblue2 wireless powered loudspeakers ($798/pair) paired with a Cassia Networks Hub Bluetooth router ($149). The sound was a bit dry, but nicer and far more listenable than I had expected from this technology. Then, turning 90 degrees again, I discovered…
…the BIG system, in which the Peachtree nova300 integrated amp ($2299), which includes an MM phono input, was driving 8 ohm, 101dB-efficient prototype Zu Experience loudspeakers. The sound was quite lovely on Agnes Obel's "Aventine" and Michel Jonasz's "Le Temps Passé." Most astounding was the first-run QSound recording of Roger Waters' Amused to Death, which requires phase-coherent loudspeakers to produce the mind-blowing three-dimensional, all-encompassing, quasi-surround experience I became immersed in. Sean Casey of Zu tells me that the Experience was conceived as an alternative to the Wilson Audio Sasha II. The gauntlet has been thrown down…
My only regret: I didn't get a chance to hear Sean spin some of his favorite new and much-loved recordings. For people who enjoy discovering new music by visiting your rooms, Sean, what's the next North American show where we can find you? Please reply in the comments section below.
Two music lovers with impeccable taste, Philip O'Hanlon of On a Higher Note (Merging Technologies, Luxman, Vivid…) and George Vatchnadze of Kyomi Audio (concert pianist and Chicago-based dealer of many of the above), held forth in Philip's usual room on the mezzanine. Behind them was a gorgeous photo of George rehearsing one of the Rachmaninoff piano concertos in the Great Hall in St. Petersburg. It was a fitting backdrop for an exhibit that backed the excellent Vivid Audio Giya G3 loudspeakers ($40,000/pair) with the TechDAS Air Force III turntable ($29,750) equipped with a Graham Elite tonearm ($12,500) and TechDAS TSD TCd01 Ti cartridge ($15,500); Luxman EQ-500 tube phono preamplifier ($7,500), C-900u control amplifier ($19,900), and M-900u stereo amplifier ($19,900); Merging Technologies NADAC Multichannel-8 music server-DAC ($14,000); and Shunyata Research Denali line conditioner ($6,000). Credit is also due Artesania equipment stands and Magnan Audio cables.
While the system's dynamic range was huge, and the midrange gorgeous, I was surprised by a sharpness on Dietrich Fischer-Dieskau's voice on an LP of his 1960s recording, with Gerald Moore, of Schubert's Schwanengesang. Turning to a 1978 recording of Temirkanov conducting Rachmaninoff's Symphony 2, fourth movement, the depth was simply fabulous. The Syd Lawrence Orchestra's Tribute to Ella you-know-who also had a gorgeous midrange, but the edge on top increased as volume went up.
At that point, Michael Fremer appeared, and on went a hilarious Nonesuch LP of Polkas, Waltzes and other Entertainments played on cornet, trombone, and piano. Whispering in my ear, Mikey mentioned that he could hear something was off by the sound of the needle drop. (This analog heathen remains in awe of the knowledge behind this observation.) After this came DSD256 files of a forthcoming, as-yet-unedited Yarlung Records recording of the Sibelius Piano trio in D, and Iván Fischer rehearsing the first movement of Mahler Symphony 3. There was a curious midrange emphasis on these tracks that I couldn't quite grasp. Having heard wonderful sound from these components before, my finger points to speaker positioning and electrical issues (see the Vandersteen/AudioQuest blog that follows). "Room f**ked" I wrote in my notes.
When I moved down the hall, Michael Marko was conducting one of the head-turning, mind-changing cable demos for which Nordost has become famous. Switching a single power cord on the CD player, his move up to Heimdall 2 from a lower level injected a startling amount of additional life and image transparency into the proceedings. Even sitting in the last row, with a full house of people in front of me, the change was obvious.
"You do not know how good your system is until you connect it properly," Michael said as he again moved up the chain from Heimdall 2 to Tyr 2. Here I experienced far more body and weight, much additional information, and a far more multi-dimensional presentation. But those were just components of a sound whose fundamental musicality, to me, proved immensely satisfying. Without question, Valhalla 2 introduced even more depth and clarity, and upped musical satisfaction even more. But to a reviewer who finds the so-called Law of Diminishing Returns less a law than a sometimes-applicable observation that has been championed by critics who are content to replace actual experience with easily-coined absolutes, the move up from Tyr 2 to Valhalla 2 produced a less significant increase in musicality than the switch from Heimdall 2 to Tyr 2. For music-loving audiophiles with finite bank accounts who are drawn to the extremely open, maximally illumined (albeit not "bright") sound that the current "2" range of Nordost products delivers—to be honest, I love it—Tyr 2 would be a good place to start.
At lunch on Saturday I learned from Garth Powell, the designer of AudioQuest's Niagara 7000 AC conditioner ($8000) and expert in all things electrical and percussive, that the current in the Marriott had dropped from the mandated 117-120 volts to a disastrous 107 volts. Knowing how this would impact the operation of the Vandersteen M7-HPA high-pass amplifiers ($52,000/pair) in the Crestone Peak room—sponsored by Musical Surroundings and The Audio Alternative—Garth banked on the electricity staying low to join Richard Vandersteen in internally adjusting the amps in ways that consumers would be idiots to even consider. The adjustment produced exceptionally smooth, listenable, and liquid sound through the Vandersteen Model Seven MkII loudspeakers ($62,000/pair) and brand new Model Sub Nine subwoofers ($TBA). There wasn't much snap on top, but this system conveyed the resonant core of a drum thwack and the beauty of a midrange better than any I encountered at RMAF.
The voices of soprano Emma Kirkby and others were gorgeous and absolutely smooth on a totally joyous recording of Bach's Hunting Cantata from The Parley of Instruments under Roy Goodman. "Sheep May Safely Graze" sounded delicious, with a special midrange sound characteristic of both Vandersteen loudspeakers and the combo of the Audio Research Reference Phono 3 phono preamp ($14,000), Reference 6 line stage ($14,000), and Reference CD9 CD player/DAC ($13,000). I simply loved it. I'm pretty sure I heard the AMG V12 Turbo turntable and 12JT Turbo tonearm ($22,000) (or was it the $1800 AMG twin armboard with the $3500 AMG 9W2 tonearm?) with either the new DS Audio DS Master 1 optical cartridge ($22,500) or Benz Micro Gullwing SLR MC cartridge ($3600)—rather than the new Clearaudio Performance DC Wood turntable w/Satisfy carbon fiber tonearm ($4600) and Hana SL MC cartridge ($750). (Choose one from column A, one from Column B, and prepare to be sated.) What I know for certain is that the AudioQuest Niagara, a full complement of AQ cabling, and Harmonic Resolution Systems RXR and VXR racks contributed greatly to the lovely sound.
There were only two active display rooms on the first floor that I could find. One was sponsored by Legacy Audio and Raven Audio. The other, from Wilson/VTL/dCS, I saved for Wilson's Saturday afternoon press introduction of the just-released Yvette.
There were no less than four systems in the Legacy/Raven room. Thank God that, in contrast to the triumvirate in the Peachtree/Zu room, only one was active at the time. My timing was propitious, because it afforded the opportunity to hear the new Legacy Calibre bookshelf loudspeaker ($5,500 as shown). The Calibre was paired with the Raven Audio Shaman MK2 320Wpc monoblock amps ($49,995/pair) and Legacy Wavelet DAC/Preamp/Processor/Correction unit ($4,950), connected by Morrow cabling.
I was as impressed by this so-called bookshelf as was John Atkinson by one of the bigger Legacy models in the room. A Red Book file of the Ray Brown Trio sounded very smooth and lovely, with far more color and life on top than I heard the last time I encountered Legacy paired with Raven. The soundstaging was excellent, and the speaker's low extension, down to 38Hz, equally impressive. "The Infernal Machine" from Fink Meets the Royal Concertgebouw Orchestra sounded very fine. I wish I could have spent more time here. But what I can tell you is that Legacy Calibre is a 50 lb., three-way, three-driver (including one driver on the side and another on the top) monitor with a frequency response of 38Hz–30kHz, ±2db. Impedance is 4 ohms, and sensitivity 92.5dB.