Revel Performa3 M106 loudspeaker
"Kevin Voecks is a genius, no ifs, ands, or buts." I wrote those words nearly 30 years ago, in a review of the Mirage 750, where I had also recommended Mirage's 350 bookshelf model (footnote 1). The 350, which costs $300/pair, was the first affordable bookshelf loudspeaker whose sound actually excited me. When I think now of how that speaker sounded back then, I chuckle. By today's standards, the Mirage 350 had some shortcomings. The transition between its tweeter and mid/woofer was raspy, there were prominent cabinet resonances, and the upper bass was a bit ripe. Nonetheless, it presented a rich if slightly euphonic midrange, impressive bass extension for a speaker of its size, and an overall balanced sound. As Art Dudley might say, the speaker "played music." For my first home-theater speaker, I later bought a pair of a Mirage 460s. Those speakers are still playing music today, in my brother-in-law's secondary music system.
That experience with a Mirage speaker inspired me to continue to follow Voecks's designs (footnote 2). He gained quite a bit of notoriety for Mirage's flagship floorstander, the M1, an innovative bipolar dynamic speaker. In the late 1980s, following the death of Peter Snell, Voecks took over the design work at Snell Acoustics, and in the late 1990s joined Revel. I've listened to many of Voecks's designs for Revel at Consumer Electronics Shows over the last 15 years, and every one of them has produced some of the best sounds at these shows. But all of the Voecks models I'd heard were pricey—none came even close to my reviewing beat of affordable speakers.

Until I got word of Revel's Performa3 M106 bookshelf speaker ($2000/pair; dedicated M stands, $500/pair. I requested review samples from the first production run, but a slight delay in production was followed by surge in backorders, and from the day I first contacted Voecks to request the samples until they arrived in my house, that slight delay became 22 months. Needless to say, I set up the M106s in my reference system with great anticipation.
Design
When I contacted Kevin Voecks to discuss the design of the two-way, rear-ported Performa3 M106, he was excited about the speaker's 1" aluminum-dome tweeter, which, he says, has had its distortion and resonances reduced to below the level of audibility. He claims that the unit's Acoustic Lens waveguide improves dispersion above 8kHz, which smooths the frequency response and eliminates excessive directivity in that range, which is intended to resolve more detail and to provide a greater sense of air and spaciousness. The large, sealed chamber behind the tweeter, and the driver's high-compliance surround, also create a low fundamental resonance of 800Hz. Voecks feels this eliminates dynamic compression and provides a quality of high-frequency sound that remains consistent over a wide dynamic range.
The M106 also has a 6.5" aluminum-cone mid/woofer with a cast aluminum frame; the cone is ribbed to eliminate resonances and to optimize its pistonic behavior. The speaker's rear-firing port has identical flares at both ends to minimize dynamic compression and port-generated noise.
The M106's stiff enclosure has its curved side panels formed from contiguous wood layers and is stiffened with strategically oriented bracing. My review samples, finished in Piano Black, looked incredibly sexy; High Gloss Walnut is also available. Though designed and engineered in the USA, the M106 is manufactured in Indonesia, according to the packing carton.
I auditioned the M106s using Revel's dedicated M stands ($500/pair), which bolt to the bottom of the speakers to make a very rigid coupling. I felt the speakers were equally attractive with or without their magnetically attached grilles, but did most of my listening with the grilles off. The tonal balance was identical either way, but removing the grilles allowed the speakers to resolve a bit more detail.
Listening
I found the sound of the Revel Performa3 M106 difficult to describe. No matter what music I played, I could hear no shortcomings—no deviation from neutrality throughout the speaker's extended frequency range, and every recording revealed the review samples to be detailed, dynamic performers with superb soundstaging. So I thought I'd focus on a few aspects of the M106 that particularly impressed me.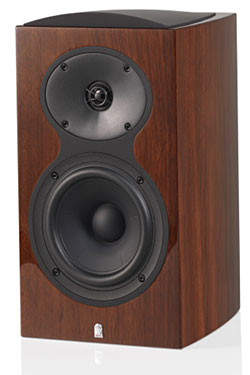 The Revel was such a superb resolver of detail that it let me hear into many recordings and analyze the engineering technique in the better-recorded ones. When Robert Baird named Tom Waits's Real Gone (CD, Anti- 86678-2) one of his "Records to Die For" in the February 2006 issue, he discussed the concept of aural "dirt." This recording is full of it—Waits processed his voice through a slightly overdriven boom box, which adds a layer of grunge in this otherwise pristine recording. This technique was blatantly clear through the Revel—Waits's voice was enveloped in a crust of sonic dirt as plain as the boundaries of the isolation booth around Dusty Springfield's voice in "The Look of Love," from the soundtrack of the original Casino Royale (LP, Colgems CO50-5005).
Listening to Lady Gaga's recordings in preparation for attending her recent concert at New York's Madison Square Garden (footnote 3), I noted that with both ArtPop (CD, Streamline 0019295-02) and Born This Way (CD, Streamline B0015373), I was able to analyze the layering of each electronic and acoustic instrument quite easily with the Revel. The speaker revealed that the level of engineering sophistication on these recordings rivals the best work of Kraftwerk and Björk.
With well-recorded acoustic pianos, the M106 frequently gave me the impression that I was sitting in the room with the instrument. Tord Gustavsen's Changing Places (CD, ECM 1834) had a sense of dynamic immediacy as Gustavsen put the instrument through its paces throughout its frequency range. The last time I'd heard a jazz piano with such tactile realism was when I had front-center orchestra seats for a Keith Jarrett solo performance at New York's Avery Fisher Hall.
I was also floored by the M106's ability to play loud, which reminded me more of expensive floorstanding speakers than of the affordable bookshelf model that it is. On George Crumb's Spanish Songbook 1: The Ghosts of Alhambra, from The Complete Crumb Edition, Vol.15 (CD, Bridge 9335), with baritone Patrick Mason, guitarist David Starobin, and percussionist Daniel Druckmann, the entire dynamic range of this chamber recording, from ppp to fff, shone through with precise linearity and with no hint of compression or strain. My notes read: "Bombastic fff drama!"
On the large-orchestra front, in Schumann's Piano Concerto, with pianist Byron Janis and Stanislaw Skrowaczewski conducting the Minneapolis Symphony (CD, Mercury Living Presence 432 011 2), the piano was rich and woody, with no trace of compression in the loudest passages as the orchestra filled my room with drama. In "Peaches en Regalia," from The Ed Palermo Big Band Plays the Music of Frank Zappa (CD, Astor Place TCD 4005), the fortissimo passages bloomed in a dramatic fashion, just as they did when I heard Palermo perform this piece live.
---
Footnote 1: In
The Absolute Sound
, Issue 39, Autumn 1985, p.105.
Footnote 2: See Tom Norton's March 1990 interview with Kevin Voecks here and Larry Greenhill's June 2008 interview here.—Ed.
Footnote 3: A stunning concert. Gaga eschewed the synth programming on her most recent recordings for a precise, tricked-out quintet of two guitars, keyboards, bass, and drums—except for backup vocals, every note was performed live. A shout out to James Dolan and the Madison Square Garden team, who, as part of the Garden's recent $1 billion renovation, created a room with a superb sound system and excellent acoustics.