Recordings of March 2016: The Beach Boys Today! & Summer Days (And Summer Nights!!)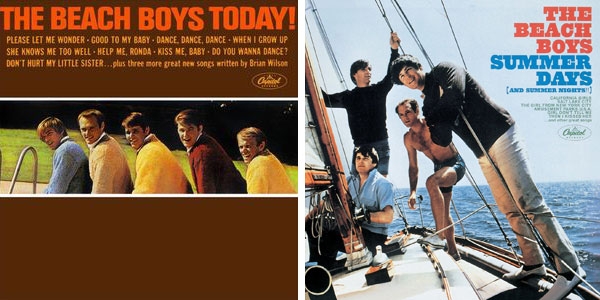 The Beach Boys Today!
Analogue Productions AAPP064 (LP). TT: 27:35
Summer Days (And Summer Nights!!)
Analogue Productions AAPP065 (LP).
TT: 27:44
Both: 1965/2016. Brian Wilson, orig. prod.; Chuck Britz, orig. eng.; Mark Linett, Alan Boyd, stereo mixes; Kevin Gray, mastering. ADA.
Performance *****
Sonics *****
It's a classic case of addition by subtraction. On December 23, 1964, on a flight from Houston to Los Angeles, Brian Wilson had a panic attack—or, perhaps, a full-fledged nervous breakdown. Two more such episodes followed in quick succession, and Brian realized that he could no longer tour with the Beach Boys. At first, Glen Campbell was brought in to replace him in the band's touring edition, until Bruce Johnston permanently took his spot. In an interview conducted by Earl Leaf, quoted by Tom Nolan in the October 28, 1971, issue of Rolling Stone, Wilson had this to say about his decision:
"I told them I foresee a beautiful future for the Beach Boys group but the only way we could achieve it was if they did their job and I did mine. They would have to get a replace ment for me ... I didn't say 'they' I said 'we' because it isn't they and me, it's 'us.'
"That night when I gave them the news of my decision, they all broke down. I'd already gone through my breakdown—and now it was their turn. When I told them, they were shook. Mike had a couple of tears in his eyes, he couldn't take the reality that their big brother wasn't ever going to be on the stage with them again. It was a blow to their sense of security, of course."
The first product of that decision was Today!, a collection of songs that sound like the first steps toward Wilson's eventual masterpiece, Pet Sounds. Just as the beginnings of the in novation and creativity that eventually coalesced into the Beatles' Sgt. Pepper's Lonely Hearts Club Band became audibly apparent in Rubber Soul and Revolver, Today! and Summer Days (and Summer Nights!!) are the obvious musical and intellectual predecessors of Pet Sounds.
On Today!, the first sign that things had changed was that not a single tune has anything to do with surfing or hot rods in the title. While the album opens with a take of "Do You Wanna Dance?" done in an obvious Phil Spector-ish wall-of-sound production style, the album's first nod to a more complicated future is in the lyrics of "When I Grow Up":
When Igrow up to be a man
Will I dig the same things that turn me on as a kid?
Will I look back and say that I wish I hadn't done what I did?
Will I joke around and still dig those sounds
When I grow up to be a man?
Side 2 of Today! concentrates on Brian's musical development—as in "Please Let Me Wonder," in which his trademark shifting vocal fusions inter weave and braid with ever-increasing confidence and intricacy. This trend continues with Brian's soaring lead vocal in "She Knows Me Too Well," and the towering example of his original and ever-changing vocal alloys and layered production, "Kiss Me, Baby."
While Summer Days initially feels like a step backward—thanks to filler tracks like "Amusement Parks U.S.A.," "The Girl from New York City," and "Salt Lake City"—Wilson's continued growth, emotionally and as a songwriter, is apparent in such tunes as the near-folk of side l's "Girl Don't Tell Me" (Carl Wilson's first ever lead vocal on record) and all of side 2 that includes, the sophisticated pop of "California Girls," and "Let Him Run Wild," with Brian's bravura falsetto vocal.
Fans of mono, begin your moaning now: The most astonishing change in Today! and Summer Days are the balanced, lush stereo mixes, available on vinyl for the first time in these reissues from Analogue Productions. Pressed by AP's own Quality Record Pressing, the mixes are nothing short of a brilliant rejuvenation that all fans of this most American of 1960s pop bands will find entirely essential.
They aren't merely different, or even just better—they're terrific. And this is one case in which bigger is indeed better. Every comparison to flowers fully blossoming applies: New colors and dimensions in the music abound. Wilson's grand arrangements are hugely well served by these breakthrough stereo mixes. Constructed by Mark Linett in 2012 for a series of CDs released in Japan, the mixes were converted to high-resolution digital files for these reissues (see "Brian's Song," elsewhere in this issue, for more information).
But Linett, who's been the band's tape archivist for more than 30 years, had his reservations about converting these classic mono mixes to true stereo. "It's tricky. I don't like the idea of changing history. The only thing that Brian or any of his contemporaries cared about was the mono mix that came out of the AM radio and was on a 45."
That's true. But, listening to the stereo mixes of Today! and Summer Days, it's hard to deny the feeling that these new mixes are a more accurate portrayal, a fuller realization, of everything that Brian Wilson intended this breathtaking music to accomplish.—Robert Baird