Recording of September 1975: A Contemporary Collection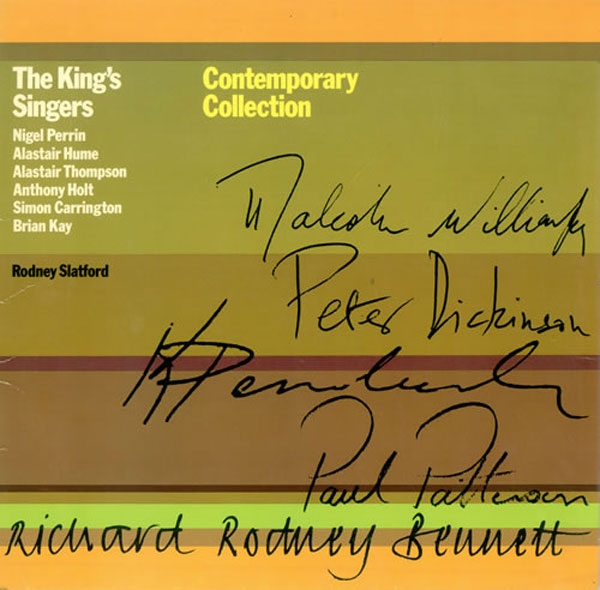 The King's Singers: A Contemporary Collection
Works by Peter Dickinson, Malcolm Williamson, Richard Rodney Bennett, Krzystof Penderecki, Paul Patterson
EMI EMD 5521 (UK LP). MMG Records MMG 1142 (US LP). 1975. Christopher Bishop, prod.
Astounding performances! Every piece here was commissioned by the King's Singers, those six English gentlemen whose vocal artistry surely has never been surpassed. The works here are by Peter Dickinson, Malcolm Williamson (recently appointed by HRH Elizabeth II to the post of Master of the Queen's Musick, succeeding the late Sir Arthur Bliss), Richard Rodney Bennett, Krzystof Penderecki, and Paul Patterson. The latter's Timepiece, commissioned by the Camden Festival in 1972, is in a class by itself, and so impressed JGH and drudge that they immediately ordered a copy of the disc from England.
Noteworthy is that Christopher Bishop produces the "classical" discs for the King's Singers. That's a cachet of excellence right there. Sound and pressing: both perfect! Tip to [non-classical reviewer] Paul Karaglanis: Send off prestissimo for some King's Singers pop discs: Keep On Changing (EMI EMC 3076) and Lollipops (EMI EMC 3093).
Stereophile readers should try any King's Singers disc without hesitation. State of the art!—William Marsh
Incredible virtuosity and sound that is almost impossible to fault. A collector's item!—J. Gordon Holt