Recording of January 1988: Renaissance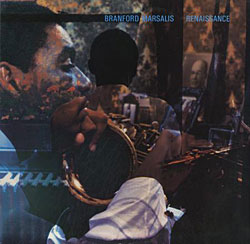 Branford Marsalis: Renaissance
Branford Marsalis, tenor & soprano sax; Kenny Kirkland & Herbie Hancock, piano; Bob Hurst & Buster Williams, bass; Tony Williams, drums
CBS FC 40711 (LP). Dennis Ferrante, Bob Margoleff, Howard Siegel, engs.; Delfeayo Marsalis, prod. DDA. TT: 57:09
These are heady days for those who believe that jazz may have reached its height in the mid- to late '60s, before its disastrous 15-year romance with fusion. With such strong new talents as the Marsalis and Brecker brothers and Chico Freeman embracing the spirit of that time, and fusion-scarred veterans like Freddie Hubbard and Joe Henderson returning to the basics of acoustic trios, quartets, and quintets in recent recordings and concerts, jazz has attained a new and cherished seriousness valued all the more for its unexpectedness.
Last month, in my review of Wynton Marsalis's Marsalis Standard Time, Vol. I, I said that I have always found brother Branford to be the more satisfying soloist. Well, right on cue, Renaissance has been released to underline the fact. Sax players take note: this is one of the most satisfying releases on that instrument since Marsalis's own Royal Garden Blues last year, and leaves no doubt as to who is the consummate jazz musician of the family.
Both Wynton and Branford, when the latter left the former's quintet, elected separate recording and gigging careers with quartets of their own, each quartet lacking the missing brother's instrument. Single-horn quartets make for intimate, vulnerable, revealing music, with great responsibilities placed on the soloist. While Wynton seems more and more the deliberate classicist in both his classical and jazz recordings, obsessed with finding the absolutely correct sound and rhythm, Branford, with no less technique, blows for the joy of blowing. His recordings are freer, more relaxed, less tensely compacted—he simply swings more (those who read last month's Wynton review will know that this is saying a very great deal).
The disc opens with a breakneck "Just One of Those Things," followed by JJ Johnson's "Lament," a sophisticated elegy in which Marsalis implies Dexter Gordon's melancholy without succumbing to lugubriousness. After Kirkland's brief solo, Marsalis returns in gentle double time—a performance of classic proportions. What follows—Jimmy Rowles's "The Peacocks"—is the keystone of the album, a 15:00 impressionist reverie in which the lessons learned in Marsalis's 1986 Romances for Saxophone (CBS Light Classis M 42122) are put to stunningly liquid use. Here he is joined by Herbie Hancock and Buster Williams, who fill delicately and deftly around him, leaving most of the space open. There is great peace and spaciousness here, and no little mystery, with Marsalis's soprano snaking out a sensuous melody worthy of Ravel. Harmonic surprises abound. The length of the cut is hardly excessive; I would have been happy had it continued for another hour, and I don't mean background music. (My girlfriend, who hates even the sound of the saxophone, let alone jazz, thought it "beautiful.") "The Peacocks" is right up there with Coltrane's "Naima" and Wayne Shorter's "Footsteps" and "Penelope" for haunting saxophone laments.
The last half of the album is all uptempo. Tony Williams's "Love Stone" gracefully alternates rhythms of 3 and 6, and Marsalis's warm, smooth tenor tone wonderfully offsets his solo's torturous flurry of notes. "Citadel," also by Williams and reminiscent of one of Shorter's more angular, late-Weather-Report melodies, starts out with tenor and ends with soprano. Marsalis's fluid soprano in his own "The Wrath (Structured Burnout)" brings to mind Steve Grossman's finest moment: his dancing, liquidly geometric, all-keys-at-once solos on Miles's Jack Johnson. And finally, the unaccompanied tribute to Sonny Rollins in Rollins's "St. Thomas," recorded live on a Sony portable and played on what sounds like a very stiff reed, is filled with Rollins-like humor and lightning quotes from "Donna Lee," "My Mama Done Told Me," "The Man I Love," and who knows what else.
For all but two of the seven tunes the basic band is Marsalis, Kirkland, Hurst, and Tony Williams. The rhythm section is solid and alive: Kirkland solos densely in "Love Stone," with quiet fire on "Lament," and with dazzling speed and invention in "Wrath." This pianist has been one of the most consistently insightful mainstream jazz players for quite some time now; we're fortunate that the mainstream is once again broad enough for him to stretch out in.
Twenty-two years after the Plugged Nickel dates with Miles Davis, Tony Williams remains as fluid and mercurial as ever (if not as restlessly driven), as his sole solo ("Wrath") and telepathically attentive listening throughout amply prove. Bob Hurst's tight, taut bass sound continues the close support he offered Wynton on Standard Time.
CBS manages to squeeze the long playing times onto a single LP with little compression this time (as opposed to Standard Time's boxy 31:30 sides); of particular note is "Peacocks," an inner-groove cut which remains spacious and full-signaled to the end. Unfortunately, CBS's quality control is as poor as ever—my two copies had ample pops, clicks, and swooshes.
But even on an Edison cylinder, Renaissance would be another important jazz release in a time suddenly, blessedly rich with them. Recommended in the extreme.—Richard Lehnert