PrimaLuna ProLogue Premium line preamplifier Measurements
Sidebar 3: Measurements
I measured the PrimaLuna ProLogue Premium preamplifier with my Audio Precision SYS2722 system (see the January 2008 "As We See It"). The gain with the volume control set to its maximum was 11dB, unbalanced input to unbalanced output, 1dB below the specified 12dB. The preamplifier preserved absolute polarity (ie, was non-inverting). The inputs, all unbalanced, offered a very high input impedance of 183k ohms at 20Hz and 1kHz, dropping to a still very high 116k ohms at 20kHz. The PrimaLuna's output impedance, specified as 2800 ohms, was 2600 ohms at high and middle frequencies, rising to 4500 ohms at the bottom of the audioband. As a result, the ProLogue Premium's frequency response into the demanding 600 ohm load (fig.1, cyan and magenta traces) was down by 3dB at 30Hz, compared to 12Hz into 100k ohms (blue, red). At the other end of the audioband, the ProLogue Premium's response was more extended into 600 ohms than into 100k ohms, reaching the –3dB point just below 200kHz compared with 70kHz. This graph was taken with the volume control set to its maximum; the good matching between channels was even better at lower settings, and, commendably, the frequency response didn't change.
Channel separation was good below 1kHz, at >77dB in both directions, but worsened to 51dB at 20kHz, due to the usual capacitive coupling between channels. The wideband, unweighted signal/noise ratio, taken with the inputs shorted to ground but the volume control set to its maximum, was 73.8dB ref. 1V in both channels. This improved to a superb 91.5dB with a 22Hz–22kHz measurement bandwidth, and to 97dB with an A-weighting filter in-circuit. The noise floor was dominated by spuriae at mainly the 60Hz AC line frequency and its odd-order harmonics (fig.2), but these are all low in level. It's possible that they arose from magnetic interference between the power transformer and the tubes' steel pins. Even-order harmonics of the power-line frequency, which stem from internal grounding issues, were much lower in level, suggesting good circuit layout.
It was when I looked at the ProLogue Premium's distortion that I began to become concerned. Fig.3 shows how the percentage of THD+noise increases as the output voltage rises into the high 100k ohm load. Although the THD+N is very low below 200mV, the percentage rises almost linearly as the output increases, reaching 0.42% at 2V, and 1%—our definition of waveform clipping—at 4.5V. However, into 10k ohms (fig.4), this load typical of many solid-state power amplifiers, the THD+N behavior is not dissimilar, though the 1% point is reached at 3.5V. Commendably, the distortion remains constant with frequency as well as with load impedance.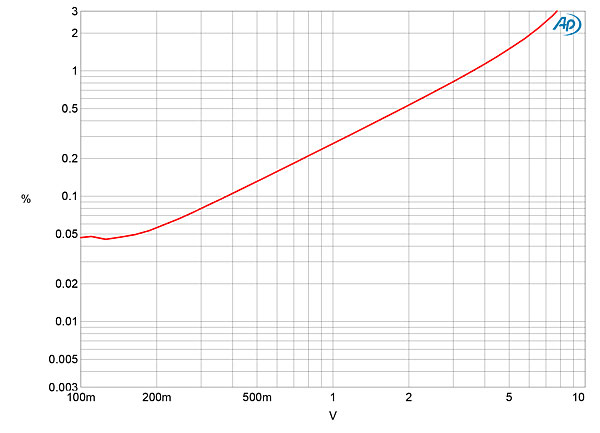 When I picked up the PrimaLuna from Herb Reichert for measurement, he jokingly hoped that I wouldn't find it a second-harmonic generator. But as you can see in figs. 5–7, that is exactly what it is. The PrimaLuna's distortion signature is predominantly second-harmonic in nature, and varies from 0.31% at 2V (fig.5) to 0.2% at 1V (fig.6) to 0.1% at 500mV (fig.7). Intermodulation distortion, however, though higher than usual, was lower than I'd expected from the "bent" transfer function responsible for the second-harmonic distortion. Fig.8, for example, was taken at 1V into 100k ohms, and the second-order difference product at 1kHz that results from an equal mix of 19 and 20kHz tones lay at –6dB, or 0.1%. (Note some low-level spuriae are present between 2kHz and 3kHz; these were present on all the FFT analyses, but I have no idea where they come from.)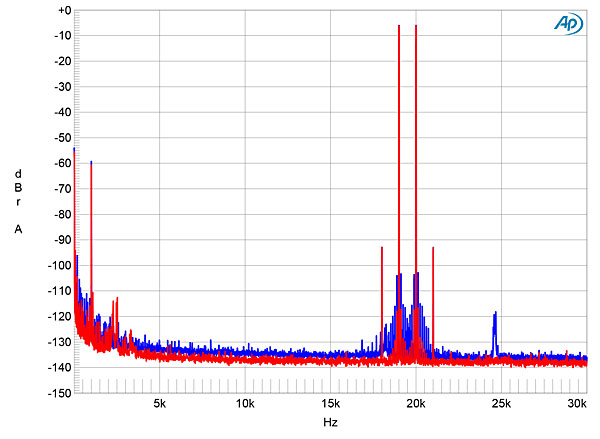 This heavy, well-made preamplifier generally measures well, but that second-harmonic distortion signature will fatten up the sound, as Herb's Mr. O noted.—John Atkinson