Prima Donna Leontyne Price in all her Remastered Glory
Just in time for the holidays and the soprano's 90th birthday, Sony Classical has gifted every confirmed or budding opera lover amongst us with
Leontyne Price: Prima Donna Assoluta
. Filled with 10 of Price's finest complete opera recordings, which were set down in her prime years of 1962-1972, the box's hi-rez remasterings (all remastered at 24/96 PCM, save for
Madama Butterfly
, which was remastered in DSD) are superb.
While many of Leontyne Price: Prima Donna Assoluta's opea sets are also available individually as hi-res downloads—I've found Price's Carmen, Madama Butterfly, her second and best Il trovatore, second Aida, La forza del destino, Un ballo in maschera, second Tosca, and Ernani at HDTracks, and Il tabarro, Così fan tutte, and many of the others at Acoustic Sounds, Presto Classical, and several European sites—I auditioned the box set in CD form. No complaints in that department.
Heard via a dCS Rossini/Scarlatti clock/Paganini transport combo, wired with Nordost Odin, that upsampled to DXD, the soundstages were exceptionally wide and deep. Air around voices and instruments was superb, and their respective sizes surprisingly realistic. This was, after all, the glory era of early stereo recording in which voices were placed realistically behind instruments, as they would sound in an opera house, with no attempt made to disguise the fact that Price's medium-sized voice was close to being overwhelmed during fff climaxes.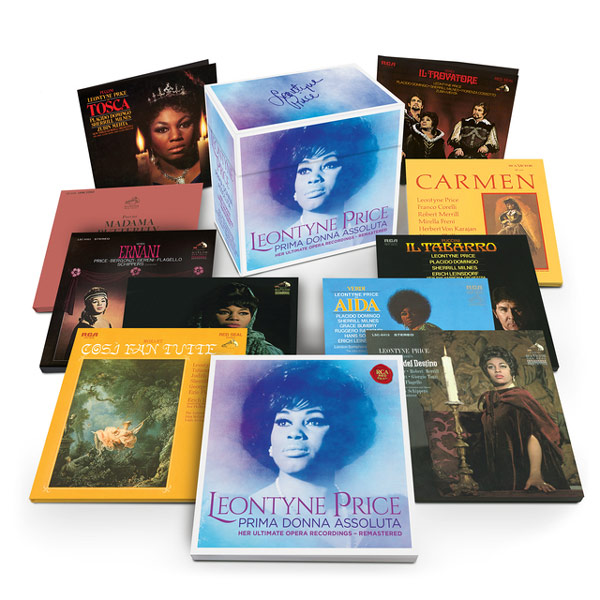 The reason for buying this set is simple: Leontyne Price possessed one of the most glorious and sensual lyrico-spinto sopranos [lyric sopranos with a dramatic edge] ever to record the heroines of Verdi and Puccini. She was not always the most dramatically insightful amongst the competition—I would never put her above Callas in some of these operas—but she certainly produced some of the most ravishing sounds on record. And when a role fit her to manner born, as did Aida, or she could sock it to you, as she does at the end of Madama Butterfly, she commanded nothing but respect.
Price's interpretive limitations in some of these recordings were undoubtedly compounded by the fact that in half of them, her conductor was the less than fully imaginative Erich Leinsdorf rather than the more insightful and in control Herbert von Karajan (the sexy Carmen with Corelli), Zubin Mehta (the superb Trovatore and Tosca), and Thomas Schippers (the equally fine Ernani and Forza). Thankfully, regardless of conductor, she benefitted from RCA Victor's star roster, which frequently paired her with tenors Plácido Domingo, Carlo Bergonzi, and Richard Tucker; baritones Robert Merrill and Sherrill Milnes; and mezzos Grace Bumbry, Shirley Verrett, Rosalind Elias, and Oralia Dominguez. In virtually all cases, her co-stars were as good as it got in those years.
Comparing Price's sound in the early Butterfly (1962) to that in Il tabarro (1971) confirms that her shimmering vibrato began to smooth out with the passage of time. Nonetheless, she could still manage to sound youthful at age 44. She couldn't quite match Domingo's youthful ardor in Il tabarro—she sounds too much like someone standing in front of a microphone rather than a 25-year old who was ready to risk all for illicit love, and her final shriek of horror sounds as if she was determined not to wreck her voice—but the one high note she spins out of nowhere is so gorgeous that you can forgive her a helluva lot.
As many have discovered at audio shows or in stores, some industry members consider opera "room clearing music," and greet it with frowns. All the better to sit by yourself, or with friends or loved ones, in a low-lit room, with iPad-accessed librettos in hand, and have the glories of Leontyne Price all to yourself. Countless millions worldwide will wish they could have it so good.