Precision Audio Video—Venture V.B.V.A.—Weiss Engineering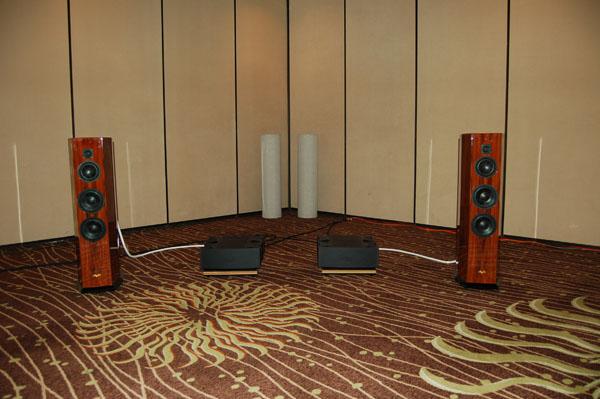 Precision Audio Video is both a retailer and the US distributor for Venture and Weiss products. They were exhibiting the Venture Encore Loudspeakers ($46,000/pair), Venture V100A+ Reference monoblock amplifiers ($60,000/pair), Venture VP100 Reference full-function preamplifier ($28,000), Venture VP100P phono preamplifier ($26,000)—"which provides substantial higher quality for the vinyl analogue play back—a Spiral Groove SG1 turntable, with a Spiral Groove tonearm and London Decca cartridge. The Weiss Jason CD Transport ($24,000) fed a Weiss Medea DAC ($20,000) and all cabling was from Venture.
We listened to Eric Clapton's "Tears in Heaven" unplugged on vinyl and the very nice guy from Precision A/V kept asking his associate to turn it up. One of the issues with demoing hi-fi in a huge ballroom is that it's difficult, or damn near impossible, to energize the room and fully engage the listener.