Piega Premium Wireless 701 wireless loudspeaker system Page 2
Other built-in DSP functions automatically control and limit the excursion of the mid/woofer drivers to provide clean bass and avoid damage. ("It's done by algorithms where we more or less are aware of the movement of the cones and we can limit this movement, so it doesn't hit its max," Züger told me during our Skype call.) DSP is also used for loudness correction, adjusting the frequency response at low volume to compensate for the ear's frequency-dependent sensitivity (footnote 1).
As mentioned earlier, in regular use, the active 701 speakers receive wireless input from the Connect box via the wireless KleerNet system—but each speaker also has an analog RCA input on the back, as well, so you can, if you wish, use them as normal, wired, active speakers—just add two long RCA cables from your preamplifier or volume-controlled source. This approach has a small advantage over sending the analog signal into the Connect: The converter in the speaker digitizes the analog input at 24/192kHz PCM compared to 24/96 when the conversion is done by the Connect box. The downside of course is the expense and inconvenience of a pair of long RCA cables from your preamp or source to the speakers. This is not an obvious deployment for a wireless speaker system, so I didn't explore it much, beyond confirming that it worked with no issues.
Listening
Setup was a cinch. After reading through the fold-out, eight-step Connect Quick Guide, I positioned the 701s in my usual speaker-setup starting zone—that is, with slight toe-in—and connected the three components to power. Bluetooth paired my iPhone 8 Plus, and I started streaming Qobuz and Tidal tracks.
How does the 701 system sound? Bigger than you'd expect from these slender speakers. Bass extension and control are impressive. Music from the 701s filled my room, and the spaciousness of the sound suggested wide, even dispersion. Tonal balance remained fairly neutral, and familiar music sounded like it should. Hi-hat cymbals were smoothly reproduced, without detectable resonance or ringing. Intra-driver coherence seemed exceptional—perhaps another consequence of DSP?
What's not to love?
The system can be used with different sources, and some work better than others. Since there isn't space to cover every source and setup, I'll focus on the most important ones.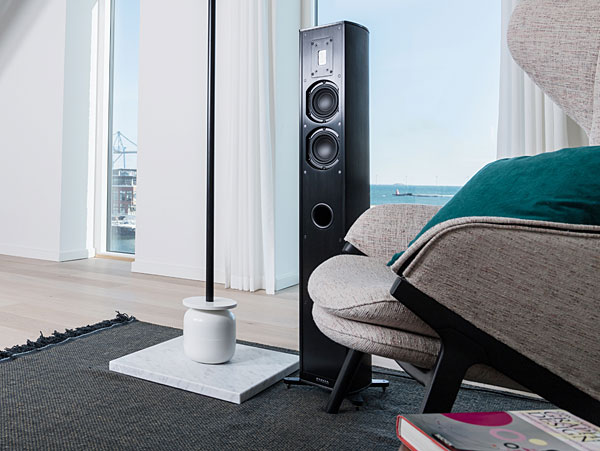 I started, as I've mentioned, with Bluetooth from my iPhone. Bluetooth is getting better: The wireless playback of 16/44.1 files from my Qobuz and Tidal libraries was astonishingly good, up there with the best I've yet heard for Bluetooth streaming. The smoothness of the presentation made me wonder if the stability offered by the proprietary wireless has advantages that go beyond the avoidance of dropouts; was it paying dividends in the sense of ease and continuousness of the music? It was easy to forget this was Bluetooth.
Next, I ran the output from an MBL N31 CD player/DAC into the analog inputs on the Connect box, which converted the analog output back to digital and transmitted the signal wirelessly to the speakers. It was easy (and fun) to switch back and forth from the CD player's analog output to Bluetooth from my phone: The Connect prioritizes Bluetooth as the default, so whenever I paused a disc, my iPhone stream kicked in in a second or two.
Playing an old favorite, EL VY's Return to the Moon (CD, 4AD CAD 3530CD), the differences were pretty subtle. On the cheeky, satirical "I'm the Man to Be," there was more substance and muscle behind the beats and guitar grind, and better low-end definition, via CD—despite the two extra conversions. Individual instruments and vocals—as when backup singer shouts later in the track—were reproduced with more dimensionality and body and with better separation within the mix. Both sources did a fine job rendering the title track's bassline swagger.
Next, I did the same comparison with Buena Vista Social Club at Carnegie Hall (Nonesuch 514415-2). I heard more depth and expansiveness and more forward projection of the soloists and singers from the CD, plus a more accurate sense of scale. Stirring tracks like Compay Segundo's "Chan Chan" and Ibrahim Ferrer's upbeat "De camino a la vereda" became more exciting and immersive—just right for a live recording. So, great sound, but an odd approach: One should never do more A/D or D/A conversions than necessary, but the differences were less important than expected.
On to analog: For a system so obviously intended to be used wirelessly, and with digital inputs, one could argue that analog inputs aren't necessary—except that many buyers of a system like this are likely to own a turntable, and they would surely want to use it to play their records. The Connect's analog inputs are for those people—that, anyway, is my surmise. I didn't listen to as much vinyl via the 701 system—just enough to confirm that it worked and sounded good, with plenty of detail and punch. It's important to have this option.
We all stream on
I've saved the best setup for last. I sent digital data via USB from my MacBook Air running Roon to the MBL N31 CD player/DAC. I then sent that digital data from the MBL's TosLink output to the Connect. I played hi-rez tracks (24-bit/96kHz)—some streamed, some stored locally.
What an improvement! The music grabbed my attention, snapped me out of my coronavirus-lockdown–induced funk, and set me dancing.
Why was I using an MBL CD player/DAC as a $15,000 digital-format converter? Because I didn't have a digital streamer in the house, and, during the COVID-19 lockdown, I couldn't get one on short notice. And also because the Connect box doesn't have a USB input.
To my editor and me, this seemed an oversight; a USB connection, after all, is the most convenient way to extract music data from a computer. Isn't that—a computer as a wired source—an important use case for a wireless system like the Piega Wireless 701 Via MoFi's Jon Derda, we asked Züger: Why doesn't the Connect box have a USB input? Züger's answer:
From our point of view, the Premium Wireless series is designed for customers who value a simple setup and interface but also want high quality sound. Streaming and playing music directly from a laptop or NUC-based music server wasn't our focus for such a product. To us, that is a different type of technology-oriented customer [who] would likely have a more complex system or would connect directly to the speaker inputs. If a Premium Wireless customer is into streaming, we assume it would be done via a Network Streamer that offers a variety of functions and loads of streaming options. This is also why we chose not to implement any streaming capability directly into our system (other than Bluetooth): The technology changes quickly, and the customer may already have a preferred platform. A Piega system is an investment for our customers, and it should have longevity. Leaving out Wi-Fi [inputs] and streaming makes setup much simpler and improves the products' longevity.
Fair enough—and yet it should be easy enough to add a USB input. Even a second TosLink input would be useful. Back to listening: Still with my high-quality, convoluted, all-digital source, I cued up a couple of the more upbeat tracks from the National's I Am Easy to Find (CD, 4AD 4AD0154). This 2019 release features a host of female guest vocalists plus the Brooklyn Youth Chorus.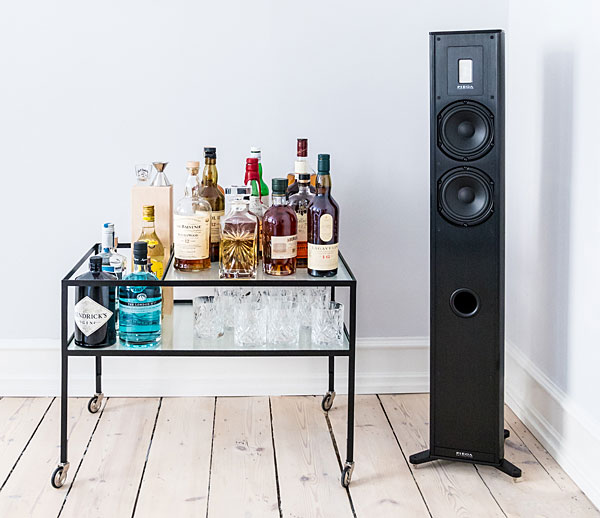 The harmonized singing from (lead singer) Matt Berninger and Gail Ann Dorsey on "You Had Your Soul with You" displayed distinct, natural separation, the overlapping layers sounding convincingly like two individual people. The 701/Connect system reproduced this track's complex counterpoint elements—Bryan Devendorf's hyperkinetic drumkit action alongside frenetic synth beats and glitchy guitar swirls—gaining full marks for color and expression. "Rylan" also showed snappy percussion attacks and cracking impact.
Switching gears to classical—but with a common element, Bryce Dessner, who's also guitarist/orchestrator/co-songwriter in the National—I listened to Katia and Marielle Labèque's performance of that composer's Concerto for Two Pianos from the El Chan release, on Deutsche Grammophon (24-bit/96kHz FLAC stream from Qobuz). From the first movement, the emphasis of the sonic experience was on the dynamic contrasts: the excitement of fast, hard transient attacks, offset by more delicate touches and stylistic subtleties. The percussiveness was there, but the pianos' uppermost notes were smooth, not brittle or harsh. The scale and placement of orchestral instruments within the soundstage was well-approximated. The intensity of the sisters' dual piano playing was rendered with more purity, clarity, and realism than I'd heard via this system's other playback routes. Captivating listening. Streaming the same hi-rez tracks from Qobuz and Tidal, via Roon, while wired (MacBook via USB into MBL N31 via TosLink into Piega Connect) yielded similarly superb sonic results: abundant detail, including the subtle, textural microdetails that make strings and percussion more realistic. Imaging and three-dimensionality were very good, front-to-back and side-to-side.
Conclusion
The Piega active wireless 701/Connect system includes an analog input, but it's best at doing what most people will use it for most: streaming and digital playback. It isn't cheap, but the build quality—of the speakers anyway (less so the included Connect box, which is basic)—seems consistent with the price, especially since you don't have to allocate budget for amplification or speaker cables.
If you're a music lover or audiophile (or both) seeking convenience and excellent sound for digital playback and streaming—even if you sometimes play records—the Piega Premium Wireless 701 system offers a compelling, user-friendly solution.
---
Footnote 1: Think ISO 226, the Fletcher-Munson curves, or a more-sophisticated version of your old integrated amplifier's loudness button.—
Editor