NAD PP 3 digital phono preamplifier Page 2
Finally, with cranked-up rock tunes, the PP 3 exhibited a strong sense of coherence, pacing, and rhythmic consistency, whether reproducing such simple arrangements as Ten Years After's "Love Like a Man," from
Greatest Hits
(LP, London LC 50008), or more elaborate, densely packed tracks such as Genesis' "Dance on a Volcano," from
A Trick of the Tail
(LP, ATCO SD-36-129). Listening to either of these tunes, I found it hard to sit still—I itched to twitch, grab a partner, and dance around the room. But my wife wasn't home, and neither of the dogs was interested.
Comparisons
I compared the NAD PP 3 with the phono stage included in the Marantz PM5003 integrated amplifier via the Creek Destiny's Aux input, as well as with the Destiny's MM phono board (a $500 option).
The Marantz and the NAD resolved similar amounts of detail, but the former had a silkier midrange. The Marantz's high frequencies were somewhat less refined than the NAD's, but I felt its dynamics were slightly better. The Creek phono stage, however, was in an entirely different league. The Destiny's more detailed midrange was more holographic and rich than that of either of the two other phono stages, with a much greater sense of purity in the highs. The Creek also exhibited more subtle gradations of low-level dynamic articulation and a more natural sense of bloom.
Computer
I looked forward to the USB portion of the testing for a number of reasons. First, I've been looking for an easier way to transfer some of my 12,000 LPs to my wife's iPod. Up till now, the only way I could do it was to transfer the albums to CD using my Marantz professional CD recorder, which means playing the entire album, and manually advancing each track during the track breaks in real time. This process is so tedious that I've taken the lazy way out, buying a copy on CD and loading that into iTunes.
But I'm a Luddite who has little patience with computer programs I don't know; in short, everything except Microsoft Word, Microsoft Outlook, and Make Music's superb music-composition software, Finale. Even iTunes intimidates me. I lack the patience to read manuals; basically, software has to teach me how to use it as I go along, with no glitches or confusion. In that regard, the VinylStudio Lite software, which NAD includes with the PP 3, was a dream to use. (The full version, which offers a greater choice of file types and other options, is downloadable from www.alpinesoft.co.uk; it costs $29.95 and is available in both PC and Mac versions.)
After I'd connected the PP 3 to my teenage son's very basic IBM/Lenovo T61 laptop, the software walked me through the steps. First, I checked the levels to make sure I wasn't overdriving the input of the A/D converter. Then I set the Needle Down input level control (which recognizes the track's minimum signal level) and the Needle Up delay time (how long the program keeps recording when the music ends), and proceeded to record the title track of Steely Dan's Aja (LP, ABC AA 1006). The idea is that, once you hit the Record button and go to play the LP, the software knows when to begin and end the recording, based on the Needle Down and Needle Up settings. I hit Record.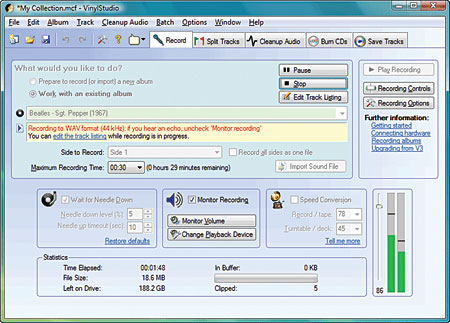 Immediately, the software scolded me for two mistakes I'd made. It had noticed that the zero signal level was higher than it should have been, and correctly deduced that there was hum in the system. It turned out that the combination of lighting up my workstation with a halogen lamp and the tonearm's ground wire accidentally slipping off the Creek's ground post was the problem. I fixed it. Thanks, VinylStudio Lite.
The software then noticed that my son's computer was set to record in low-resolution mono. I got an error message that said, in effect, "Don't you really want a stereo 44.1kHz WAV file?" (MP3 is also an option.) Well, now I was cooking. As I was recording only a single track, I declined to use the program's seemingly convenient track-separation feature, which displays a visual depiction of the album's signal waveform, making it easy to use the mouse to divide an album's worth of music into individual tracks.
After the track was finished, I burned a CD from the WAV file, sat down, and compared that version of "Aja" with the original vinyl. Yes, there was a noticeable difference. The original vinyl had silkier highs, a richer midrange, and a slightly warmer midbass. I also felt the CD copy subtracted a bit of air, and there was a subtle, crisp tension where the upper midrange and lower highs meet. This manifested itself as drummer Steve Gadd's hi-hat sounding slightly splashier than normal. However, none of these deficiencies was significant, as the file I had recorded with the NAD PP 3 and VinylStudio Lite left the original's harmonic and dynamic signatures pretty much intact, and there was no sense of fatigue or strain. For copying vinyl to an iPod, well, it was good enough. My son's laptop has no I/O devices with any audiophile pretensions; if you have a more serious computer, you may get somewhat better results.
Conclusion
In the PP 3 phono preamplifier, NAD has produced a detailed, uncolored, and dynamic performer. Its A/D converter is fairly impressive, and its USB recording function is a breeze to use with the VinylStudio Lite software, even for this Luddite. In fact, it was so easy that I plan to purchase the review sample, just in case my wife decides she wants to add the first Cat Mother and the All Night Newsboys album to her iPod. (I may want to add some Xavier Cugat.)
By even the most critical audiophile standards, the PP 3 has no meaningful flaws; I can't believe NAD can produce a product of this quality at this price. So, all of you youts out there: Go pick up one of these puppies to match with a Pro-Ject or Music Hall turntable, and grab one of those Fremer-endorsed Spin Clean record-cleaning machines. Then hit every yard sale you can find, load your spoils into your computer, and you'll have the hippest iPod in town!