Music in the Round #74 Page 2
Unfortunately, AQ has eliminated the latching feature on these XLRs. This is not a problem with the power amps, which don't move around and to which I have easy access—but things are crowded at the other end, back at the rack, and the cables tend to pull out when I shift the preamp to make other connections. This is a disappointment in such a product, which is otherwise impressively designed and made (and priced), but the inclusion of latches likely would have required the use of base metals stronger than the silver and copper AQ prefers. Because Stephen brought the new cables before I dismantled the system for the renovation, I was able to compare them with my old cables. The Earths sounded somewhat smoother in the treble, and noticeably more detailed in the midrange and bass. None of these changes was devastating, thank goodness, and all were positive—and anyway, new, clean contacts are always better.
Equipment updates and upgrades
In recent years, much of what I've loved about my system has had to do with my exaSound e28 multichannel DAC and Baetis XR2 server: The former is the only DAC I know that will play all formats in up to 7.1 channels, while the latter, being PC-based, is flexible and updatable—and, used together, they are unique in the sound they deliver. The renovation project enforced a short separation that coincided with the release of the Mk.II version of the e28 and the replacement of the XR2 with the XR3. I sent them off to their respective parents, George Klissarov and John Mingo; the upgraded e28 and the new XR3 were both sent a week or so later—yet they remained in their boxes until just recently: I've had only a brief time to become familiar with them. Moreover, the room is still incomplete acoustically—I'm not even sure where my new main listening position will be—so it's still difficult to make assessments.

The e28 Mk.II adds these features to the original: automatic power-up after sleep, when playback is detected; user-adjustable power-down after a period of inactivity; a maximum-volume limiter when the output of the DAC is used to directly drive a power amp; a redesigned faceplate; the ability to extinguish the display light; and a 12V trigger output for power sequencing. The Mk.II also adds MP3Safe protection against clipping caused by faulty or erroneous signal data. In addition, Klissarov added the FemtoMaster 82, a femtosecond clock, for super-low distortion. All of the e28's other wonderful features—including its ability to play virtually any audio format, galvanic isolation, jitter immunity, capable headphone amp, and heavy-duty, passivated European RCA connectors—are retained.
Because I rely on and appreciate the Baetis XR2 server as much as I do the exaSound e28, it was almost uncanny that the release of the XR3 also coincided with my system downtime. New inside is the addition of a circuit board derived from Baetis's Reference Music Server. The S/PDIF signal passes through this proprietary circuitry to a BNC connector on the rear panel without using either a USB or a PCI bus. Baetis claims this enhances two-channel S/PDIF performance by acting to: "a) substantially improve the digital signal wave form; b) increase voltage (amplitude); and c) reduce rise time—while also providing the necessary galvanic isolation." More significant for multichannel fans, Baetis has added a dedicated, fully shielded USB 3.0 port for best DSD performance.
I won't be able to assess what all of this might mean in terms of sound quality until the rest of the room and system are both finished. But for now, in my still-unsettled circumstances, what's clear is that the e28 Mk.II and XR3 work well and sound fine.
miniDSP U-DAC8 multichannel USB DAC
In the July 2014 and November 2014 installments of this column, I reported on miniDSP's nanoAVR HD. Then called the nanoAVR 8x8, it was an extremely capable multichannel parametric equalizer (PEQ) in a conveniently small case, with three HDMI inputs and one HDMI output. (Its USB and Ethernet ports were for control only.) Since then, the nanoAVR line has been expanded to include the nanoAVR DL, which substitutes Dirac Live room correction for the PEQ, and the nanoAVR HDA, which adds an eight-channel DAC to the original PEQ. Both retain the HDMI ins and outs. Along the way, miniDSP also added to their line a physically larger EQ box, the DDRC-88A, with analog inputs and outputs.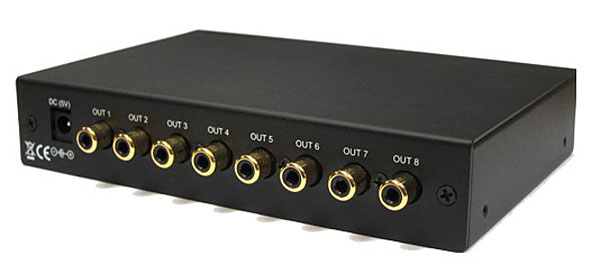 Throughout all this, I had hoped that miniDSP would reconsider its I/O options. Using HDMI in/out meant that the nanoAVR had to be placed between a source component and an AVR or preamplifier-processor. Even adding the D/A to the miniDSP doesn't help the typical user, because AVRs and pre-pros generally do not have HDMI outputs that make use of their processing features: Their outputs are intended to feed a display without speakers, or, at best, stereo/compressed multichannel capability. The analog-output version is all very well and good, but, unfortunately, none of the miniDSP devices have a USB music input so that the rising number of file servers could be supported.
MiniDSP has taken a big step in the right direction. In the same tidy case as the nanoDVR, they now offer the U-DAC8 multichannel DAC. It offers no EQ at all, but at $299 it is, by an order of magnitude, the least expensive multichannel DAC on the market. Nor are its specs anything to sniff at. PCM only, the U-DAC8 handles eight channels via its USB 2.0 input at resolutions up to 24-bit/44.1–192kHz, but not DSD. Its specs include total harmonic distortion of 0.006%, a dynamic range of 103dB, analog output impedance of 560 ohms, and a maximum output of 2V RMS.
For Mac users, it is pretty much plug-and-play since XMOS USB Audio Class 2.0—the USB protocol for HD digital transmission—is native to all recent Macs. One just selects "U-DAC8 Output (Core Audio)" from the Mac's dropdown menu of audio devices and performs a simple configuration using the standard Audio MIDI Setup page. On the other hand, WinPC users must download and install the XMOS USB Audio Class 2.0 driver and run the U-DAC8 setup program: program: a process that is slightly more complex than on a Mac but still offers easy setup of channel selection, routing and level settings. (MiniDSP provides simple, detailed, illustrated instructions for both setup routines.) Because the U-DAC8 lacks a physical volume control and there is no easy pop-up onscreen software control, it should be connected to something that has such a control.
With the Manhattan system not yet resurrected, I installed the U-DAC8 in Connecticut, connecting it to my Mac-based server—which itself runs Win7 via BootCamp—and the multichannel analog inputs of my Marantz AV-8801 pre-pro, in turn connected to a Bryston 9BST 5-channel power amplifier and newly purchased Monitor Audio Silver speakers: three Silver 8s for the left, center, and right channels, and two Silver 2s for surround left and right. I was immediately impressed with the clarity of the soundstage. And music sounded pretty clean across the audioband, with particularly good, tight bass. In contrast with the alternative configuration (HDMI from the server directly into the Marantz), the U-DAC8 seemed a bit lightweight but also more open. Of course, I could turn this statement around and say that the Marantz seemed a bit rolled off at the top, but sounded richer and warmer. When I switched in room-optimization software—Dirac Live on my server, or Audyssey in the Marantz—the differences shrank but were still detectable in A/B comparisons.
What remained was a sense that the U-DAC8 was resolving more detail, but rendering it with a somewhat etched treble. Imaging, too, differed. While the U-DAC8 created a seamless surround stage, I felt that individual voices and instruments were not as distinctly placed as I would have liked. The Marantz was marginally better at this, but overall, I was happier listening to the miniDSP. During a short trip from Manhattan, the exaSound e28 was clearly superior to the U-DAC8 in detail, balance, and soundstaging—at about 12 times the price. In two-channel listening, the miniDSP's reproduction of the treble was also marginally less smooth than the Korg DS-DAC-100m's. And, consistently, the U-DAC8's slightly lower output required gain compensation in the downstream preamp, but remained entirely competitive in dynamics.
For $299, miniDSP's U-DAC8 is an excellent way to begin listening to multichannel files. I felt that its lower output might be the result of its 5V DC power supply and consequent choice of DAC chip, the AKM AK4440. This chip fits the task, but the XMOS USB asynchronous streaming port has greater potential, and miniDSP could bump up the U-DAC8 by inserting a 32-bit device with DSD capability. And, while I'm asking, why not piggyback a Dirac Live module, enhance the output stage, and move the USB port to the rear? For now, I'm keeping the U-DAC8 in the system because it's a distinct enhancement. I hope to turn it into a giant-killer by experimenting with USB links and alternative power supplies, and finding a way to get it to drive the power amps directly.
Next time in the Round
I look forward to talking about the Marantz AV8802a, the new speakers in my Connecticut system, the sound of my completed Manhattan listening room, and, I hope, more.