Music in the Round #36 Recordings in the Round
Sidebar: Recordings In The Round
ÅM: SONaR: Music for Harp & Accompaniment
Vere Meininge, Dette Blanke No, Det Var Mjukt
Ellen Segersted Bødtker, electric & acoustic harps; Berit Norbakken Solset, soprano; Hildegunn Riise, speaker; Alexandra Opsahl, recorder; Grex Vocalis (Carl Høgset, cond.), Oslo Kammersolister
2L 2L51SABD (SACD/CD+Blu-ray)
Yet another wonderful release from 2L! This set of works by Norwegian composer Magnar Åm has duplicate programs on SACD (5.0-channel DSD) and Blu-ray (5.0 dts MA, 5.0 LPCM 24/96, 2.0 LPCM24/96), and includes both discs. It begins with the hauntingly beautiful Vere Meininge, a concerto for harp and string sextet in which the strings are arranged around the listener, the harp front and center, and a female speaker recites occasional verses from directly behind the listener. The mood is darkly romantic and somewhat eerie. The final work, Dette Blanke No, a "concerto for harp and angels," is scored for small choir, soprano, and speaker supporting the solo electric and acoustic harps. Less evocative than Vere Meininge, it is still an engaging work. Between them is the brief Det Var Mjukt (I Awoke), for soprano and harp. The sound is starkly realistic and enveloping, and identically transparent in all the media. With apologies to Joe Satriani, this is strange and beautiful music.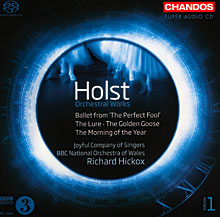 HOLST: Ballet Music
The Lure, The Golden Goose, The Morning of the Year, Ballet from The Perfect Fool
Richard Hickox, Joyful Company of Singers, BBC National Symphony of Wales
Chandos CHSA 5069 (SACD/CD)
Among audiophiles, Holst's The Planets seems to occupy a place similar to that claimed by Orff's Carmina Burana as a classical demo piece of obvious choice. Yet while Holst's gentle and wry melodic spirit is more characteristic of his work than the orchestral explosions of The Planets, his ear for exotic effects carries through both types of works. I strongly recommend this lovely collection of his ballet music to those of you already sated with The Planets. In particular, The Perfect Fool has been one of my favorites for decades, and it and the rest of the program get rousing performances from the late Richard Hickox and his Welsh crew in this, the conductor's final recording project. Chandos chips in with a wide soundstage and dynamic range while maintaining a perfect balance between instrumental detail and hall ambience. A delight from beginning to end.
JOE McQUEEN & FRIENDS: Ten at 86
Joe McQueen, saxophone; Skip Musgrave, trumpet; Brad Wheeler, harmonica; Clayton Furch, piano; Evan Coombs, bass; Don Keipp, drums
Kimber Kable IsoMike 55802 (SACD/CD)
They don't make 'em like this anymore. Joe McQueen has played with all the greats in his 70-year history in classic jazz, and at age 86 can still carry the flag. You won't find anything startlingly new here, but you will hear many great standards and jazz classics played as they were created in the 1940s and '50s. It is to our great fortune that McQueen settled in Ogden, Utah, in 1945, because that's where Ray Kimber has recorded this program in decidedly state-of-the-art sound. Relax, unwind, and, if you're old enough, reminisce.
HANDEL: Water Music, Music for the Royal Fireworks
Jordi Savall, Le Concert des Nations
Alia Vox Heritage AVSA 9860 (SACD/CD)
As you might infer from the "Heritage" appended to this label's name, this is a reissue of an older recording (1993) remastered for multichannel hybrid SACD. It's a superb performance in great sound that I've been enjoying for a while, but am now spurred to recommend after having auditioned a new recording of the same program, by Federico Guglielmo and L'Arte dell'Arco (SACD/CD, CPO 777-312-2), played well on period instruments in spanking-new 5.1-channel sound. Yet as I compared the two, it was clear that Jordi Savall's reading is more to my taste in every way. The performances are appropriately theatrical and zesty, and the sound is robust, with great midbass detail. In contrast, the Guglielmo is a really good if timid stage performance in pellucid but distant sound. Now, I can understand if someone prefers that, but for me, Savall's Handel is simply too joyous and spirited to pass up.—Kalman Rubinson