MQA Tested, Part 1 Manufacturers' Comment
Manufacturers' Comment
Editor: Thanks for the Follow-up and the chance to comment on Jim Austin's discussion of MQA's time-domain performance.
The graph in Jim's fig.4 shows the result of converting the MQA file directly to analog without a decoder. The text describes it as ". . . mostly linear-phase, though the asymmetry suggests some nonlinearity in the phase response. . ."
If we look at the 48kHz MQA test signal waveform (fig.1 in this comment), there is no pre-response. It is elegant that the decoder "unfolds" it back to a perfect impulse as we can infer from Jim's fig.5. Fig. 4 shows us the convolution of the signal with the linear-phase response of the particular chosen DAC (which is contributing the pre-and post-ringing). The result, as would also be the case with non-MQA files, will be different with other converters, according to the filter type (linear- or minimum-phase), rate and user settings.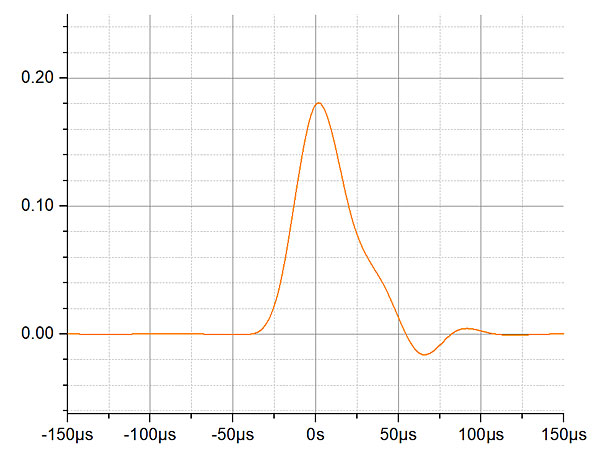 The situation is different with an MQA decoder, eg, as in fig.5, where we expect the response of all MQA DACs to be similar.—Bob Stuart, MQA