A More Attractive Way
The ground floor halls of the M.O.C. contained booths with both static and live demos to resemble something like CES's Las Vegas Convention Center, but were only infinitely more pleasant, more manageable, better coordinated, and more attractive.
The alleys between booths were given street names such as Joe Cocker Street, seen above.
There was also Dave Brubeck Road, Charlie Parker Way, Benny Goodman Strasse, Via Antonio Vivaldi….
To get to the second floor Atriums, we took one of several easily navigable staircases—incredibly, throughout the entire Munich High End Show, I spent exactly zero minutes waiting for or riding horrible, overcrowded elevators.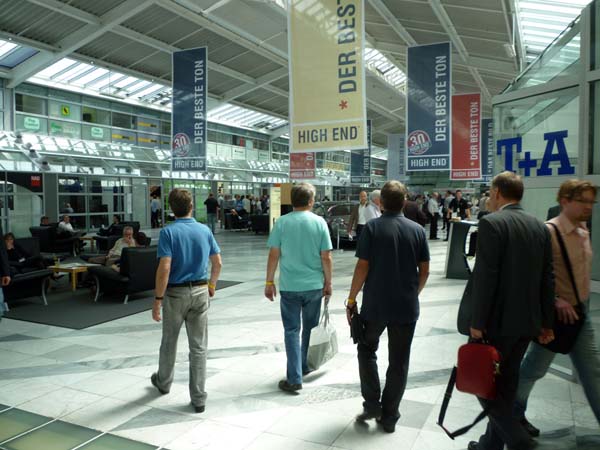 Upstairs, we were impressed by the flood of natural light, the large display rooms and lounges, and the energetic overall atmosphere. Everywhere we looked, people were listening, laughing, lounging.
Branching off from the large Atrium rooms were narrower halls where many manufacturers chose to present live demonstrations. To get from one Atrium to the next, it was fun to pass through the Bistro, smell the food, see what people were eating and drinking.
There were several dining areas provided, so that showgoers could always grab a bite or enjoy a drink before moving on to more hi-fi.
Yes, the glass walls of many of the demo rooms presented challenges for the exhibitors, but it was nothing that couldn't be overcome with clever speaker placement or temporary walls. In fact, the demo rooms were often so pleasantly decorated and well-lit that it was easy to overlook any sonic difficulties.
Usually, hi-fi shows wear me out—mentally, physically, and emotionally. While I can't say that the Munich High End Show was a complete exception to that rule—it was still extremely tiring—I can say that it was far more enjoyable than any other show I've attended, due in no small part to the excellent environment of the M.O.C.
I wonder if hi-fi shows in the States should reconsider their venues. Should we move away from old hotels and typical convention centers to find a better suited, more comfortable, more attractive way to present hi-fi?
Hint: The answer is yes.