Monitor Audio Silver RX6 loudspeaker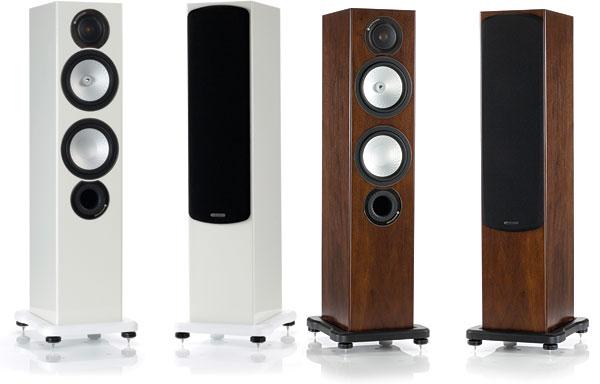 In March 2006 I wrote a
very favorable review
of Monitor Audio's Silver RS6 loudspeaker. At the time, I felt this $999/pair, small-footprint floorstander produced the greatest sound quality per dollar of any speaker I'd heard. Despite the proliferation of affordable speakers of increasing quality I've heard since then, I remained particularly impressed by the Silver RS6's clarity and lack of coloration and the speed of its midbass, all of which continued to exceed the performance of any other affordable speaker I've heard.
At one point, after the review was published, I invited my classic-rock band, Assisted Living, back to my house for a listening session following a gig. As our multifaceted bass player, Paul Nunziata, who is also an audiophile, listened to rock, jazz, and high-energy jazz fusion through the RS6s, his jaw dropped at the clarity and speed of their reproduction of bass guitars. "Why weren't these speakers around in my younger days, when I was trying to learn all these bass parts?" he lamented.
The drive-units used in the Silver RS6 were designed in 2004. Following my review, Monitor invested a considerable amount of money in sophisticated Comsol modeling software and a new anechoic chamber. With these tools they developed a new series of drivers for the Silver RS line, which they rechristened Silver RX. Given my experience with the RS6, John Atkinson thought I should review the Silver RX6.
Speaker Design
The Silver RX6 is the second from the top of Monitor's four new Silver RX models. The price is $1250/pair for real-wood veneers of Black Oak, Natural Oak, Walnut, or Rosenut, $1500/pair for White or Black High Gloss Lacquer. The Walnut finish of my review samples was quite attractive, though my old black-lacquer Silver RS6s blend into the room a bit more easily. Other than that, and some minor differences in the grillecloths and the styling of the front baffle, the Silver RX6 looks identical to the Silver RS6.
Cosmetics aside, however, no components have been carried over to the RX6 from the RS6. The new 2.5-way floorstander has one 6" mid/woofer and one 6" woofer, both using cones of Monitor's proprietary Ceramic-Coated Aluminum/Magnesium (C-CAM) alloy, finished with RST, which Monitor describes as "a radial pattern of surface dimples." The new drive-units are trickled down from the more expensive Gold RX series. Each of these drivers is in a separate ported chamber within the enclosure, to provide differential tuning. In addition to the front reflex port, the 1" gold-colored dome C-CAM tweeter has its own damped rear chamber. The Silver RX tweeter is more sensitive and has a wider bandwidth than the Silver RS6 version; Monitor tells me that the RS6's slight peak around 11kHz is absent in the RX6, and that this makes it a more suitable partner for brighter-sounding electronics.
The RX6 also features bolt-through driver design: Each driver is mounted with a single tensioned through-bolt secured to the rear wall of the cabinet. This bolt acts as a rigid cabinet brace to reduce box colorations; Monitor provides an Allen wrench for tightening the driver mounting bolts following transport. As with the RS6, the RX6's base has user-adjustable feet and spikes.
The Silver RX6's grille is attached to the cabinet with magnets. I listened to the speakers with and without the grilles, and was impressed at how small a difference I heard. I slightly preferred the grilles off—I heard a touch more resolution of detail—but I'm splitting hairs here. Grilles on or grilles off, the speaker looks equally attractive.
Listening
The Monitor's midrange neutrality and rendering of detail, ambience, and holographic imaging made me mine my collection for vocal recordings. Despite its flagrant commerciality, I never tire of Norah Jones singing "Don't Know Why," from her Come Away With Me (CD, Blue Note 5 32088 2), and through the Silver RX6s her perfectly silky, low-level vocal articulations were bathed in a rounded golden glow. And as one of my "Records To Die For" for 2012, Lady Gaga's Born This Way (CD, Streamline/Interscope B0015373 0 2) has grown on me as I've continued to delve into the intricacies of her arrangements. My favorite tune is still the power ballad "YoÅ and I"—the RX6 brought out all the subtle intricacies of her bluesy inflections, most of which will be missed by kids who listen only to MP3s of this well-engineered album.
Lower in frequency, the Monitor was equally revealing and complimentary to well-recorded male voices, from the chiming Bryan Ferry in "More Than This," from Roxy Music's Avalon (CD, Virgin 8 47460 2), to Mighty Sam McClain's guttural growl in "Got to Have Your Love," from his Give It Up to Love (CD, JVC JVCXR-0012). I was also really taken by Mark Cohn's Listening Booth: 1970 (CD, Sagura Road 25594-D), a collection of accessible but unusual covers of songs from that year that you may have loved—or hated. I spent most of that year listening to the Doors, Santana, and Iron Butterfly, and so at the time was no fan of most of the tunes on this CD. I despise no pop artist more than I despise Cat Stevens, and was shocked to find that my favorite track on Cohn's album is "Wild World." Cohn dispenses with Stevens's insipid, cheesy arrangement to create a straightforward voice-and-guitar–dominated performance that I found involving and enjoyable through the Monitor RX6s.
The ability of the Silver RX6s to develop a sense of space made them an excellent match for ECM piano recordings. Keith Jarrett's concert grand on La Scala (CD, ECM 1640) was warm and delicate, with a very real sense of the size of the recording venue. This effect carried over to well-recorded orchestral works as well. Reinbert De Leeuw and the Schönberg Ensemble's performance of Louis Andriessen's De Tijd (CD, Elektra Nonesuch 79291-2) includes sudden, jarring instrumental clashes that break the tranquility of a tense, dark pianissimo orchestral continuo. Through the Silver RX6s there was a real sense of instruments popping out of nowhere to rest on a bed of air in a deep, wide concert hall. However, pianist Josef Christof's recording of John Cage's One, from Late Piano Works (CD, ITM 9500037), also contains a lot of space, silence, and decay; other affordable speakers have reproduced a somewhat greater sense of room ambience with this recording.
The Monitor's extended, pristine high frequencies were showcased by another De Leeuw/Schönberg recording, of György Ligeti's Cello Concerto, with cellist Siegfried Palm (CD, Teldec 8573-87631-2). In this work Ligeti spends a good bit of time exploring the extreme upper registers of the cello and violins, and every subtle nuance of the harmonics of the instruments' upper strings was reproduced through the Silver RX6 with no sense of excess bite or lack of balance. The Monitor's high-frequency reproduction enabled perfect integration of the fundamentals and harmonics of the trumpet; Wynton Marsalis's instrument on his Levee Low Moan (CD, Columbia CK 47075) was startlingly realistic: The Monitor's integration of the horn's dynamic envelope, timbre, and harmonics inspired me to scribble in my notes: "That's a trumpet!"