Metronome CD8 S integrated CD player Page 2
But boy oh boy, did that ever change.
After
those first 45 minutes, I heard distinct increases in both texture and scale. Color saturation, too, went up a notch. Then, maybe 90 minutes after installing the CD8 S, I heard a change so drastic, and virtually in front of my ears, that I laughed out loud: The sound got huge—
huge
, I say!—and both texture and color went up a few more notches. With regard to the latter characteristics, I wasn't yet in Audio Note territory—and I was still far from good vinyl territory—but I was reasonably well satisfied.
Encouraged by such good performance with small-scale classical music, I moved on to tenor Peter Schreier's 1989 recording, with pianist András Schiff, of Schubert's song cycle Die Schöne Müllerin (CD, London 430 414-2). Schiff's touch was appropriately light in "Halt," his instrument well colored and textured—and the extra force he brought to the staccato lines of "Der Jäger" were communicated well. Throughout, Schreier's somewhat lean voice was present and believable, the Metronome doing nothing to round the edges of either his tone or his expressive timing.
Large-scale works? The live recording of Wilhelm Furtwängler and the Berlin Philharmonic performing Strauss's Metamorphosen in October 1947—when the ink on the score was scarcely dry—has appeared in countless CD (and LP) incarnations; all sound terrible, but in strangely different ways. The flaw common to all is gross distortion, beginning at about 4:29, apparently from signal overload on the original tape. The best digital version I've heard is the one in Wilhelm Furtwängler: An Anniversary Tribute (6 CDs, Deutsche Grammophon 477 006-2). Compared to the LP version (Deutsche Grammophon LPM 18 857) played on my Garrard 301–based rig, that CD through the Metronome lacked the appropriately sharp attacks on double basses' pizzicato notes (at 1:46, 2:00, and so forth), but was otherwise emotionally gripping and sonically tolerable—high praise, really—especially in the quieter moments. (Sadly, those are also the moments in this recording when Berlin's Titania-Palast theater sounds most like a tuberculosis sanatorium.)
Given better-quality symphonic recordings, the CD8 S rose to the challenge, as with Sergiú Celibidache's live recording, with the Munich Philharmonic, of Bruckner's Symphony 9 (2 CDs, EMI 5 56699 2). The Metronome's good sense of drive and momentum kept the Scherzo pointed in the right direction, even if the plucked strings didn't have quite the physicality I remember hearing from the Audio Note combination of CDT One/II disc transport and DAC 2.1x Signature digital-to-analog converter that I reviewed in January. In all three movements, the spatial relationships among various instrument groups were convincing, and instrumental timbres—especially the brass—were believably well saturated. With a very different sort of large-scale recording—Randall Thompson's "Alleluia," from the Cantus collection . . . Against the Dying of the Light (CD, Cantus CTS-1202)—the Metronome's good way with scale and, again, spatial placement of individual groups of musicians, added to my emotional involvement.
"Born in Chains," from Leonard Cohen's Popular Problems (CD, Columbia 88875014292)—probably the most convincing song of a very uneven collection—was also compelling through the Metronome, which gave the subtle dramatic ebbs and swells their due and allowed the electric bass to sound particularly right: deep and limber, with good note attacks. The electrically reedy tone of the cheap-funeral-parlor organ that opens this number was perfect, and Cohen's rusty Sprechgesang was front and center, with good presence and body. The Metronome's very good way with electric bass was also evident when I listened to a gold SACD of Aretha Franklin's Aretha's Gold (gold SACD/CD, Mobile Fidelity Sound Lab UDSACD 2142)—the 16-bit/44.1kHz layer, of course. Through the CD8 S, Tom Cogbill's perfect, in-the-pocket bass playing in "Chain of Fools" lost nothing to the LP version. Otherwise, the Metronome did the best it could with engineer Tom Dowd's typically excessive crispness.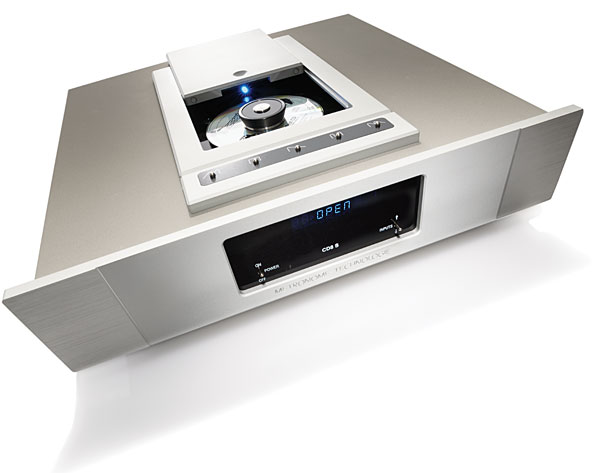 Special mention should go to the Metronome's way with King Crimson's debut album, In the Court of the Crimson King (CD, Discipline Global Mobile DGM0501). Even the highest sustained notes of Robert Fripp's guitar and Ian McDonald's alto saxophone, though intentionally keening, were reproduced with clarity and lack of unintentional harshness, and Michael Giles's drumming was as impactful as, I believe, the compression of the original recording allows—and nimble and propulsive, too, while retaining a sense of musical purpose that so often escapes CD playback.
Listening to files
Auditioned with files streamed from my iMac, Metronome's DAC neither rounded off edges nor filled in pores. An edgy, spitty download of George Harrison's All Things Must Pass (24/96, Apple) still sounded edgy and spitty. That said, when I was of a mind to listen past those qualities, the Metronome allowed the performances to sound musically absorbing. I was impressed at how the CD8 S didn't distort the musical timing of any of those recordings: even the gritty maracas in the middle eight of "Beware of Darkness" was enjoyable in its own way, propelling the song just as effectively as when I listen to it on vinyl.
And in an altogether fine-sounding file of "Marrakesh Express," from Crosby, Stills & Nash (24/192, Atlantic), Dallas Taylor's drumming was uncannily propulsive—as was Stephen Stills's electric bass playing: the song moved!
I played some selections from the most recent Gillian Welch album, The Harrow & the Harvest (AIFF files ripped from CD, Acony ACNY-1109), and was all but spellbound by the combination of clarity, articulation, appropriate roundness of tone, and complete absence of timing distortion brought to the music by the Metronome. My reference DAC, the Halide DAC HD—which, of course, sells for 1/20 the Metronome's price—was no match: It sounded murky compared to the DAC section of the CD8 S. Nor did the Halide, or any other DAC I've heard recently, apart from the Audio Note DAC 2.1x Signature, do as well as the Metronome at conveying the extra little push that singers Welch and David Rawlings put behind their repetition of the chorus near the end of the song, or catching the full timbral beauty of the brief guitar duet at the very end.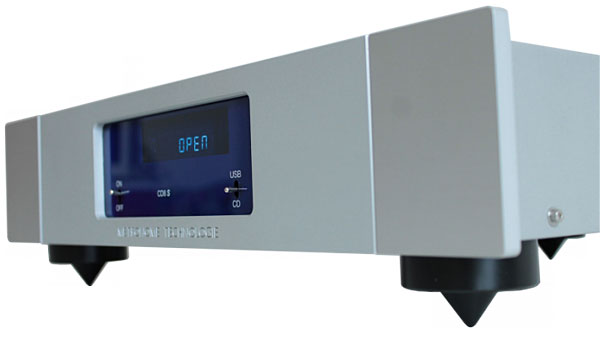 I then tried the DSD64 file of "Sledgehammer," from Peter Gabriel's So (Geffen), and was mostly pleased. Through the CD8 S, the song was rhythmically convincing, and its synth solo—which, in the famous video, accompanies a Claymation chicken—popped out of the mix with analog-caliber color and presence. My only disappointment was that Tony Levin's bass wasn't quite as deep, big, or powerful as it should have been.
I began by saying that I don't listen to music while I'm writing—and I don't. Even so, in this silent room I now perfectly recall the sound, through the Metronome DAC, of a DSD128 file of "When Your Lover Has Gone," from Ben Webster Meets Oscar Peterson (Verve). The magnificence of Webster's tone, the outlandishly huge scale of his tenor saxophone, the surefooted momentum and tunefulness of Peterson's piano, and the texture and rightness of pitch of Ray Brown's bass were all astonishingly good. Not just good for digital, but good good.
Conclusions
How best to sum up the Metronome CD8 S? After I listened to Dmitri Mitropoulos and the Minneapolis Symphony Orchestra performing Mahler's Symphony 1 (CD, Sony Classical MHK 62342), the first question to cross my mind was Why don't I play this disc more often? The Metronome reminded me of Mitropoulos's insights and importance as a pioneering Mahler interpreter. It reminded me of how much I love the very American sound of that orchestra, ca 1950. And it reminded me that, in the late 1940s and early '50s, some of the orchestral recordings on Columbia Masterworks ranked among the very best in terms of sound quality. I can't say for sure, but I suspect that, the last time I heard that CD, I wasn't quite so engaged.
On more than one occasion, my colleague Michael Lavorgna has reminded us all that the best gear compels us to take chances and discover new music. True, of course—but just as important is rediscovering old music that wasn't so well served the last time around.
About halfway through my listening notes for the CD8 S, I wrote, "This is a really nice CD player!" Apart from being the sort of thing that might look good on colored construction paper, perhaps decorated with Elmer's Glue and sparkles, that simple observation doesn't embarrass me too much: Some combination of qualities—the Metronome's good sound, superb musicality, and fine ergonomics and styling—conspired to make me smile every time I used it. Considering also that the CD8 S is the rare recommendable CD player through which one can stream computer-audio files (why doesn't every high-end CD player offer this?), and that this really nice CD player sounds even nicer when used as a USB DAC, a very strong recommendation is in order. Which I here make.