Maria Schneider's Winter Morning Walks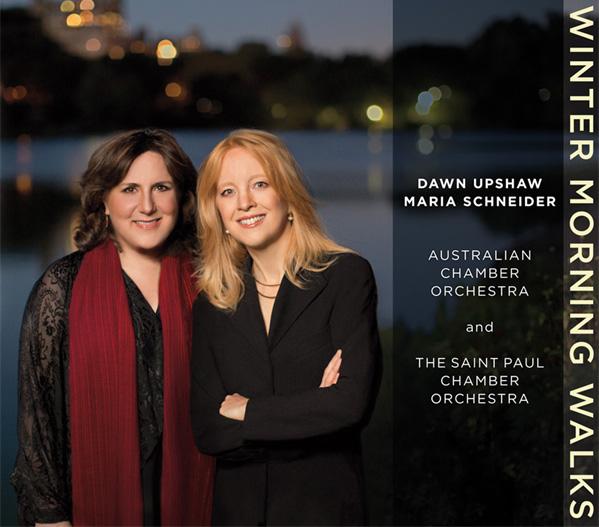 Readers of this space know of my near-boundless admiration for Maria Schneider, the most accomplished and imaginative big-band composer of our time and high up in the pantheon for all time. Her swaying lyricism, muscular rhythms, and kaleidoscopic harmonic voicings—accented with both a Latin tinge and an airiness as spacious as her native Minnesota—rival and, in some ways, exceed the heights of erstwhile mentors, Bob Brookmeyer and Gil Evans.
Now, with Winter Morning Walks, Schneider leaps to still loftier terrain, fusing her jazz sensibility with classical idioms, while staying true to both. Her music is played by chamber orchestras (alternating between the Australian and St. Paul), set to the poetry of Ted Kooser and Carlos Drummond, whose words are sung by Dawn Upshaw.
This is gorgeous music. There are shards and strands of Copland, Sondheim, Barber, and Ives, though the sound is distinctively Schneider, who is ever-evolving into a composer of—beyond genre—Great American Music. And she has eked sympatico responses from the orchestras. (The Australians, who play on the album's first part, which feature Kooser's poems, are augmented by three of the longest-serving musicians from Schneider's Jazz Orchestra: pianist Frank Kimbrough, reedman Scott Robinson, and bassist Jay Anderson.)
It's also a gorgeous recording, engineered by Tim Martyn at 24/96 with Grace preamps and A/D converters. Upshaw was covered by a Neumann microphone, the orchestras by Schoeps mikes in the main, with several spot mikes scattered here and there, though they were used only rarely and lightly.
As with all Maria Schneider's albums, this CD is available only from her website (MariaSchneider.com) or the site of her label, ArtistShare.com.