A Lady Audiophile Walks Into a Bar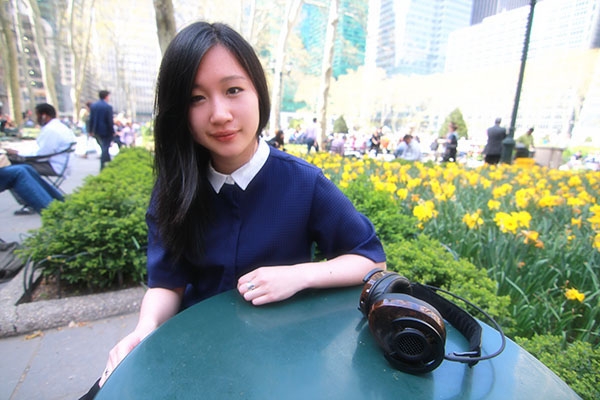 A lady walks into an audiophile bar (footnote 1). She sees four men. They all turn to look at her.
All the first audiophile sees is some lady in a bar. He thinks nothing more. Can't be bothered. Let's face it—how often do you even see a lady audiophile?
The second audiophile does acknowledge her—but only because he clearly believes he belongs to a higher class of intelligence. A seasoned pro, he impressively regurgitates specifications and facts. This mansplaining gentleman knows what ladies like to hear. But what might she like to hear? The question never occurs to him.
The third audiophile marvels at this rare creature. How fortunate he is to be able to bask in her glory! Sadly, he knows that, after he's downed the rest of his perfectly peaty single-malt scotch, it's back to the Wife Acceptance Factor doghouse he goes.
The fourth audiophile isn't fazed at all. He's always glad to make new friends who share his interests. In his eyes, this lady audiophile is another music lover—one who also happens to appreciate good sound and shiny new toys.
I am a millennial female audiophile. I can't begin to tell you how many times I've encountered the first three types of male audiophiles. Sadly, it doesn't always happen in a bar, and I'm often caught off guard without my 16 year-old Lagavulin crutch in hand. The result is what has become an unintentional mental reflex: an instant categorizing of each new person I meet in the audio industry. While I always hope to meet a golden Type 4, I haven't been nearly as lucky as I would like.
But I gather that male audiophiles must have their own sad list of categories. I imagine it goes something like this:
• Type 1: The oblivious one who cannot comprehend why such a hobby exists and why it's so goddamn expensive.
• Type 2: The aesthetically conscious hider of speakers in walls and of subwoofers under couches.
• Type 3: The indifferent-until-vinyl-is-everywhere fiend.
• And lastly, the rare female equivalent of my golden Type 4: the love of your life who lives for high fidelity and high fidelity alone.
So, male e-readers: Would you agree if I said that, despite my being a woman, deep down, you and I have the same core, and that's all that matters? That in our shared love for music we are one and the same, cut from the same cloth? After all, this niche hobby of ours is built around a love of music. Being an audiophile should transcend gender and preconceived notions—or, in my case, carefully categorized stereotypes. We're all guilty of making these types of mistakes, but I hope that we—the audiophile community of women and men—can work far enough past it to become, in the future, more accepting.—Jana Dagdagan (footnote 2)
---
Footnote 1: For the sake of this post, imagine that there are such things as "audiophile bars" and that they are a rather normal occurrence. You know, a place where audiophiles go to drink, talk cables, debate electrostatics versus woofers and tweeters, and so on and so forth. You get the gist.
Footnote 2: Jana joined The Enthusiast Network's Hi-Tech Group in March after working in audio retailing, video blogging, and playing jazz and electronic music. As well as working on all of TEN's Hi-Tech properties—Stereophile, AnalogPlanet.com, AudioStream.com, InnerFidelity.com, Sound&Vision, and Shutterbug—she will be reporting on all things audio from the viewpoint of a millennial woman.—Ed.