KEF: 50 Years of Innovation in Sound
On the evening of Tuesday, September 27, KEF dealers, friends, and associates celebrated the British loudspeaker company's 50th anniversary. The event was held in the impressive penthouse residence of British Consul-General, Danny Lopez, where guests were treated to tall glasses of Pimm's, delicious hors d'oeuvres, and electric views of Midtown Manhattan and Long Island City.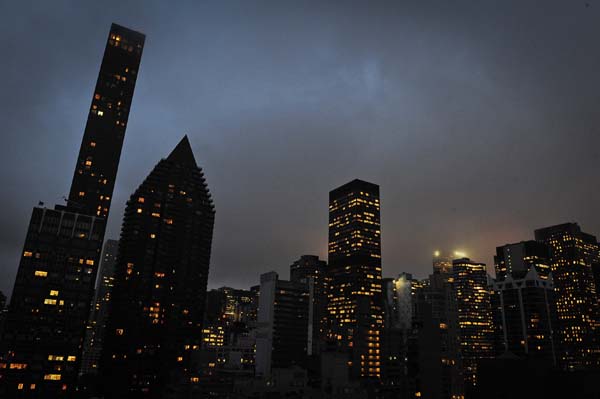 Of course, there was also music—both live, thanks to Nate Buccieri on piano, and reproduced, thanks to a system comprising Parasound JC 1 monoblock amplifiers, Parasound JC 2 preamplifier, the new Parasound CD1 CD player, and the sharp-looking KEF Blade loudspeakers. Richard Gray contributed a power supply, while Crescendo II interconnects and speaker cables, and Black and Blue Thunder AC cables (for sources and amplification, respectively) were provided by Straight Wire.
KEF's jovial and pinstriped brand ambassador, Johan Coorg, pushed the system to skyscraper-shaking levels, impressing the audience with its tonal balance, frequency extension, impact, and seemingly effortless ability to fill a very large, crowded room with sweet music. (The system wouldn't have blinked had it been asked to fill all of Manhattan.)
KEF will continue the celebration during the Rocky Mountain Audiofest, held October 14–16 at the Denver Marriott Tech Center in Denver, CO. Teaming with its Denver-based dealer, Hear No Evil Home Entertainment, KEF will demonstrate the Blade and discuss the speaker's "Single Apparent Source" technology, said to create a sound picture that is "virtually indistinguishable from a live performance."
In addition, on Friday, October 14, 7–9pm, KEF will hold its 50th Anniversary book-signing event in the ground level atrium of the Denver Marriott Tech Center. Copies of KEF: 50 Years of Innovation in Sound will be on sale and can be signed by author Ken Kessler. To audition the KEF Blade and get your pass to the book-signing event, visit KEF and Hear No Evil in Atrium Level 4, Rooms 483 and 485.