Joseph Audio, Bel Canto, WideaLab, Cardas, Amy Winehouse, Peggy Lee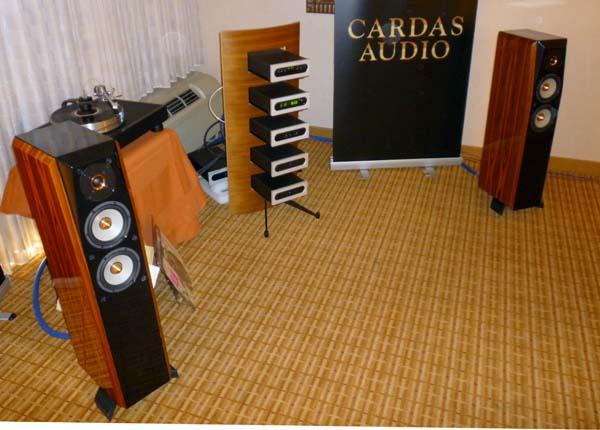 I've grown used to hearing good sound in rooms occupied by Joseph Audio loudspeakers and this was no exception. We had a toe-tapping, hip-shaking, good time in here. The system was locked in a deep and heavy groove, sounding dynamic, fun, lively, and totally listenable.
Yes, listenable. You'd think that everything at a hi-fi show would be listenable, but you'd be surprised.
Anyway. The system:
Joseph Audio Perspective loudspeakers ($11,800/pair), Bel Canto CD3t transport ($1495), Bel Canto REF500M monoblocks ($3990), and a complete Bel Canto Control DAC system (DAC3.5VB, VBS1 power supply, VBREF power cable, and Light Link: $5296; all cute stuff reviewed by Erick Lichte in June). Cables were Cardas: Clear Beyond bi-wire speaker cables ($9884/10ft); Clear Balanced interconnects ($2660/1.5m); Clear Serial Bus USB cable ($150); and Clear M power cords ($549/5ft).
Jeff Joseph has been using computer audio forever, and, on this occasion, he was having fun with the WideaLab Aurender S10 ($6495). Peggy Lee's "Fever" almost gave me a fever. And when we listened to Amy Winehouse's "Valerie," a bonus track from the UK edition of her excellent Back to Black, the sexiness and soul of the music were darkened only by the sadness of Winehouse's early death. All aspects of the music—guitar, bass, percussion, keys, and voice—were fun and easy to follow.
When I got up to say goodbye to Jeff Joseph, I noticed one more thing: The sound was consistently powerful and compelling throughout the entire room—evidence of an outstanding setup.