Jim Thiel-designed, Les Paul-signed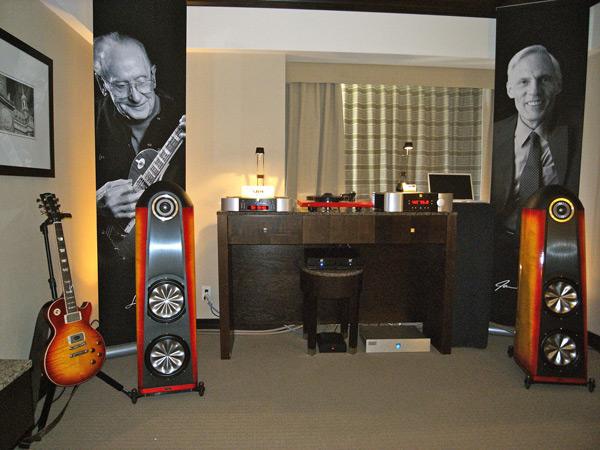 The 2011 SSI was my first chance to see and hear the Limited Edition Les Paul Signature version of Thiel's well-received CS3.7 loudspeaker. The last complete design by the late
Jim Thiel
, the CS3.7 was
favorably reviewed by Wes Phillips in December 2008
. Wes concluded that he "loved, loved, loved the Thiel CS3.7!"
For the Les Paul Signature Edition, of which just 10 pairs are still available, Thiel finished the 15-ply enclosures in fiddle-back maple, then shipped them to Gibson's Custom Shop in Nashvlle, where they were painted in the guitar maker's sunburst finish, half in the Heritage Cherry Sunburst seen in the photo,standing next to a Gibson Les Paul guitar, half in Tobacco Sunburst. The aluminum terminal panel of each speaker was signed by guitar legend Les Paul, who also passed away in 2009.
Unfortunately, the small room from dealer Audio d'Occasion in which the CS3.7s were being demmed, driven by a Simaudio Moon 700i integrated amp and an Oracle Paris turntable with van den Hul cabling, was not optimal.