iFi Audio Pro iDSD D/A processor/headphone amplifier Page 2
Also, except when otherwise noted, I did most of my listening to the Pro iDSD in Bit-Perfect mode, with no filtering or oversampling—because it seemed the most natural, and I liked it that way.
Bit Packets in Space
In my realm, Sun Ra (1914–1993) is forever the boss of all hip cats. He is my art mentor from another planet. I think a lot of audiophile jazz fans overlook Sun Ra because he was a messy mash-up-making postmodernist. (Ra was doing postmodernism before it had a name.) Many jazz lovers dismiss Sun Ra because he chants and sings artful nonsense like, "They plan to put the White House on the moon—soon!" They don't understand his Dada-esque silliness. Mostly, I think audiophiles don't like him because, instead of being a cool, socially detached formalist/modernist, like most jazz artists before Ornette Coleman, Sun Ra railed against his white "oppressors." To my taste, though, he was a beautiful, hyperpoetic citizen of the globe who made highly original music of nearly infinite variety. I never tire of exploring his creations.
While the iFi Pro iDSD was in my system, I fell for days into Sun Ra intoxication. Between Tidal and Qobuz I found more than 100 albums, but kept returning to Gilles Peterson Presents Sun Ra and His Arkestra: To Those of Earth . . . and Other Worlds (16/44.1 FLAC, Strut/Tidal). I got especially into "Somebody Else's Idea," in which Ra chants, "somebody else's idea of somebody else's world is not—my I-dee-ya of things—as they are." The Pro iDSD's DAC did a sterling job of sorting out the countless spatial layerings of this track, recorded live in Paris. It put an elegant polish on recorded tones.
During this early stage of my listening, using my desktop system, I alternated daily between Mytek's Brooklyn DAC ($2195) and the Pro iDSD ($2499), both driving HiFiMan's Susvara headphones ($5999.99). To my surprise, the sound characters of the two DACs were quite similar, but the iFi-HiFiMan combo was more open, transparent, and sharply focused, and the Pro iDSD was more dynamic and eloquent than the Brooklyn. Despite being short on gain, even at the maximum setting of +18dB, the iDSD and the 60-ohm, 83dB/mW-sensitive Susvaras delivered vivid, magnifying-glass detail that put me in intimate contact with the well-dressed Ra (he never needed fashion tips), who was breaking down jazz conventions and playing free jazz before Ornette Coleman.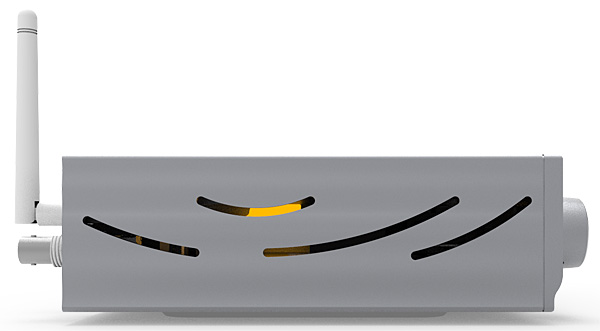 Sun Ra's sound went from organic and exquisitely detailed to something more lifelike when I switched from the very insensitive HiFiMan Susvara headphones to the slightly more sensitive JPS Labs Abyss AB-1266 Phi (88dB/mW, 42 ohms, $4995)—but the gain was still too low. Fortunately, all was a-gain right when I settled on the much less expensive, far more sensitive (100dB/mW) Sony MDR-Z1R headphones ($2299.99)—which made a lucid, velvety, and distinctively well-balanced match with the Pro iDSD.
"the central DAC in an expensive high-end home system"
After a week of headphone listening, I inserted the Pro iDSD in my everyday reference system: Harbeth Monitor M30.2 speakers driven by Pass Laboratories' XA25 stereo amplifier and PrimaLuna's DiaLogue Premium tube preamplifier.
If you were previously a Sun Ra disparager but now want to reexamine his eccentric genius, you must begin with The Heliocentric Worlds of Sun Ra, Vol.1 (16/44.1 FLAC, ESP/Tidal). The sound is of demonstration quality, and the music of Ra and the Solar Arkestra will rearrange your chromosomes and scare your children. Worlds doesn't waste your brain with melody, traditional harmonies, or egoistic posturing. This recording is pure delectable sound art—and it was at this point in my listening that the iFi Pro iDSD really grabbed my attention.
I've played Heliocentric Worlds countless times, and through every DAC that has passed my way, but it had never sounded so liquid-clear, or spatially big and wide open. The iDSD's combination of attention-grabbing transparency and muscular drive exceeded even Mytek's Manhattan II DAC in those regards, and its natural three-dimensionality exceeded those of both the HoloAudio Spring and Schiit Yggdrasil Analog 2 DACs. The overall quality of the sound I experienced felt as if it should cost not $2499 but $24,999. The Arkestra's tone was excellent. The fantastic spatial effects in Heliocentric Worlds registered in my mind as gleaming, expanding, high-energy transparencies. The Pro iDSD's only noticeable negative was that it didn't deliver 100% of the all-natural tonal character of the HoloAudio Spring "Kitsuné Tuned Edition" Level 3.
With the Pro iDSD, my usual reference recordings of soprano accompanied by piano showed weight and descriptive elegance at both ends of the audioband. But it was Ruggiero Ricci playing Paganini's Caprices (16/44.1 FLAC, Alto/Tidal) to spectacular textural and dynamic effect that convinced me: This DAC wasn't just quiet, transparent, and punchy—it could play music.
Remastering and Upsampling
I used "Buddy and Maria Elena Talking," from Buddy Holly's Down the Line: Rarities (16/44.1, Geffen/Decca/Tidal), to get some idea of what the Pro iDSD's DSD512 and DSD1024 "remastering" would do to their voices, the Fifth Avenue traffic outside their window, and, most important, to the substantial room sound that Holly captured on his home recorder.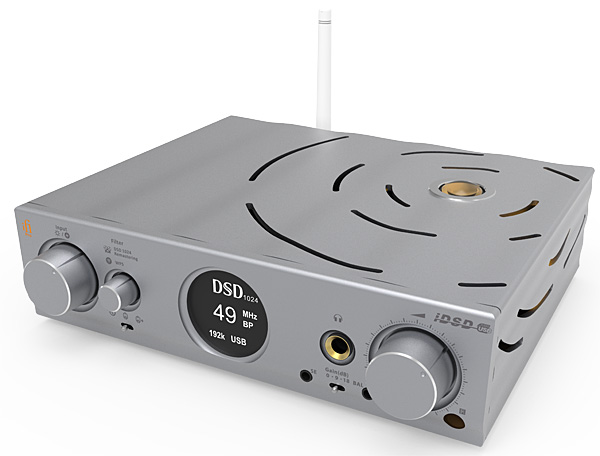 Played straight up in Direct—Bit-Perfect—NOS, Buddy's and Maria Elena's voices sounded more present, vivid, and articulate than through any other DAC I've tried. Maria Elena was there, speaking to her husband from across the room. Her human presence reminded me of the sound generated by old-school Loudness controls: dense and slightly glossy. It was physically and sonically seductive. I doubted that any form of "remastering" could improve on this enjoyable vividness.
But when I "remastered" the Hollys to DSD512, it was like putting on hearing aids. Their voices moved closer to the mike, became more detailed, more textured, and easier to understand. Unfortunately, atmosphere and room tone were diminished by at least 20%, and Maria Elena's voice sometimes screeched out at me. In the humorous "That'll Be the Day (greetings to Bob Thiele)," Holly's guitar had a stronger, more present and appealing twang. Surprisingly, I enjoyed this "remastered" effect. Its more direct sound made it feel more intimate.
I'm embarrassed to admit this in public, it is so un–Herb-like, but Down the Line, remastered further to DSD1024, put Holly and his guitars even more in my face than DSD512—and I liked it even more. What's happening to me? Electric bass became even more detailed and weighty, and I liked that especially. When I returned to Direct—Bit-Perfect, it seemed more natural, but also a touch slow and very slightly dull. (In audio auditions, sequence is everything.)
But I'm a hardworking reviewer. I abandoned the quotidian pleasures of Direct—Bit-Perfect to examine the Holly recording via PCM Upsampling, in which PCM is upconverted to 16x PCM (705.6/768kHz) using one or another of these filters, with these results:
1) Bit-Perfect: sounded pleasant, but weaker, messier, less vivid than Direct—Bit-Perfect.
2) Bit-Perfect+: as above, but more forceful and a touch less messy. My favorite.
3) Gibbs Transient Optimized: easy-flowing, more upfront with voices, but less weighty and slightly muffled.
4) Apodizing: more revealing than the above, and much more forward, but tonally noticeably lean. (I oppose lean tone.)
5) Transient Aligned: strangely like what I call "recording studio sound," but less sharp, present, or revealing than actual studio monitors.
None of these filters sounded unpleasant, and all made interesting complements to the Pro iDSD's vivid, wide-open transparency in Direct–Bit-Perfect–NOS mode.
Conclusions
To my mind, analog audio still produces a more authentic and believable sense of force and corporeality, so I naturally prefer digital audio gear whose sound comes closest to those qualities. In previous reviews I've praised the HoloAudio Spring "Kitsuné Tuned Edition" Level 3 and Mytek's Manhattan II for precisely those traits. I can now add the Pro iDSD to this short list of DACs that recover an enjoyable illusion of dense bodies playing music.
I've also noticed that audiophile DACs vary widely in their ability to transmit a believably natural-feeling transparency. My beloved HoloAudio Spring reproduces empty spaces that feel completely and uniquely nondigital, and that surround performers with a sense of breathable air that makes the forms of those dense bodies seem more three-dimensionally there. While the Pro iDSD's air didn't feel quite as naturally oxygenated, the iFi did consistently surpass the HoloAudio Spring in generating expansive soundstages that directed my attention toward the positions and corporeality of the performers and/or their instruments. This dramatic, wide-open clarity was the Pro iDSD's most distinguishing characteristic.
Bottom line: iFi Audio's Pro iDSD lived up to the hyperbole of its owner's manual. It did actually play music like "a 'state of the art' reference digital to analog converter." It did indeed sound like "an all-out assault" on what is possible in DACs today . . . and it did both of those good things at a ridiculously low price. Highly recommended.