Hot Stuff from Rosso Fiorentini & AMR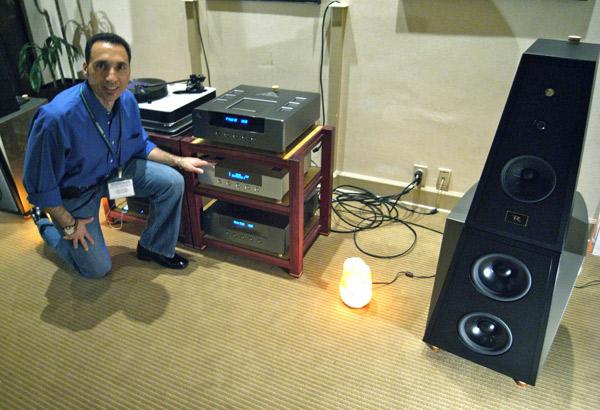 The Avatar Acoustics room featured the Rosso Fiorentini Siena speakers ($24,995/pair) that made their North American debut at last January's CES, seen here with Avatar's Darren Censullo. A four-way sealed-box design, the Siena features two 8" aluminum-cone woofers, a 6.5" paper-cone midrange unit, a 1" silk-dome tweeter, and a Murata ultrasonic generator and produced a big sweep of sound on what appeared to be the Show's ubiquitous dem track, Nils Lofgren's live acoustic number "Keith Don't Go," driven by an AMR AM-77.1 integrated amplifier. But converting Nils' bits from an AMR CD-77.1 CD player used as a transport was AMR's new DP-77 D/A converter ($4995). Uniquely, this offers a choice of two DAC chips, one a non-oversampling 16-bit type which is recommended for CD playback, the other a 32-bit type optimized for playback of high sample-rate data, which offers minimum-phase, apodizing, and "organic" reconstruction filters.
The DP-77 has an asynchronous USB input that can accept data with sample rates up to 192kHz and jitter is reduced by using a high-precision clock and rather than adjusting its frequency in continuous steps to match the average rate of the incoming data, which can allow jitter to bleed through to the DAC chip, the DP-77's clock switches between 28 million discrete frequencies.