On A Higher Note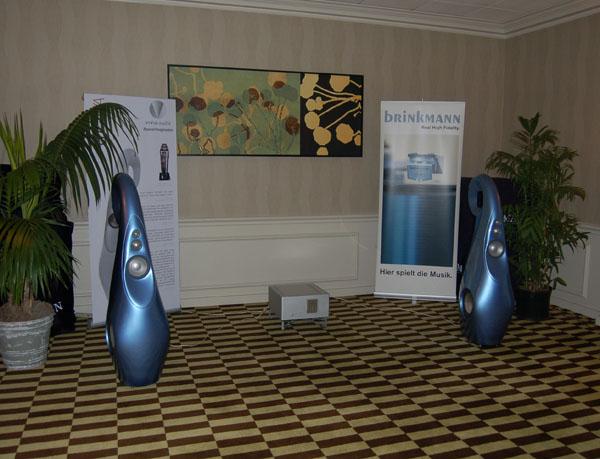 On A Higher Note is the US distributor for Audioaero, Luxman, Brinkmann, and Vivid Loudspeakers, and Philip O'Hanlon is its founder and president. Philip is also another guy that gets it. Music that is. Actually Philip O'Hanlon has seemingly mastered the art of music presentation and is one of hi-fi's more endearing characters. You really don't want to leave while the bow-tied and nimble-footed Mr. O'Hanlon is spinning the tunes or telling stories.
To make matters better, the system we listened to was absolutely musically engaging to the extreme. It included the Vivid Audio G2Giya loudspeakers ($50,000/pair), Luxman M-800A class-A stereo amplifier ($19,000), Luxman E-1 phono stage ($4000), Brinkmann Oasis direct-drive turntable ($13,400), Brinkmann 9.6 tonearm ($4000), Brinkmann Pi cartridge ($2700), Audioaero La Source CD/SACD player also used as preamp ($44,000), with Crystal Cable in use throughout.
We listened to Lou Reed's "A Walk On The Wild Side" on 12" 45rpm vinyl and Rokia Traoré's wonderfully quirky version of "The Man I Love" and Peter Gabriel's "The Boy In The Bubble," both on CD, and I wish I had had time for more.