Hegel Music Systems Mohican CD player Manufacturer's Comment
Manufacturer's Comment
Editor: Thank you for publishing extensive and detailed technical measurements of the Hegel Mohican CD player.
We were surprised to see that the spectrum in fig.4 showed some low-level (–120 to –130dBr), discrete, 100Hz harmonic artifacts in the Mohican's analog output, because we have not seen these artifacts in our own measurements when testing the Mohican with Hegel's Audio Precision SYS2722A test systems.
After investigating this in Hegel's R&D lab, our conclusion is that the low-level 100Hz artifacts are inherent with the particular 0dB, 1kHz CD track used when John Atkinson took the measurement shown in fig.4, and that these low-level 100Hz artifacts have nothing to do with the Mohican. When we test the Mohican's analog output with a test CD-R burned with a 0dB, 1kHz, 16-bit WAV-file test signal generated by the Audio Precision 2722A, there are no low-level 100Hz artifacts in the Mohican's analog output.
We are happy to ship back the very same unit of Mohican that was originally measured by Stereophile, so that John Atkinson can verify our own findings.—Bent Holter, Technical Director, Hegel Music Systems
Further Testing Hegel shipped the review sample of the Mohican back to me and after this issue had been shipped to the printer but before it went on press, I retested the Mohican. Instead of using the CBS CD-1 test disc I had used to generate fig.4 in the review, repeated here as fig.1 (footnote 1), I used a CD-R that I had burned using both a dithered 1kHz, 0dBFS, 16-bit signal I had taken from the Audio Precision's digital output (fig.2) and one I had generated using Adobe Audition (fig.3). With these test tones, the spectra either had them at a lower level (Audio Precision) or were free from the 100Hz-spaced spuriae (Adobe Audition). The effect of the dither noise at the 16th bit can clearly be seen.—John Atkinson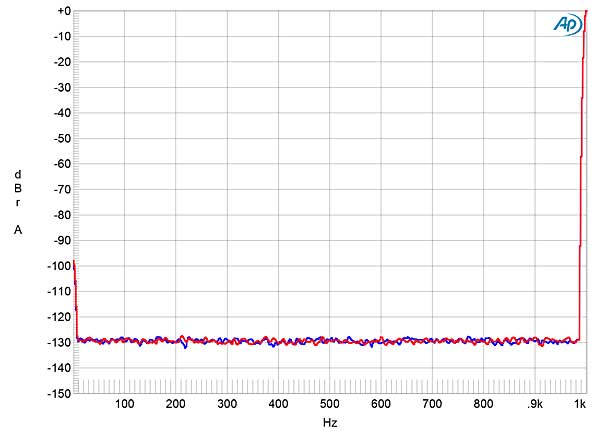 ---
Footnote 1: The 1kHz, 0dBFS signal on the CBS CD was prepared without dither, hence the unmasking of the 100Hz-spaced artefacts in this review. That I had not realized this is due to the fact that when I last used this disc to test CD players, I was still using the Audio Precision System One analyzer, whose own noise floor would have hidden the spuriae.—
John Atkinson