Graham Nash's First Stop: Philip O'Hanlon's On a Higher Note Suite at the Mirage
[Note: click here for background on this project and here for how we set up the equipment.]
After a quick mid-morning breakfast with Graham Nash that included AudioStream.com's Michael Lavorgna, we headed up to the top floor of the Mirage hotel to start our day at Philip O'Hanlon's On a Higher Note suite.
Before we walked into the room, Nash gave me a serious look and explained "What I'm looking for is that the intent of my message, the impact of the song, is communicated intact. This is the first time I've heard these songs outside of the studio, so this should be very interesting. I'm looking forward to this."
Of course I had no idea what to expect either, since I'd never sat and listened to music on a good system with Nash. Would he find all of these demo rooms anemic compared to his experience in the studio? Would his musical intent go astray? Audiophiles often work in a bubble where we tweak away heading toward some imagined perfection. What would he think of what we consider great sound?
O'Hanlon greeted us as we came in and I set up the laptop while introductions were made. The Vivid B1 speaker designer, Lawrence Dickie, happened to be present as well and a couple more CES attendees wandered in, surprised to see who was in the room. Graham greeted everyone, making small talk while Michael Lavorgna and I fiddled with cables.
Though the Merging Technologies NADAC was being featured in O'Hanlon's system, it has no USB input, so we connected Nash's computer to the USB input on the Luxman D-08u CD/SACD player and configured Roon. Everyone settled down and I hit play.
The first track we heard was "Myself at Last", the second song on the album and one of the acoustic numbers. Graham told me earlier he likes to listen moderately loud, so I turned up the volume until he nodded. This piece includes acoustic guitar, voice, some light keyboards and near the end, a harmonica. It sounded wonderful to me. We then went on to the opening number, which rocks with pounding rhythm and electric guitars, "This Path Tonight".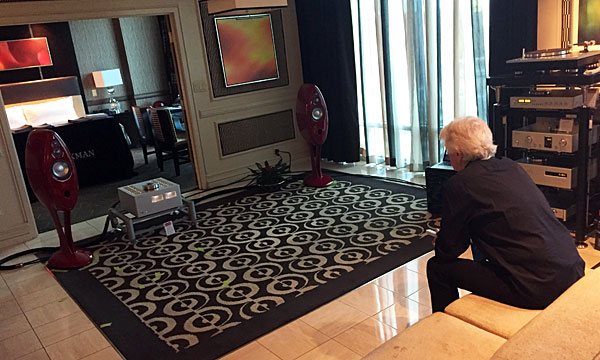 I watched Graham as he gently rocked back and forth on the cushy chair, then glanced over at O'Hanlon who was also watching Nash carefully. After all, Philip was taking a chance letting us invade his space with no assurances, and for all he knew, Nash could declare this experiment a failure and I'd have to report exactly that. But after the second song ended, Graham jumped up, turned to everyone and exclaimed "that sounds fuckin' amazing! Lets hear one more?" Whew! Smiles all around.
After we left the room I asked Graham for more about what he thought. "First, I must tell you It was fabulous to be able to let go. To let go and not be thinking I want this sound here and we need this part there. And I felt the speakers were incredibly designed, almost like a beautiful aircraft."
As to the sound: "I really got the feeling I was sitting there watching myself perform. And that is very difficult for me to feel that—it's difficult for me to step outside of myself when I listen. But I was able to do it today. That was the first set of speakers I've heard the album on since the studio and I was kind of a little nervous and who knows what to expect right? But it sounded fantastic to me. Bass response, everything was fabulous and I congratulate them on great sound."
Next up, the dCS/Wilson Audio/D'Agostino room down the hall.
Equipment List:
Luxman D-08u CD/SACD player $18,000
Luxman C-900u control amplifier $20,000
Luxman M-900u stereo amplifier $20,000
Vivid B1 Decade loudspeakers $28,000
SonoruS proximity subwoofer controller $9,900
Eclipse TD520SW subwoofer $3,600
Artesania "Exoteryc" racks
Artesania "Aire" amplifier platform
Shunyata Venom series interconnects & Aloha series power cords