Graham Nash Visits the YG Acoustics and Constellation Suites in the Venetian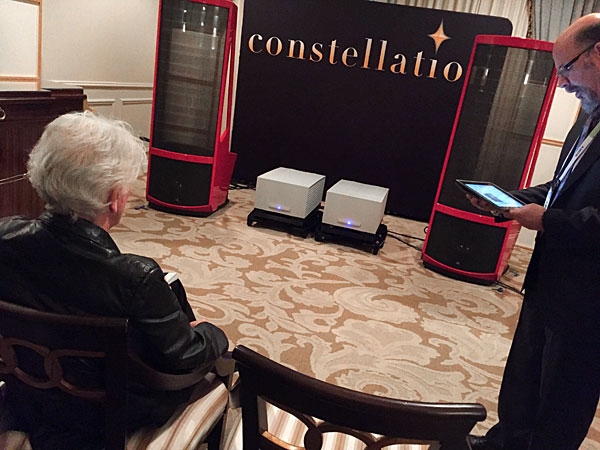 [Note: click here for background on this project and here for how we set up the equipment.]
I'm grouping these two rooms together since we didn't listen to Graham Nash's album in either one, but rather had each host pick something out. We were getting behind schedule, so the idea was to expose Nash to some completely different speaker technologies back to back and see what he thought.
In the Constellation room, host Irv Gross made a bee-line for Graham and exclaimed that he still had his 45 single of The Hollies' "Look Through Any Window". Nash then proceeded to tell the story about how he met the then 15 year old author of the song, Graham Gouldman (who would surface later in 10CC). Nash recounted that Gouldman's mother kept an eye on the older lads while the tunes were demoed in the living room. "We thought, that's a hit, do you have any others? He then proceeded to play 'Bus Stop' and the rest is history."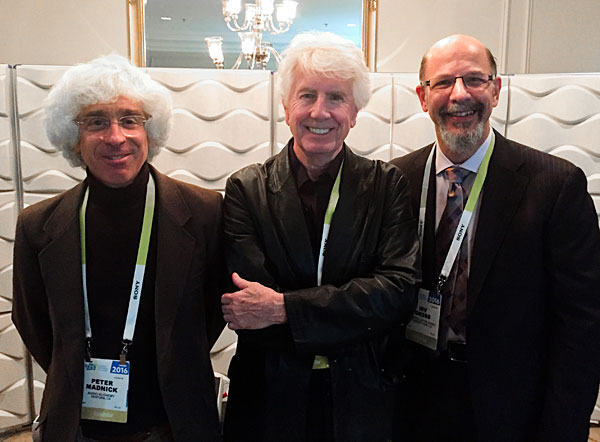 Graham asked Gross to pick some music and he cued up Diane Krall's cover version of Joni Mitchell's "A Case of You". A savvy choice on Gross's part since the album Mitchell originally recorded it for, Blue, is often cited as being partly inspired by her romantic history with Graham. In fact Nash covered the song himself at one point. And then Gross played a classic track from Mose Allison.
Nash: "I thought this system was the most natural that I've heard so far today. But I didn't get a chance to play music that I was familiar with so I could compare. But the two pieces of music he played were great examples of what that system could do."
Over in the YG Acoustics room, Graham received a more traditional audiophile experience, when a simple recording of a jazz trio was played (unfortunately I neglected to note what track they were using). I thought the music in the room pulsed with life, and the player was clearly imaged life-sized in front of us. I couldn't wait to hear how Nash perceived this one.
Nash: "Very natural sounding system. You could hear the breath entering his mouth just before he played a note. I would have liked to have heard the same track on a good set of headphones to compare. You could hear his mouth working the instrument, you know, the shape of his mouth working the notes he was playing. The pressure of his lungs. I could hear all that on the system. It was quite amazing."
Constellation Equipment List (used for demo):
Constellation Altair II preamp $78,000
Constellation Hercules II monoblock amps $180,000/pr
Martin-Logan Neolith loudspeaker $80,000/pr
YG Equipment List (used for demo):
dCS Scarlatti CD transport $32,999
Boulder 2120 DAC $65,000
Boulder 2110 preamp $55,000
Boulder 2150 monoblock amplifiers $99,000/pr
YG Acoustics Sonja 1.3 loudspeakers $106,800/pr
Kubala-Sosna Elation! cables
Kubala-Sosna XPander power distribution $4,800