Graham Nash Visits Chord Electronics in the Venetian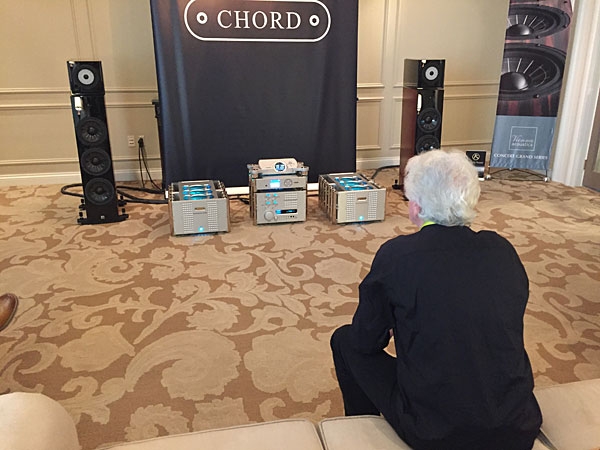 [Note: click here for background on this project and here for how we set up the equipment.]
Chord Electronics had their suite divided into two rooms at CES, the main room as shown in the photo above and the smaller back room where all the headphone listening was taking place. Chord had their Mojo and Hugo TT DACs set up with a variety of Audeze headphones as reported earlier.
But in the main room was their latest DAVE DAC (which I'll be profiling in a later post) as well as some of their best electronics. The system was topped off with one of my personal favorites, the Vienna Acoustics The Music loudspeakers.
When we arrived the place was busy—more so than any previous suite, with press and dealers from all over the world, and Graham Nash was quickly recognized. He did meet and greets with everyone interested before getting down to business in the main room, while the growing crowd watched his every move.
Listening commenced and I was struck again with how great this album sounded, especially on a system this big in a large room. Both the electric and acoustic numbers felt right, with just a little bit of the Vienna Acoustics sweetness on top. We always listened all the way through each track, so could spend at least 15 minutes in each room with music.
And we turned it up a bit louder to take advantage of the scale of the space. "Once again that brought me closer to the flame," said Nash, "the flame being the actual moment we recorded. I'm looking to get as close to the flame as I can—without getting burnt!"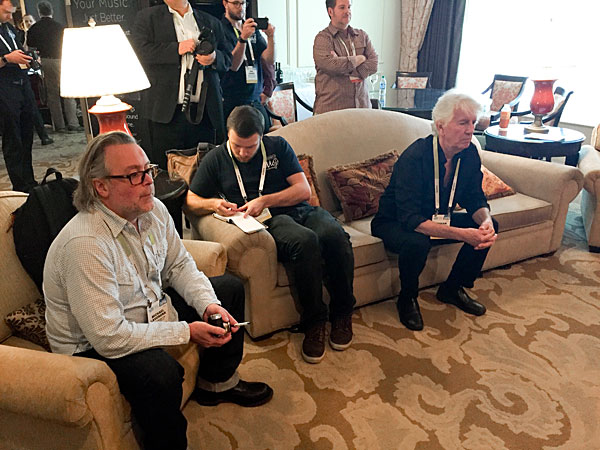 Graham seemed much more intent in this room and was plainly enjoying himself. "This whole industry is fascinating. I mean, I don't really think about how far people take this stuff most of the time. I'm usually playing, recording." Though he's been around it for longer than most of us, he had never seen what we do up close in this kind of environment. "I have friends who have some pretty amazing equipment, but I didn't realize the scale of this high-end industry."
And I'm thinking the obvious at this point, which other readers have already noted: we need to expose more musicians like Nash to the fruits of their labors so they can get excited about the potential for good sound on the consumer side. Once they hear how good their own recording can sound . . .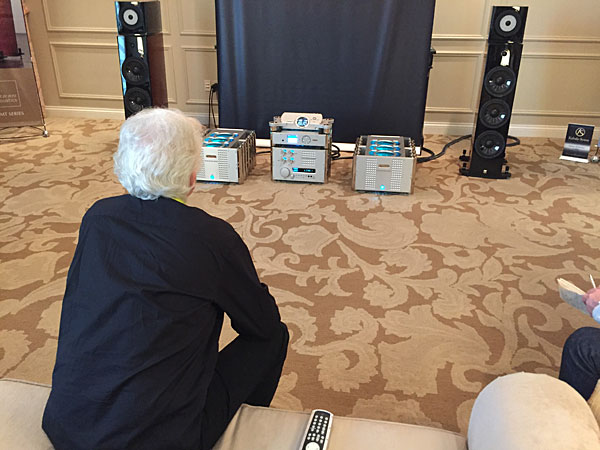 Walking to dinner later, Nash confided that he doesn't have a large collection of music that he's listening to at the moment, since he is so focused on his project. What he has right now is on the laptop that he carries (the one being used for these demos), but that will change over time.
Even still, I began to realize he has a very wide-ranging appreciation for all kinds of music. We talked about our common fascination with Gamelan music from Indonesia, and he immediately began listing his favorite recordings dating back to the early 1960s and his own gamelan instruments purchased somewhere in the past. When someone in one of the suites brought up a classical performance, he started in on a fascinating story about a famous piano. When he heard a version of "Shine On You Crazy Diamond" in another room, he recalled the time he and David Crosby did an impromptu version of it on stage with David Gilmour. And it went on like that all day long.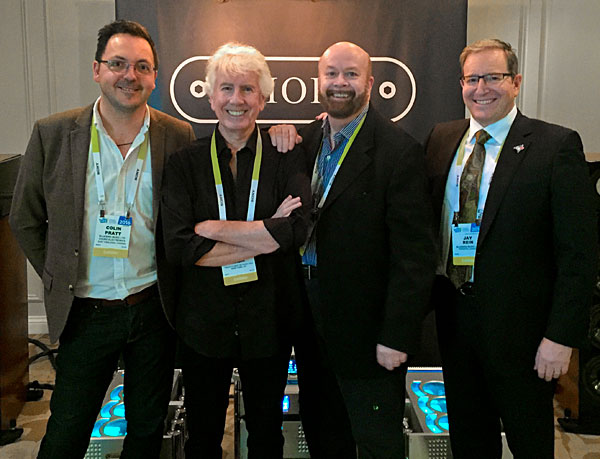 After leaving the Chord room I couldn't resist prodding Graham what he thought about all that fancy metal work on the components? "Quite frankly I was wondering if they spent as much money on the inside as on the outside. But they seem to have done it because it did sound marvelous. Yeah, the album sounded great in that room." And so it did.
Equipment List (used for demo):
Chord DAVE DAC $16,000
Chord CPA 8000 Reference dual mono preamp $45,000
Chord SMP 14000MkII Reference monoblock power amps $86,000/pr
Vienna Acoustics Klimt Series The Music loudspeaker $32,998/pr
Kubola Sosa cables $12,000