Graham Nash Tries Out The Audeze EL-8 Headphones and Chord Mojo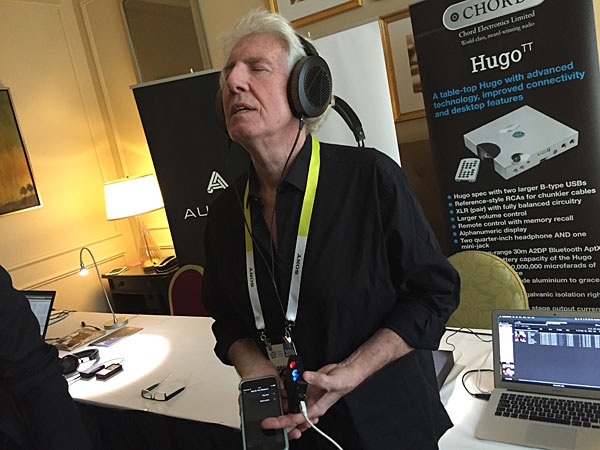 We'll be detailing all of the rooms that Graham Nash visited at CES in the next week, but before we get started, here's a small detour that took place about halfway through the day.
In the back room of the Chord suite, at the top of the Venetian, a variety of Audeze headphones were set up connected to various Chord portable and desktop products and arrayed on a couple of long tables. I mentioned to Graham that I listened to the Audeze LCD-Xs at home, but Instead of going for the most expensive system, Chord's John Franks handed Graham a pair of Audeze EL-8 headphones ($699) connected to the company's Mojo DAC/headphone amp ($599) and somebody's phone.
They asked Graham to find a track he might want to listen to and here's what unexpectedly happened:
"They handed me an iPhone with a lot of things to play. Now one of the things on the phone was Neil Young's 'A Man Needs a Maid' from the Harvest album. I happened to be present with Neil when he recorded that with the London Symphony in London. I was there, so I know what it's supposed to sound like. And they put me right in the middle of the orchestra. Those headphones were amazing, and this little Mojo thing they've got, good lord. 16 bit lossless and it sounded amazing."
Notice in that last sentence that Nash appreciates that he wasn't listening to some low-life MP3. When the track started Graham shut his eyes and for the next several minutes never opened them. He received a Mojo from Chord's John Franks right then and there (alas he didn't get the Audeze headphones). But he was excited and as we walked down the hall to the next room, he noted that the emotional impact of good sound was clear "and it didn't even cost an arm and a leg." Later that night at dinner Graham mentioned that he was charging his new Mojo up back at his hotel room, to use on his flight to LA the next morning. Music to his and my ears!
We'll start hitting the rooms in the next few reports. BTW, if you're wondering what this post is all about, read this.