GoldenEar Triton Two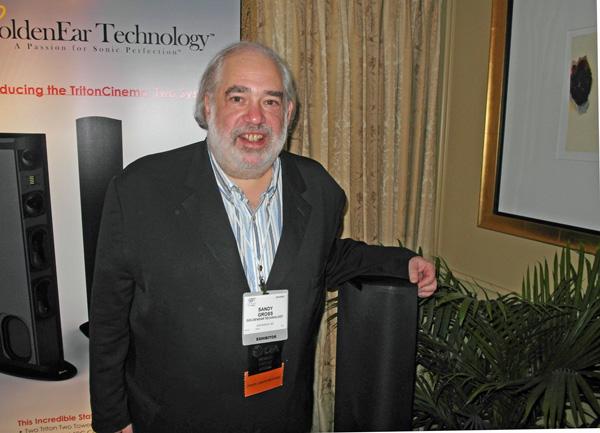 More than once in my years of CES-going, it has come down to the last day of the show for me to discover an important product. That was the case this time. The product was the Triton Two, the flagship loudspeaker from GoldenEar, the new company founded by Sandy Gross and Don Givogue, who had been partners at Definitive Technology, Gross having also co-founded Polk Audio. The company is new, but it draws on a wealth of experience in the speaker business, and it shows.
There were quite a few speakers that impressed me at this show, but, taking price and sound quality into account, I have say that the Triton Two, shown here with Sandy, was my favorite. It's a floor-standing three-way, narrow in the front (5¼"), widening in the rear (7½"), and just 48" high, making it visually unassuming. It uses an unusual driver complement, starting with what they call a High-Velocity Folded Ribbon Tweeter (a variant of the Heil AMT tweeter), two 4½" mid/bass drivers, and two 5"x9" subwoofers, each coupled with a 7"x10" passive radiator facing the side. Each subwoofers is driven by a 1200W DSP-controlled class-D amp. With all this technology—and truly full-range sound—the Triton Two costs just $2500/pair.