Genelec Studio Monitor 1031A loudspeaker & Studio Monitor 1092A powered subwoofer Measurements
Sidebar 2: Measurements
Because it's a powered design, measurements of the Genelec Studio Monitor 1031A's impedance and sensitivity are irrelevant. The Genelec's cabinet was quite lively in the bass-reflex tuning region, with a single resonant mode also evident in the midrange (fig.1). The latter might add a hint of "slowness" to the satellite's bass quality, though predicting the subjective effect of the midrange mode is harder; it might be high enough in frequency and low enough in level to be more benign than expected.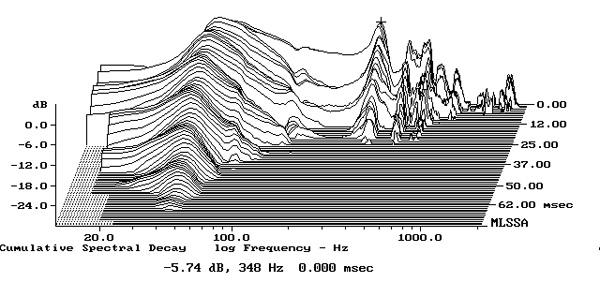 Fig.2 shows the 1031A's frequency response, averaged across a 30° lateral window on the tweeter axis and spliced to the nearfield responses of the woofer and port, together with the complex sum of these two individual outputs. The speaker offers a basically flat balance on-axis, with a slight lack of presence-region energy, as JGH surmised. Alternatively, the 3–12kHz could be regarded as being slightly boosted, particularly as the midrange itself is a little recessed. (How a measured response such as this will be perceived depends on whether the listener locks on to peaks and hears the valleys as lacks of energy, or vice versa.)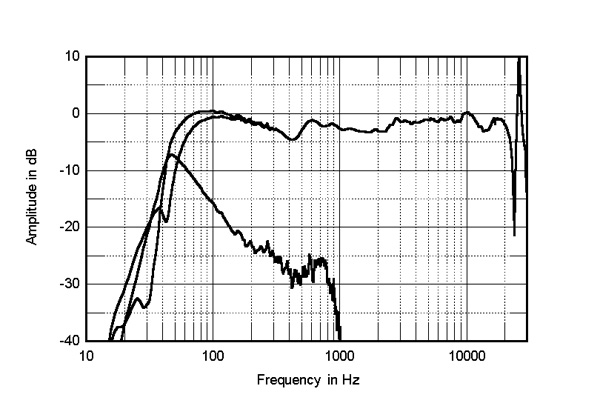 With its rolloff control set to zero, the Genelec mini extends to around 45Hz in the bass, –6dB, with a very steep rolloff below the port tuning frequency of 43Hz. The effect of the bass-rolloff switch is shown in fig.3; basically, by both reducing the extension and increasing the damping of the reflex alignment, this switch makes it possible to optimize the speaker's low-frequency performance for a variety of situations. The effects of the treble control when set to its maximum and minimum positions and compared with the on-axis response are shown in fig.4. As specified, the control applies a boost of 2dB or a cut of up to –4dB at 10kHz. As Gordon found, if the Genelec HF response is too hot for your tastes, this control can compensate exactly for that character.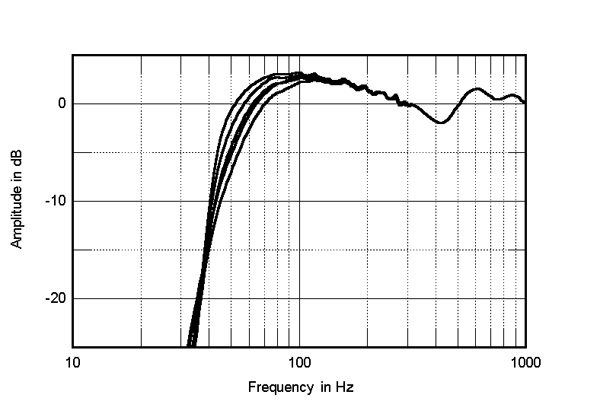 Other than a very slight beaming at the top of the woofer's passband, the 1031A's lateral dispersion (fig.5) is well controlled, the speaker's output falling evenly to its sides except above 16kHz, where it doesn't matter. The overall dispersion is somewhat narrower in the treble than is usually the case with a 1" tweeter, which can make the speaker sound mellow in large or overdamped rooms. In the vertical plane (fig.6), significant suckouts develop 5° above and 15° below the tweeter axis. The listener needs to sit with his ears on or just below the tweeter axis to perceive the flat response of which this speaker is capable. Even so, in a farfield situation, it's possible that this vertical behavior will result in a lack of in-room presence-region energy that will be perceived as a somewhat uninvolving character—or "dark," as Gordon said.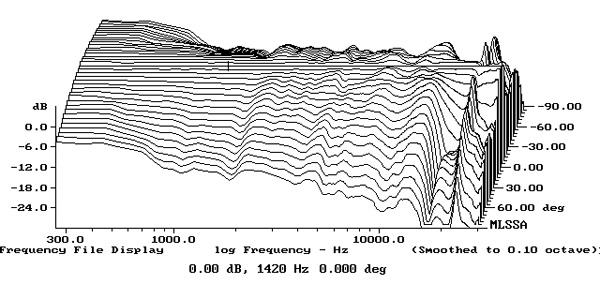 In the time domain, the Studio Monitor 1031A's impulse response (not shown) was typical of a design with a high-order crossover and was overlaid with ultrasonic (hence inaudible) ringing from the tweeter's "oil-can" resonance. The step response (fig.7) reveals that the tweeter is connected in positive polarity, the midrange in inverted polarity, and that the speaker is nowhere near time-coherent, though that probably is subjectively inconsequential. The associated waterfall plot (fig.8) is superbly clean, implying a high degree of treble clarity.—John Atkinson