The Fifth Element #29 Some Recommendations
Some recommendations
I'm running out of space, but I want to point out some products at various price tiers that, in my opinion, you can buy once and buy right.
ESP's Concert Grand, Aerial's 20T, and Wilson Benesch's Chimera, each in its own way, can make a case that it should be your "get off the merry-go-round" loudspeaker choice. The price spread here is from the low $20k (Chimera) to the mid-$30k (Concert Grand). Careful auditioning is obviously called for.
At the next price tier down (ca $12.5k), Shahinian's Diapason is the "love at first hearing or you'll never get it" outlier; Wilson Benesch's A.C.T. is the more conventional alternative.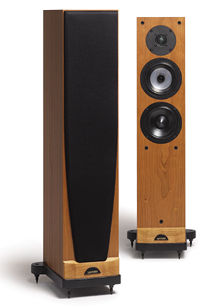 Under $5k, Shahinian's Obelisk and Compass, Spendor's S5e, and Harbeth's HL Compact 7ES-2 and HL P3ES-3 (their current successor to the LS3/5A) all are safe bets for long, happy ownership experiences—as long as you choose the speaker that best fits your musical tastes and room acoustics.
In pricey amplification, darTZeel's NHB-108 should make nearly anyone happy over the long haul—unless your speaker presents a punishing combination of low impedance and rotated phase angle in the bass, in which case Plinius' SB-300 amplifier ($7395) and M-8 preamp should rock your world.
Among more affordable amplification solutions, Plinius' 9200 integrated amplifier ($4095) has been hard to beat, but review samples of new contendahs from Jeff Rowland Design Group (Concerto) and Audionet (SAM V2) have been promised to me. Magnum Dynalab's MD 208 FM-only stereo receiver ($2975) is an extremely classy solution to component clutter. I enjoyed my time with it immensely.
Assuming that your speakers do not present too demanding a load to it, Sugden's A21al integrated amplifier ($1895) is really sweet and a real bargain. The A21a has been in production with only minor changes for more than 25 years. I like that.
Esoteric's X-01 ($13,000) is my current fave rave digital source. I hope soon to snag a review set of EMM Labs' SACD transport and D/A converter/stereo preamp combination, which has the pedigree and earmarks of a classic. [I was knocked out by the sound of this combination when I auditioned it in my system for a weekend last summer. —John Atkinson.]
Among more affordable digital sources, Marantz's SA-8260 ($1099) remains a solid value. Marantz's SA-11 SACD player is replacing the $2900 SA-14 I previously recommended, but I have yet to hear it. For non-SACD playback, Grace's m902 is an improved version of the Grace 901 D/A headphone amplifier that I reviewed in March 2003, with the addition of volume-controlled analog outputs. Again, not yet heard, but a review sample is supposed to be on its way to me. Stay tuned.
Finally, RPG's Skylines diffuser panels might be the most cost-effective—and dramatic—improvement to your listening experience. Once you get used to their looks, you won't know how you ever lived without them.