Fidelis AV—Harbeth—Perreaux—Stein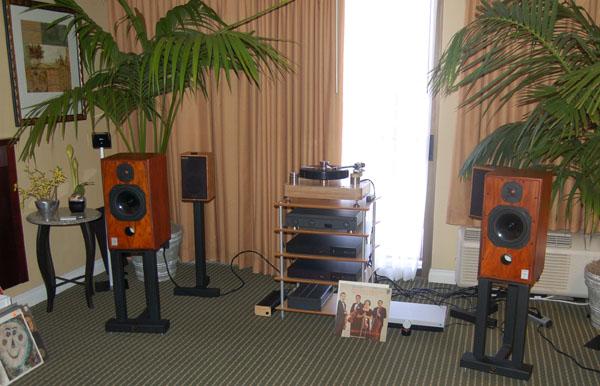 Distributor Fidelis AV was showing products from its worldly stable, including the Harbeth Compact 7ES speaker ($3950/pair in Rosewood, $3650/pair in Cherry), the Perreaux Audiant 80i, an 80Wpc integrated amplifier that comes with an internal USB DAC and phono stage ($2995), the Palmer Audio 2.5 turntable ($6000), with an Audio Oragami tonearm ($3000) and Dynavector 20X2 cartridge ($850), all tied together by LFD cables.
The more astute observer may notice a little black box sitting on a thin white stand behind the left loudspeaker. That's one of four Platinum Stein Harmonizers ($3995/four) that were placed near each of the room's corners. There were also some of the Stein Magic Stones in use although I didn't see them, which may be one aspect of their magic.
Here's what the Stein Music Ltd brochure has to say: "H2a and H2b are tiny devices which can positively influence the perceived room-acoustics when placed inside the listening room. The intensity can be tuned, so it is easy to adjust to the local circumstances." Hmm. I know a bunch of other things that can influence my perception even outside the listening room, I can adjust its intensity to taste and I can get an awful lot of it for nearly 4 grand.
We listened to the UK-made turntable through the UK-born speakers powered by the New Zealand-made integrated amp to the Quartetto Italiano playing Mozart, yet it spoke as one very relaxed and involving voice.