The Entry Level #19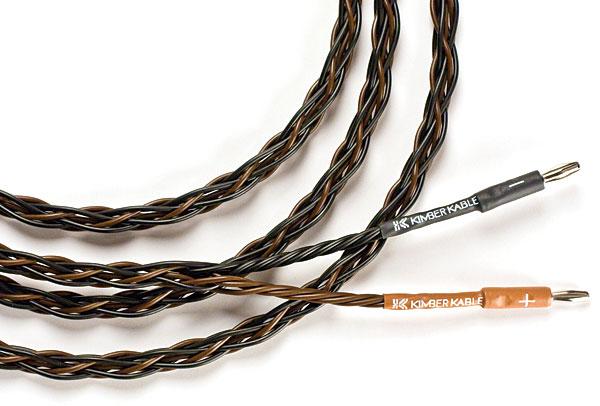 It was unusually warm for early spring, without a cloud in the big, blue sky to tame the sun's dazzling light—far too beautiful a day to be indoors, but Uncle Omar and I had already planned a little listening session, and I was determined to show him that high-end cables would make a difference in his system. I wasn't necessarily feeling bullish about the task, though. It had taken me a couple of years to convince Omar that he should replace his old boom-box speakers with something better, and it was only dumb luck that finally made it happen: I was with him when he found a gently used pair of B&W DM602 speakers at a junk shop in Jersey City. When they were new, the DM602s sold for around $600/pair, but on this happy day they were tagged at $50. "Do it," I begged him. "
Doooooo
it!"
He did it—thank goodness—and, a couple of weeks later, we made a trip to Audio Connection in Verona, New Jersey, where affable store owner John Rutan accomplished what I thought impossible: He sold Omar a cool, new Rega P1 turntable to replace his beat-to-death Salvation Army record player. Of course, this smart purchase soon led to another (Ortofon 2M Red phono cartridge), another (Bellari VP129 phono preamp), another (Oppo DV-980 universal player), and another (Harman/Kardon HK3390 receiver). But for some damn reason I could never get Omar to invest in new cables. His decade-old spool of RadioShack 16-gauge zip cord, diligently carried from one rented apartment to the next, served him just fine. "I know what cables do," he would say, "and I just can't see why high-end cables would make a difference."
In the past, I might have mumbled something about high-purity copper or Teflon insulation, but Omar would easily see that I was out of my depth. This time, I would come prepared with Kimber Kable's 4PR and 8VS loudspeaker cables ($150 and $280 per 10' pair, respectively) and let them do the talking.
Three demo tracks
I met Omar at his front door, where we performed our usual greeting: a patented high-five routine of over the top, down low, fist-bump, blow it up, perfected long ago over beers and a Mets game. Upstairs, Omar poured two cups of Puerto Rican coffee (strain through a sweat sock, add five pounds of sugar) and we got to work. To keep things simple, we listened only to CDs through Omar's Oppo DV-980. From the discs available on Omar's racks we selected three demo tracks with which we were equally and intimately familiar: "One Armed Scissor," from At the Drive-In's Relationship of Command (Grand Royal/Virgin 49999), recorded by Chuck Johnson; the title track of Jay-Z's The Blueprint2: The Gift & the Curse (Roc-A-Fella 063381-2), recorded by Gimel "Young Guru" Keaton; and "Becuz," from Sonic Youth's Washing Machine (DGC 24825), recorded by John Siket.
First, we listened to Omar's system with his usual RadioShack wire connecting his B&W DM602s to his Harman/Kardon HK3390 receiver. "One Armed Scissor" sounded just as I remembered: urgent and dramatic, with pleading vocals, heavily distorted guitars, and furious rhythms, but needlessly loud and compressed. Aside from the recording's common deficiencies, the overall sound was entirely fine. Nothing sounded particularly wrong. I began to worry. What if we don't hear an improvement?
"Sounds pretty good," Omar said.
"Hmm," I cautiously replied, reaching into my bag of cables.
Kimber Kable 4PR
Kimber Kable's 4PR, the company's very first product and its most affordable speaker cable ($150/10' pair), was introduced in 1979, when I was two years old. Like Kimber's popular PBJ interconnect ($110/1m pair, reviewed last month), the 4PR has gone practically unchanged since its release. It employs the same braided geometry found in Kimber's more expensive 8VS speaker cable ($280/10' pair, reviewed last month), but instead of the 8VS's eight gray and eight black conductors, the 4PR has four pairs each of black and brown conductors in an apparently looser braid. I've always loved the look of the 4PR. Brown? Brown? It's so understated it's almost bold.
My samples came with Kimber's high-quality SBAN banana plugs at the amp ends and their confidence-inspiring PostMaster 33 spade lugs at the speaker ends. When I unpacked the 4PRs and held them in my hands, I was immediately impressed by their overall build quality—it takes only a moment to recognize the high level of craftsmanship in any Kimber product—but, beyond that, I felt as if I were holding a piece of hi-fi history. Few hi-fi products can match the 4PR's longevity; anything that sticks around our fickle world for thirtysomething years has got to have a lot going for it. The 4PR deserves respect and attention. But what would it offer over the typical RadioShack wire in terms of sound quality?