The Entry Level #15
A cold, rainy winter day had calmly turned into a cold, rainy winter night—perfect for listening to Mercury Rev's dark masterpiece,
Deserter's Songs
. Originally released in 1998 (CD, V2 VVR1002771), during my junior year in college, the album, like so many of my old favorites, has recently been reissued on vinyl (LP,
Modern Classics/Light in the Attic MCR 900
). As with everything released by Light in the Attic, the quality is superb: The thick, glossy gatefold jacket features a perfect reproduction of the original artwork, and the quiet, 180gm LP is housed in an old-fashioned paper sleeve. A handsome four-page insert includes photographs, lyrics, and the complete liner notes, while a download code provides access to two live tracks and a fascinating interview with the band's lead songwriters, Jonathan Donahue and Grasshopper. Finally and most important,
Deserter's Songs
has been lovingly remastered by the original coproducer, Dave Fridmann. The album sounds as urgent as ever, born from as much ambition and abandon, and only more wonderful and compelling.
So it was with a special kind of excitement that I introduced to my system the Parasound Zphono•USB phono preamplifier ($349), cued up my new copy of Deserter's Songs, and hurried back to my orange couch before the stylus could hit the lead-in groove. In that moment before the music emerged, when my listening room ballooned with a sweet, heavy silence and the enormous winter moon poured through my white curtains to expose the cracks in my tired walls, I wondered if I would be disappointed.
Earlier that day, I had accompanied John Atkinson to Michael Fremer's lovely home in the thickly wooded suburbs of northern New Jersey, to run a full set of measurements on the MBL Radialstrahler 101E Mk.II loudspeakers ($70,500/pair; review to appear in an upcoming issue). Just prior to the tests, while JA positioned microphones, I tiptoed around Mikey's famously messy listening room, carefully avoiding jewel cases, power amplifiers, and speaker cables, and marveling at all the stuff. Nearly every inch of the place was covered in music and gear.
"Wanna listen to something?" Mikey asked.
"Yeah," I said, taking a seat. "Do you have the new Mercury Rev reissue?"
"I don't have the new one," Mikey said, "but I've got an original. Wanna hear 'Holes'?"
Amid all the chaos and clutter, Mikey quickly located the record and cued it up on his Continuum Audio Labs Caliburn turntable, fitted with a Continuum Cobra tonearm and Ortofon A90 moving-coil cartridge. Mikey's Musical Fidelity Titan power amplifier drove the MBLs via TARA Labs Omega Gold speaker cable. The preamplifier and phono preamp were Ypsilon's PST-100 Mk.II and VPS-100 Mk.II, respectively. Interconnects were TARA Labs Zero. I did the math in my head: A system like this would cost well over $400,000—yikes!—a lot of money by just about any standard.
When I listen to music at Mikey's, I expect to be extremely impressed. On this occasion, what first caught my attention was the force with which notes emerged on the stage and the grace with which they faded away: Garth Hudson's tenor and alto sax solos, for instance, were fluid and poetic, beautifully and fully expressed. But perhaps even more impressive was the system's ability to envelop me in sound. Everything just seemed so big and present, creating a remarkably physical experience.
Now, as I sat on the orange couch, again waiting anxiously for Deserter's Songs to begin, my experience at Mikey's was still fresh in my mind and ears. How would my system compare?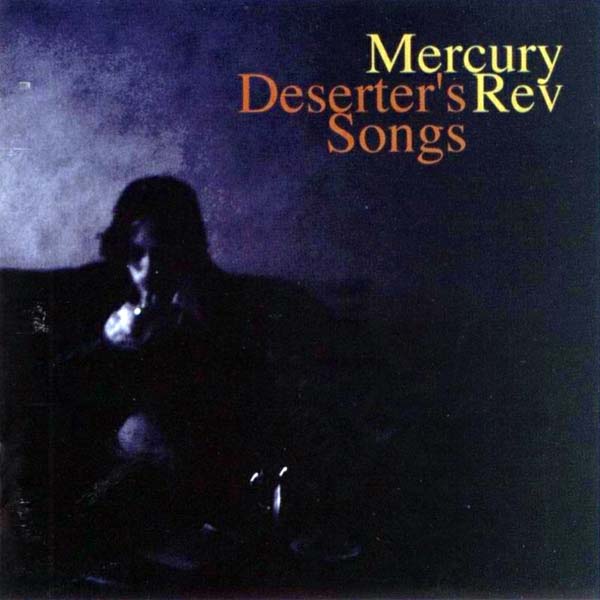 When the music emerged, I heard sinuous strings sweeping across a big, wide soundstage; percussive acoustic guitar churning from the left channel; eerily realistic tambourine coming from the right channel; bass and drums at the rear of the stage, presented in a way that was clear, powerful, and easy to follow; that surreal bowed saw wavering and warbling, sounding like a choir of weeping spirits; and, finally, the fragile, childlike voice singing "Time, all th' long red lines / that take control / of all th' smokelike streams / that flow into your dreams . . ."
I was very happily surprised. Whether it was because I was back in Jersey City, in my own room, surrounded by my own things, or because I'd been so eager and hopeful, or because I was high on winter moonlight, I can't be certain—but as I sat there listening again to "Holes," I couldn't help but think that the experience wasn't merely as good as what I'd heard earlier that day at Mikey's—it was better. I considered shooting off delirious text messages to Natalie and Nicole, raving about the wonderful sound and music, but decided against pestering them with more hi-fi talk. Yes, Mikey's system had created a bigger overall picture with bigger individual images, but my modest system was delivering all the tonal color, drama, scale, spatial cues, and smooth, easy flow that I could have hoped for.
I didn't let myself get too excited. After all, I was listening to a mint copy of a new remastering of Deserter's Songs, while Mikey's original pressing was old and well worn. And I reminded myself that the Parasound Zphono•USB was completely new to me. But still! My system sounded better than I could recall ever hearing it. It sounded better than $400,000. What was this Zphono all about?
A little lesson
I walked into John Atkinson's office one day and asked him to tell me about phono preamplifiers. "What the heck do they do, anyway, and what makes one different from another?" Clearly and succinctly, John gave me a little lesson on RIAA and gain. He even drew a block diagram with a couple of triangles and some pretty, squiggly lines. My boss is so cool.
Back in the hip 1950s, the Record Industry Association of America created the RIAA curve, an equalization standard that adjusted certain frequencies at the record-cutting stage, attenuating low frequencies and emphasizing higher ones, in order to fit as much music as possible onto an LP and increase the format's dynamic range. This process is called pre-emphasis. When pre-emphasized records are played back, however, the altered frequencies need to be re-equalized in order to match the original recording. Reapplication of the RIAA curve, or de-emphasis, is the first job of any phono preamplifier. Wild, right? (For an in-depth discussion of RIAA LP equalization, see Keith Howard's awesome "Cut and Thrust.")
A phono preamp's second job is to provide additional amplification, or voltage gain, to the very small signals produced by phono cartridges. While moving-magnet designs like my Rega Elys 2 do provide a stronger signal than the moving-coil cartridges that Art Dudley and most of my other audiophile friends prefer, the signal is still far weaker than that produced by a CD player.
The ways in which an engineer can implement those two goals are limited primarily by skill, imagination, and budgetary constraints. Hence the world sees both a $26,000 Ypsilon VPS-100 and a $349 Parasound Zphono•USB—wildly different components designed to do pretty much the same thing.
From bowling alley to listening room
Parasound introduced their affordable Z series in 1996, the year Lisa Marie Presley filed for divorce from Michael Jackson. I was 19 years old and could have used a good stereo in my dorm room, but I didn't then know anything about hi-fi. If you're reading this in your dorm room, you're way ahead of where I was at your age. If you're reading this in your mansion, you're way ahead of where I am now.
The Z series is now in its third generation. The Zphono•USB measures 9.5" wide by 2" high by 10" deep and weighs 5 lbs. Its appearance is simple, no-nonsense, and, like all of Parasound's Z products, dominated by its front-panel rack-mounting holes, which suggest use in pro-audio environments. I sort of hate those rack-mounting holes. I asked Parasound's president, Richard Schram, about the product's look.
Schram explained that the half-width rack-mount design emerged from a Parasound-engineered, AMF-branded mike preamp installed in all of AMF's bowling centers in the late 1980s. "We've continued the rack-mount design because the products are so popular in custom installations and are often 'problem solvers' where high performance is required and real estate is limited."
---
Footnote 1: Parasound Products, Inc., 2250 McKinnon Avenue, San Francisco, CA 94124. Tel: (415) 397-7100. Fax: (415) 397-0144. Web:
www.parasound.com