ELAC's Big Little Systems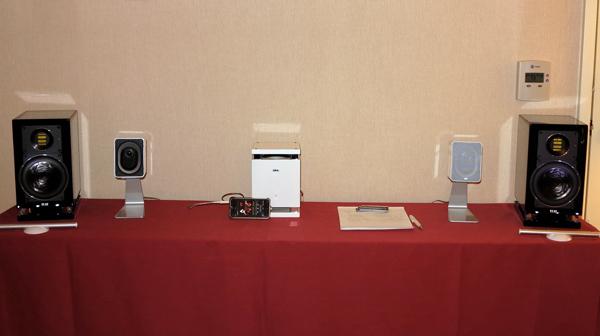 German loudspeaker manufacturer ELAC showed its prototype Air-X403. Scheduled for launch at CES2014, the wireless loudspeaker system includes a passive model ($2800?) and an active baby with a 210Wpc, class-A/B amplifier ($4000 range total). This black, bottom-ported speaker system did a very nice job on a track by Diana Krall, a singer John Atkinson enjoys, and I do in moderation. I would never have expected such a good midrange from such small speakers. The 5th-generation JET tweeter, from ELAC, can extend up to 50kHz, and the paper/aluminum sandwich woofer is also unique.
Between the black speakers sat a smaller white system, the 2.1 Micromagic ($2499). Between the two inner speakers is the sub. With USB inputs, among others, and a wireless option, it can be controlled via iPhone. Belying its size, it sounded amazingly full and musical. Note that the ELAC website warns of sales by online counterfeiters.