Dutch & Dutch 8c active loudspeaker system Page 2
I placed the 8c's some 15" from the front wall (which isn't a wall but a triple-glazed, heavy-duty city window with a 4"-thick slab of fiberglass on the inside ledge). Using lanspeaker.com, one can make all sorts of adjustments in real time. Setting the front-wall distance to 15.75" (40cm) and side-wall distance to 23.6"–27.6" (60–70cm), the bass was strong— almost too strong.
Measurements
I took using Dayton Audio's OmniMic microphone and XTZ's Room Analyzer Pro software defined two significant bass peaks, at 33Hz and 66Hz for the left speaker and 35Hz and 75Hz for the right. I corrected these peaks with parametric filters complementary in gain and Q. Now the bass was tight and extended, but there was still too much of it. After a few days of listening, I settled on a –2dB shelving-down of the bass; my FR measurements confirmed that the 8c's were now flat down to 20Hz. Impressive output from these little puppies.
Sound
I did all my listening with files streamed from JRiver Media Center 24 via AES3 at up to 24/96, or from Roon via LAN at up to 24/192. I heard no differences in sound quality between the two sources.
My immediate impression of the Dutch & Dutch 8c's was one of rightness: They always sounded clean, balanced, and revealing. It was difficult to hear any specific tonal character—nothing stuck out—but I repeatedly noted the remarkable detail and imaging in the lower midrange and upper bass more than in the ranges above. It was a pleasure to hear lower male voices, and lower instruments such as cello, contrabassoon, and tuba, with full, clear resonance.
For example, in John Atkinson's recording of Eriks Esenvalds' The First Tears, from Ethan Sperry and the Portland State Chamber Choir's The Doors of Heaven (CD, Naxos 8.579008), I'd always reveled in the open, spacious sound of the treble voices. Through the D&Ds, I discovered delicious details in the tenors and baritones/basses, which were warmly and clearly reproduced. I didn't get the impression that there was any undue emphasis in this range; rather, it caught my attention because I've rarely heard it reproduced so well.
Low bass, too, was excellent. The D&Ds' power output was surprisingly large for their size and seemed to have no practical limitations for domestic music playback. I tried the 8c's with "The Garage Door or The Dynamic Range of Real Life," from Hi-Fi News & Record Review's Test Disc (CD, HFN/Denon 003). No doubt it frightened my neighbors, but I thought the crashing door sounded slightly damped at the very bottom compared to what I hear and feel from my JL Audio Fathom f113 subwoofer—hardly a fair fight. But for music, including organ pedals and massed double basses, the 8c's created tremors while maintaining tonal and textural clarity.
The treble was smooth and open but somewhat under-stated, if only because the D&Ds' extraordinary performance in the lower ranges drew my attention away. When I focused on the HF, with good recordings it seemed transparent from violins to cymbals but ruthless with poorly miked or older, grainier recordings. For decades, I've loved the sound of soprano Emma Kirkby's voice, but I'm especially thrilled by her older recordings, made when her voice was lighter and seemed spun from pure silver. It's all that in her classic recording of Mozart's "Exsultate, Jubilate," with Christopher Hogwood conducting the Academy of Ancient Music (CD, L'Oiseau-Lyre 411832), but this 35-year-old recording shows its age with notable glare in the top end. The 8c's, though, let all of Dame Emma's characteristic bell-like sound leap across the decades into my room. The D&Ds' treble was clear and extended, and its integration with the midrange, at the low crossover frequency of 1250Hz, presented high voices with purity.
The 8c's subjective tonal balance—likely related to its controlled cardioid dispersion, which minimized colorations created by room reflections—made it easy for me to "hear into" ensembles and ambiences and projected aural images of individual voices and instruments as well as any speakers I've heard, including planar models. Unlike planars, the D&Ds didn't throw the soundstage forward — instead, it began at the plane described by the speakers' front baffles and extended deep behind them. The result was less obviously impressive but seemed more honest.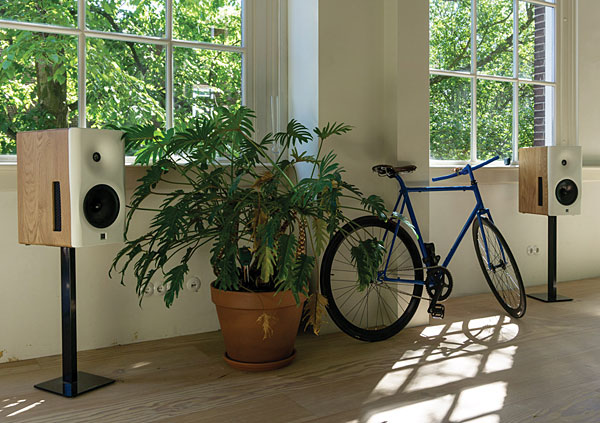 D&D recommends that the 8c's and the listening position form an equilateral triangle, with the speakers toed in 45°. When I tried this, the soundstage extended beyond the outer side panels of the speakers, which "disappeared" as discrete sources of sound. However, this required that I sit closer to the speakers than I usually do, and moving the sofa has serious consequences in domestic politics. Besides, I strongly prefer that the music be "there" in front of me, not "here" in my lap. When I moved back to my usual spot and reduced the toe-in angle, to keep the speakers' driver axes aimed at me, the soundstage widened satisfactorily. If my room were a bit wider, I could sit farther back and keep all the magic.
Comparisons and conclusions
Like the Kii Audio Three and the B&O Beolab 90, the Dutch & Dutch 8c offers freedom from major room effects to a degree beyond that offered by any consumer automatic room-correction software. All three speakers sound like transparent windows into the original performance space, though they don't sound identical. The 8c's sound is warmer and less obviously detailed than the Kii Three's, but I don't think that's anything more than a slight shift in perceived balance due to the 8c's fuller, more powerful bass. The Beolab 90 produced in my room a bass balance less generous than the 8c's but more generous than the Kii Three's—this without its recently released BXT bass module.
At the other end of the audioband, the B&O and Kii had more expressive top ends and more easily communicated the air and space of recordings than the D&D did. Comparing a speaker like the 8c with conventional speakers is difficult: such a system internally integrates so many functions—eg, controlled dispersion, active amplification, DSP (for crossover, room correction, equalization), and direct digital input — that for a passive speaker are performed by other, separate components. The D&D 8c demonstrates that active, DSP-empowered speakers are the future.
As things stand now, I think that the Dutch & Dutch 8c might be the sweet spot in the new category of active speakers. It's a truly full-range system with enough dynamic range and power for almost any domestic situation. I found it a pure delight to sit with my iPad on my lap and enjoy the high-resolution music from my Roon library through Dutch & Dutch's wonderful 8c speakers.