Denon DCD-2560 CD player Measurements
Sidebar 3: Measurements
There was little or nothing to fault in the Denon's measured response. Its frequency response (fig.1) showed nothing worth commenting on except for a dip and rise above 6kHz (no more than ±0.2dB in any case). The channels are also well matched. The de-emphasis response (fig.2) is nearly ideal, indicating consistent playback of both pre-emphasized and non–pre-emphasized discs (the latter being in the great majority). The squarewave response (fig.3) is typical of the linear-phase digital filters common in Japanese-sourced equipment, with a very slight emphasis to its leading edge correlating with the slight peakiness at 20kHz noticeable in fig.1. The crosstalk (fig.4), while differing slightly between channels, is, in any event, so low as to be insignificant. (The top curve, referenced at 200Hz, indicates the crosstalk from right to left, the bottom curve the opposite.)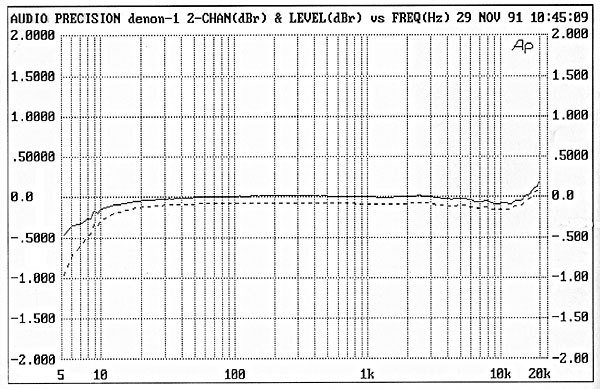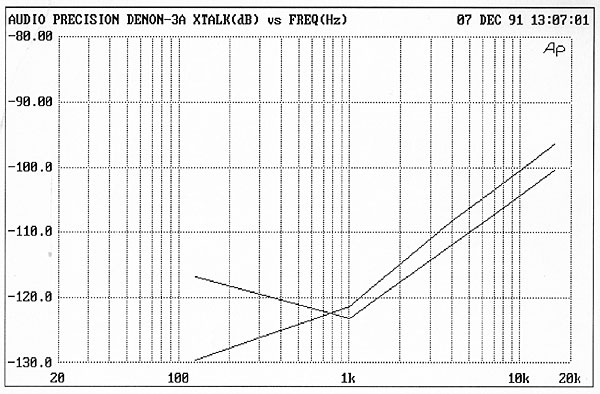 Fig.5 shows the spectral content of the Denon's output when decoding a dithered 1kHz sinewave at –90.31dB. Power-supply–related noise is absent, or at least buried in other low-level noise; there are no significant distortion artifacts; and linearity is excellent. The last is more completely shown in fig.6 (only the right channel is shown; the left was practically identical). Linearity stays within 1dB down to below –110dB, averaging out the low-level noise; some of this noise is from the player, some from low-level dither noise on the disc.
Listening to the fade-to-noise with dither track from the CBS CD-1 test CD through headphones revealed a single birdie or whistle riding below the level of the signal shortly after the sweep began (estimated at between –60 and –70dB). The whistle disappeared after a couple of seconds and the signal continued cleanly down to the noise floor. Fig.7 shows the noise spectrum of the player when reading a silent band on a test disc (or infinity-zero without emphasis, as it's commonly called on CD test discs). A minor amount of 60Hz noise is evident on the left channel, if hardly a problem at under –110dB, and the noise at high frequencies remains consistently low.
In fig.8, a –90.31dBFS undithered 1kHz sinewave gives a reasonably clear picture of the expected stairstep response from this signal, overlaid with the noise found in most players. And fig.9 indicates the player's output spectrum from an equal mix of 19+20kHz sinewaves with the combined waveform peaking at 0dB. While there is an excellent freedom from intermodulation products at 1kHz, 18kHz, and 21kHz, the aliasing products at 24.1kHz and 25.1kHz are a little higher than usual, indicating the particular filter chosen by Denon to have slightly less ultrasonic rejection than normal. This is probably inconsequential—the cursor position shows the 25.1kHz product to be almost 60dB down from the 19kHz tone or 0.1% of its level.
I measured zero DC offset from the outputs of both channels. The output was polarity-inverting, and the output voltage when decoding a 0dB sinewave measured 2.27V (left channel) and 2.24V (right), both around 1dB above the standard CD playback level. The output impedance from the fixed outputs was within 1 ohm of 147 ohms on both channels. The variable output had an output impedance of 146.5 ohms with the volume full-up, but increased to 2422 ohms at a setting of 12:00 (measured on the left channel), which will give some HF rolloff with very long or very capacitive leads between the player and preamplifier.—Thomas J. Norton