dCS Rossini Apex D/A processor Measurements
Sidebar 3: Measurements
I measured the dCS Rossini Apex with my Audio Precision SYS2722 system, repeating some measurements with the higher-performance APx500. I performed the testing with the serial data and USB inputs then repeated some of them with JVS's preferred Network input, using Roon.
The AES3 and coaxial S/PDIF inputs accepted data sampled at all rates up to 192kHz. TosLink was restricted to 96kHz data. I didn't test the Rossini's dual-AES3 input, but as with earlier dCS processors, it will accept data sampled at rates up to 384kHz. Apple's AudioMIDI utility revealed that the dCS Rossini Apex accepted 16- and 24-bit integer data via USB sampled at all rates from 44.1kHz to 384kHz. Apple's USB Prober app identified the Rossini Apex as "dCS Rossini DAC USB class 2" from "Data Conversion Systems Ltd" and confirmed that the USB port operated in the optimal isochronous asynchronous mode.
The dCS Rossini Apex's analog outputs preserved absolute polarity (ie, were noninverting) from all the digital inputs. The maximum output can be set to "6V," "2V," "0.6V," and "0.2V." With full-scale 1kHz data and the volume control set to its maximum, I measured 5.95V, 2.014V, 594.7mV, and 201.3mV from the balanced outputs and very slightly lower voltages from the single-ended outputs. The balanced output impedance was an extraordinarily low 2 ohms from 20Hz to 20kHz. The single-ended output impedance was 51 ohms, again at all audio frequencies.
The Rossini Apex offers a choice of six reconstruction filters. All six filters are functional with data having a sample rate of 44.1, 48, 176.4, and 192kHz, but only the first four (F1–F4) operate with data sampled at 88.2 and 96kHz. (In this respect, the Rossini Apex is identical to the dCS Vivaldi D/A processor that Michael Fremer reviewed in January 2014.) The behavior of these filters was the same as that of the Vivaldi's filters. Fig.1 shows the F1 filter's impulse response with 44.1kHz data. (F6's impulse response was identical.) It is typical of a linear-phase reconstruction filter, with equal amounts of ringing before and after the single sample at 0dBFS. Filters F2, F3, and F4 also had linear-phase impulse responses but with progressively smaller amounts of ringing. F5 was different. Its impulse response was a minimum-phase type, with all the ringing following the single full-scale sample (fig.2).
With 44.1kHz white-noise data (footnote 1), F1, F5, and F6 rolled off rapidly above the audioband (fig.3, magenta and red traces), reaching full stop-band attenuation at 22.05kHz. They are therefore apodizing types. F2, F3, and F4 offered progressively slower ultrasonic rolloffs with 44.1kHz data, with F4 not reaching full stop-band attenuation until 30kHz (fig.3). With a 19.1kHz tone at –3dBFS (cyan, blue; with the tone at 0dBFS, many aliasing products were present in the audioband), the slow rolloff means that the aliased image at 25kHz is only suppressed by 12dB. The harmonics associated with the 19.1kHz tone were all extremely low in level, however. Figs.3 and 4 were taken with DXD upsampling. Changing to DSD upsampling gave a sharp upward slope in the ultrasonic noisefloor (fig.5). DSD2 upsampling also gave a rise in ultrasonic noise (fig.6), but with a less extreme upward slope.
The F1 filter's frequency response with data sampled at 44.1, 96, and 192kHz (fig.7) was flat to just below half of each sample rate, with then a fast rolloff. The rolloffs were slower and started progressively earlier with F2, F3, and F4 (fig.8). F5, which I understood from JVS was his preferred filter for 44.1kHz data, gave a sharp rolloff at that sample rate (fig.9, green and gray traces) but a slower rolloff with 192kHz data (blue, red) that reached –6dB at 40kHz. F6 behaved identically to F5 in this respect.
Channel separation (not shown) was superb, at >125dB in both directions below 1kHz decreasing to a still excellent 113dB at the top of the audioband. The low-frequency noisefloor (fig.10) was free from any power supply–related spuriae, with a very low level of random noise.
The red trace in fig.11 plots the error in the analog output level as a 24-bit, 1kHz digital tone steps down from 0dBFS to –140dBFS. (The Rossini Apex was set to Map 1, its output level to 6V, and the volume control set to its maximum for this and the next three measurements.) The amplitude error is negligible until the signal lies below –135dBFS, which implies very high resolution. Repeating the test with Map 2 and Map 3 gave virtually identical results. An increase from 16 bits to 24 bits with dithered data representing a 1kHz tone at –90dBFS (fig.12) dropped the dCS Rossini Apex's noisefloor by 26dB, which implies a very high resolution of between 20 and 21 bits. When I played undithered data representing a tone at exactly –90.31dBFS, the waveform was symmetrical, with the three DC voltage levels described by the data cleanly resolved (fig.13). Repeating the measurement with undithered 24-bit data gave a well-formed sinewave (fig.14).
JVS told me that he preferred the Ring DAC's Map 1 with network data. I repeated the low-level resolution tests with data sourced over my network from Roon and with Maps 2 and 3, but I didn't find any significant differences.
The dCS Rossini Apex produced very low levels of distortion—so low, in fact, that it challenged the SYS2722's resolution (fig.15). I therefore used the higher-resolution APx500 analyzer to examine the harmonic distortion. With a full-scale 1kHz tone and the Rossini set to output its highest level of 6V, the THD+noise measured just 0.00026%! The second harmonic was the highest in level, at a vanishingly low –124dB (fig.16), and though some higher-order harmonics were visible in this graph, they all lie at or below –130dB. This spectrum was taken with TosLink data and a load of 100k ohms; the levels of the harmonics were the same with network data and didn't increase by any significant amount when I reduced the load impedance to 600 ohms.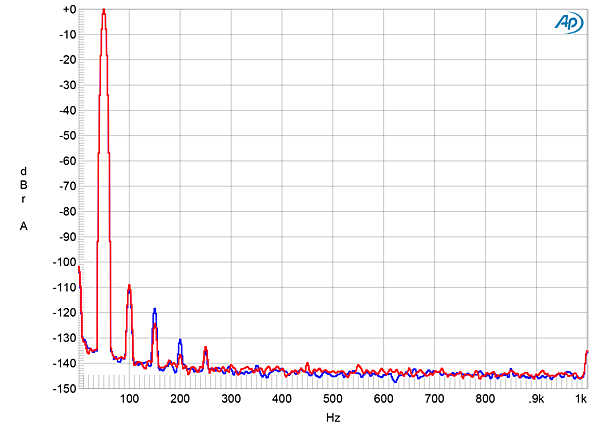 Intermodulation distortion with an equal mix of 19 and 20kHz tones with a peak level of 0dBFS was vanishingly low in level (fig.17). This graph was taken with DXD upsampling and the fast-rolloff F6 reconstruction filter. Aliased images of the primary tones appeared above the audio-band with the slowest-rolloff F4 filter, but actual intermodulation products were still as low as they had been with F6.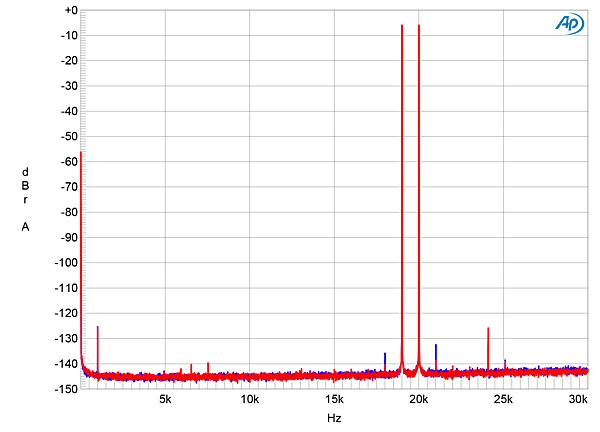 Fig.18 shows the spectrum of the Rossini Apex's output when it was fed high-level, optical, undithered, 16-bit J-Test data. The odd-order harmonics of the undithered low-frequency, LSB-level squarewave lie at the correct levels, indicated by the sloping green line, and the noisefloor between the sidebands is extremely low in level. Repeating the test with 24-bit J-Test data (not shown) gave a similarly superb result.
Overall, the dCS Rossini Apex's measured performance was beyond reproach.—John Atkinson
---
Footnote 1: My thanks to Jürgen Reis of MBL for suggesting this means of displaying the performance of a DAC's reconstruction filter.