DALI Rubicon 8 loudspeaker Page 2
Disc 1 of the Hollies'
50 at Fifty
(3 CDs, Parlophone/Rhino RP222354) has most of the British band's hits, and while the midrange quality on these recordings is gritty, the DALI's clarity in the bottom octaves allowed to me to appreciate again, after five decades, what a great player Eric Haydock, the original bassist, was. Even on a harmonically simple song like Maurice Williams's "Stay," Haydock's bass lines, rendered with clarity and weight by the Rubicon 8s, are more complex than you might expect.
Was the Rubicon 8's treble balance being unkind to the vintage Hollies recordings? That combination of dome and ribbon tweeters is not backward about coming forward, but when I played a naturally balanced classical recording, such as the Takács Quartet's performance of the two Brahms string quintets, recorded by erstwhile Decca engineer Simon Eadon and produced by an old colleague at Hi-Fi News magazine, Andrew Keener (ALAC files ripped from CD, Hyperion CDA67900), the high frequencies sounded in the correct balance, with the midrange and the violas and cello uncolored.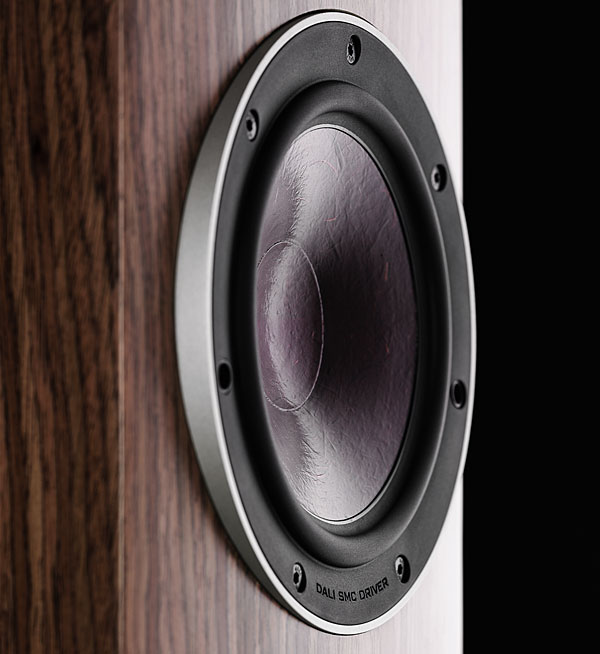 In fact, the Rubicon 8's reproduction of the top octaves was superb. Michael DiPasqua's cymbals at the opening of "Concert for Bass" on Endless Days, as Weber makes his lyrical solo entry, weren't exaggerated, the tick of the transients as DiPasqua plays the bell of the cymbal supported by quiet but well-defined ringing. Similarly, Steve Nash's cymbals in Kurt Weill's "Trouble Man," on Frank Kimbrough's Quartet, a jazz CD (Palmetto PM 2173) I bought after reading Fred Kaplan's enthusiastic review, were reproduced with their metallic sheen intact. The dense mix in "The Call," once it gets going, with both Nash and bassist Jay Anderson verging close to overplaying, would sound muddled through lesser speakers but was well decoded by the Rubicons.
This album was recorded in Brooklyn at Systems Two, a studio I know well, and the piano sounds a little more characterful in the upper midrange than I was expecting from hearing that piano live. I reached for solo piano recordings, specifically the late Jorge Bolet's performance of Liszt's Années de pèlerinage (Suisse) (ALAC files ripped from CD, Decca 410-160-2), and another album I picked up on Fred's recommendation, Paul Bley's anagrammatically titled Play Blue (CD, ECM 2373). The Bolet dates from 1983 and was recorded in London's Kingsway Hall; the Bley is a live recording from 2008.
Fred has enthused over Play Blue's sound quality, writing that it captures Bley's "crisp articulation, dynamic variations, and fine pedal work, as well as the ambience of the Norwegian hall." However, the piano sounded a touch too clangorous through the DALIs, and the sound was overlaid with some high-frequency fricatives: an f-f-f-f modulation noise that seemed to be emphasized by the ribbon supertweeters. By contrast, Bolet's Bechstein piano on the Liszt CD sounded magnificent overall, with excellent clarity and a natural midrange, other than a slight emphasis to some notes at the top of the treble staff. And both recordings were reproduced by the DALIs with superb weight to the instrument's left-hand register.
DALI specifies that the Rubicon 8's dome and ribbon tweeters are crossed over to each other at 14kHz. Covering the dome with my hand while I put my ear to the ribbon revealed that the latter carries very little signal, especially with instruments like Robert Silverman's Steinway on my recording of him playing Liszt (20-bit/44.1kHz AIFF master files for Sonata, Stereophile STPH008-2). But listening with the dome tweeters covered to Bolet's Liszt revealed that this early digital recording did suffer slightly from top-octave modulation noise and occasional spurious top-octave tones, though these were inaudible at the listening position. Doing the same with Play Blue suggested that the fricative coloration was not modulation noise but was due to Bley's breathing.
With all recordings I played, the Rubicon 8s threw a solid, well-defined, impressively stable soundstage, with precise layering of image depth. I again reached for Editor's Choice and selected the dual-mono pink-noise track. My seat places my ears level with the Rubicon 8s' dome tweeters, and from this position the pink noise sounded smooth, with no emphasis of any particular frequencies. If I sat upright, so that my ears were level with the ribbon unit, the top octave sounded a tad separated from the mid-treble. The Rubicon 8s produced a very narrow central image with pink noise, without any "splashing" of that image to the sides at some frequencies. Moving my head from side to side, I could hear some slight comb filtering—something Gordon Holt used to call "vertical venetian blinding"—but the treble balance changed very little. This is a wide-dispersion speaker.
Summing Up
The world of relatively affordable tower speakers has become increasingly competitive, whether they be 3-way, 2½-way, or, like the DALI Rubicon 8, 2½+½+½-way. In recent issues, we have published reviews of superb-sounding models from Bryston, DeVore Fidelity, Focal, GoldenEar, KEF, Monitor Audio, and Vienna Acoustics, as well as of the Triangle speaker I mentioned at the beginning of this report. DALI's clear, clean, uncolored Rubicon 8 joins that group of high-performance loudspeakers, each of which shines light on the music from a slightly different direction, and all of which are highly recommended.