Creek 5350SE integrated amplifier Measurements part 3
On continuous sinewave testing with both channels driven (fig.9), the 5350SE met or exceeded its specified clipping power, delivering 90Wpc into 8 ohms (19.5dBW), and 120Wpc into 4 ohms (17.8dBW) at the standard 1% THD+noise point. And on the 1kHz toneburst test with just one channel driven (fig.10), the Creek gave the lie to its modest size, delivering 199W into 8 ohms (black trace), 201.5W into 4 ohms (red), 299.3W into 2 ohms (blue), and a staggering 378W into 1 ohm (green)!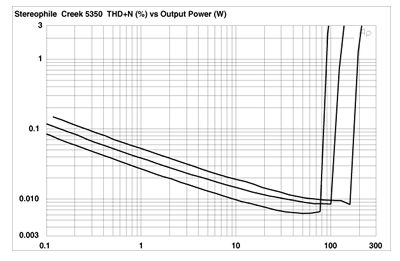 Fig.9 Creek 5350SE, distortion (%) vs continuous output power into (from bottom to top at 10W): 8 ohms, 4 ohms, and 2 ohms.
Fig.10 Creek 5350SE, distortion (%) vs 1kHz burst output power into 8 ohms (black trace), 4 ohms (red), 2 ohms (blue), and 1 ohm (green
Bob Reina described this amplifier's designer, Mike Creek, as a revolutionary. The Creek 5350SE's measured performance confirms that Mike has packed something special into this amplifier's unprepossessing package.—John Atkinson
COMPANY INFO

Creek

US distributor: Music Hall

108 Station Road

Great Neck, NY 11023

(516) 487-3663

ARTICLE CONTENTS