Chord Hugo DAC/Headphone Amp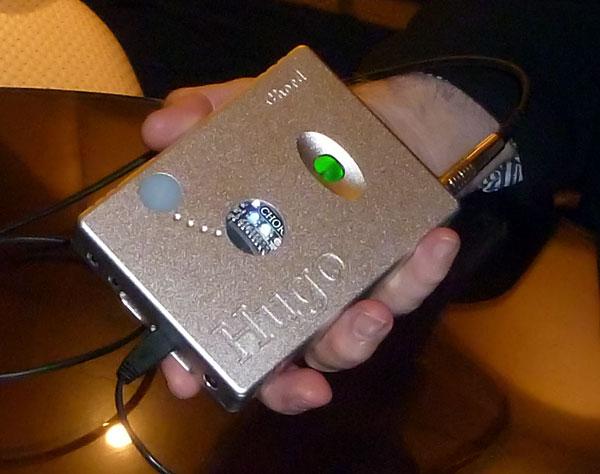 Chord's John Franks (below) was trying hard to contain his enthusiasm. "Everything we've done has been leading to this point" he intoned dramatically while holding the new Hugo DAC/Headphone Amp in his hand.
Aimed at both the headphone enthusiast and home listener, the Hugo (goes everywhere "you go") has five digital inputs including 24/192 optical, 24/384 Coax SPDIF, 16/48 driverless USB (for tablets/phones), 32/394 or DSD128 USB, and A2DP Bluetooth link. Outputs include two 3.5mm headphone jacks, 1/4 inch headphone jack and a pair of RCA jacks.
Inside is a rechargeable Li-ion battery for portable use, since the USB does not draw any power and of course, FPGA circuitry which the company is known for. And colors. Chord is also known for putting a window into their DAC's soul on the top of their cases (which indicates the resolution of what's playing), and for the Hugo, they've added a colorful volume control marble as well.
Price in the US will be $2395 when the Hugo is released in the next few weeks.