CH Precision I1 Universal integrated amplifier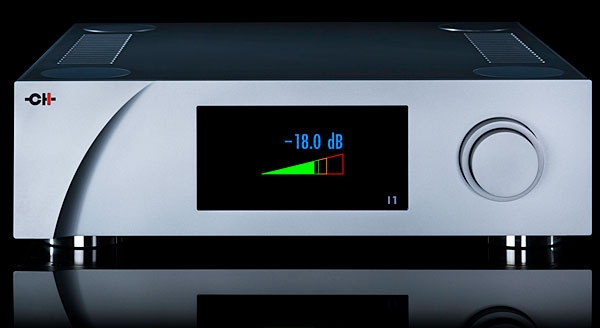 "The sound was to die for," I wrote shortly before my resurrection. I was taking notes about the sound of CH Precision's D1 SACD and CD Drive (now $38,000) and C1 D/A Controller (base price $32,000), in the demo room of Michael Woods's Elite Audio Systems, at the California Audio Show, just three months after the 2015 edition of the Munich High End show. CH Precision's L1 dual-mono, solid-state preamplifier (now $58,000), M1 dual-mono power amp ($104,000), and X1 external power supply ($17,000) had helped deliver "fantastic sound."
When I first encountered CH Precision gear, in Gideon Schwartz's AudioArts room at the 2014 Consumer Electronics Show, I gushed that their M1 monoblocks (now $104,000) powered "an extremely fast system that delivered maximum color without any of the harsh, irritating edge that I encountered on many systems." I left "deeply impressed by the upward extension of the tone and the system's willingness to bathe music with the light it deserves."1
Less than five years earlier, in 2009, two longtime friends, electronic-design engineer Florian Cossy and software engineer Thierry Heeb, had used the first letters of their surnames to name their new company, CH Precision. Previously, they'd founded Anagram Technologies and Orpheus, and had worked together at Goldmund. The impetus to found CH Precision had come from a Japanese distributor who, impressed by Cossy's knowledge, offered to distribute his brand if he wanted to start a new company.
Given that systems including CH gear have sounded different at different shows, I knew I could get a handle on the company's house sound only by auditioning one of their products in my reference system. That long-held hope came to fruition when, last October, three days before the start of the 2018 Rocky Mountain Audio Fest, CH Precision's Raphael Pasche journeyed from Préverenges, Switzerland, to my place in Port Townsend, Washington, to install a fully loaded CH Precision I1 Universal Integrated Amplifier (base price $38,000).
What is the I1 Universal?
CH Precision's website says that to come up with the I1 Universal integrated, they tried to "Gently squeeze and collect" in a single device "the essence and soul" of their A1 stereo power amplifier ($37,000), C1 D/A controller ($32,000), L1 stereo line preamplifier ($34,500), and P1 stereo phono stage ($31,000). Potentially, that's a helluva lot of soul for a lot less than the hellish sum of $134,500 required to collect all four body parts.
All CH products, which are assembled in-house, boast modular architecture that enables implementation of new formats and technology, as well as expansion of a model's capabilities by the addition of cards containing circuitry and jacks appropriate to those function(s). For example, the I1's factory-fitted DIG_IN_HD board, included in the base price, supplies S/PDIF, AES/EBU, TosLink, and CH-Link HD digital inputs. Also included are one pair of balanced (XLR) and two pairs of single-ended (RCA) analog inputs, and two stereo preamplifier outputs (XLR).
My review sample also included every one of the I1's modular options: the USB-IN board, with asynchronous USB input ($3000); the ETHERNET-IN streaming board ($5000); the PHONO_I1 current-sensing moving-coil phono stage, with EQ filters for RIAA, eRIAA, EMI, Teldec, Decca, and Columbia LPs ($4500); and the SYNC_I/O clock-synchronization board ($1500), to enable use of an external clock. That brought the I1's price, as reviewed, to $52,000.
If the Ethernet streaming board isn't ordered, the I1 comes with the alternative Ethernet Control Board, which doesn't carry audio but does permit the remote control of settings via the CH Control app (more on that below). Thanks to the I1's modular construction, the Ethernet Control Board can be later swapped out for the Ethernet streaming board. If a customer isn't interested in USB streaming but needs additional AES, S/PDIF, TosLink, or CH-Link HD (a proprietary interface for connection to other CH Precision digital products) inputs, the slot reserved for the USB input board can hold a second DIG_IN_HD board, which doubles the number of digital inputs.
If you want to upgrade by adding CH's C1 D/A controller, the I1's digital input card can be transferred to the C1. "You can evolve your system by adding other CH components without having to throw something away or trade it in," Raphael Pasche explained during his visit.
You can also expand the I1's capabilities by adding various CH separates: the D1 SACD and CD Drive ($38,000) by means of the CH-Link HD cable ($2000/m), the T1 Time Reference clock generator ($24,700) via the Reference Clock-Link cable ($4500), and the P1 stereo phono stage ($31,000) with a choice of various add-ons. CH Precision offers as many options as the menu of a Chinese restaurant: Adding one from column A and two from column B as you try to avoid column D can trigger early-onset dementia.
The I1 can function solely as a DAC-preamp by connecting its XLR preamp outputs to an external amplifier. This allows you to biamp a pair of loudspeakers, with the I1 driving the highs and a CH Precision power amp of the same gain (the M1 or A1) driving the lows.
The I1's biggest internal component is a 1000VA, galvanically isolated, toroidal transformer that feeds juice to all of its 15 analog and digital power supplies, each of which is completely isolated from the others. The amplification stage is all discrete, and the output stage is class-AB push-pull.
Users can fine-tune the I1's amplifier section to their speakers by adjusting the ratio of global vs local feedback, which affects the damping factor. The I1's default setting of 0% global and 100% local feedback can be changed in increments of 20% (eg, 20% global, 80% local) without affecting the amp's overall gain. If you biamp speakers by pairing the I1 with another CH amplifier, you can adjust each amp's ratio of local to global feedback to balance the speakers' highs and lows.