Cayin SP-10A Integrated amplifier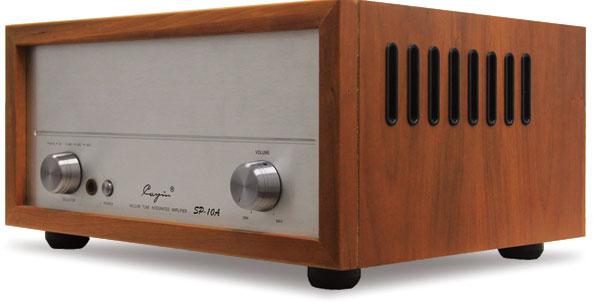 Stereophile
has reviewed two integrated amplifiers from Chinese manufacturer Cayin in the past: the A-50T, which I wrote about very positively in
March 2008
, and the A-300B, which Art Dudley reviewed in
February 2007
. So when I read about Cayin's $2195 SP-10A integrated amplifier, which has a wood-covered sleeve, just like the old Marantz and McIntosh gear and offers 38 watts of push-pull power, in our coverage of the
2008 CES
, I put in on my must-write-about list.
When Steve Leung, of importer Valve Audio System (VAS) Industries, commissioned the design and manufacture of the SP-10A, he was driven by his love of the sound of the 6L6GC output tubes in his vintage McIntosh MC-240. Leung believes that the smooth, fluid midrange character of the 6L6GC power tube is superior to that of either the EL34 or KT88 tubes, and that this makes it a better choice for recordings of vocal music. The 6L6GC also "feels more powerful" to Leung, which leads him to think it better supports an amplifier driving difficult speaker loads. In addition to the four 6L6GCs, the SP-10A also has one 12AU7 phase splitter/driver tube per channel, and one 12AX7 input tube, which is shared between channels. The amp, which is wired point to point, has four line-level single-ended inputs, and both 4 and 8 ohm speaker outputs. The minimalist remote control has buttons for input selection, volume, and mute.
The SP-10A is a stunning piece of artistic machinery. Its faceplate of brushed aluminum fronts a cabinet of gorgeous cherrywood (walnut and piano lacquer are also available), which made it a natural visual match for the Epos M5i bookshelf speakers I used for the test, driving the speakers from the Cayin's 4 ohm output transformer tap. Not only did the cherry finishes match precisely, I'd swear that the high-quality wood used for all three cabinets was cut from the same tree.
The Cayin is not only solidly built; by a wide margin, it's the densest component I've reviewed in 25 years: an integrated amp weighing 44 lbs but measuring only 16" wide by 8" high by 13" deep.
I found two features of the SP-10A quite odd. First, it has a small speaker, which emits a long, high-frequency beep at turn-on, and shorter beeps when an input is selected, either with the knob on the front panel or with the remote control. Second (Mikey Fremer will love this), the Cayin automatically resets its input selector to CD on power-up, regardless of which input was engaged when the unit was powered down. As I spent much of my time with the SP-10A listening to LPs, I found this somewhat annoying.
Listening
In my very first listening session with the SP-10A, I was hit between the ears by what turned out to be its greatest strength: a seductive, lush, natural, palpable midrange with uncanny resolution of inner detail and ambience. I immediately grabbed some albums with well-recorded vocals. In the a cappella rendition of "Red River Valley" on Cassandra Wilson's Thunderbird (CD, Blue Note 72438), her voice was silky, rich, and voluptuous, every nuance clearly delineated by the Cayin's linear resolution of low-level dynamics. I had a similar experience with "The House of the Rising Sun," from Bob Dylan (LP, Columbia CL 7579)—all the subtle, husky, nasal details of Dylan's unique voice were preserved intact.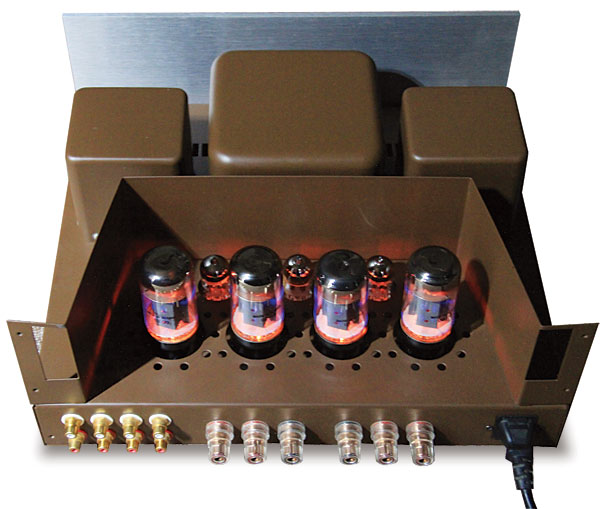 And it was obvious how engineer Dave Hassinger had bathed Mick Jagger's voice in way too much reverb against a background of pristine harpsichord in "Lady Jane," from the Rolling Stones' Aftermath (UK LP, Decca 820 050-1). But what really floored me was listening to "Some People's Lives," from Janis Ian's Breaking Silence (CD, Morgan Creek/Analogue Productions CAPP 027). That track—probably the most overplayed recording in my house—is quite revealing of subtle nuances. Through the Cayin, I heard Ian's intake of breath before each sung line more clearly than I ever had.
Classical recordings that spotlight woodwind instruments also showed off the Cayin's midrange capabilities. Antony Michaelson's clarinet, in his performance of the Mozart Clarinet Concerto with Robert Bailey leading the Michaelangelo Chamber Orchestra (CD, Musical Fidelity MF 017), was vibrant, airy, and holographic, with the purest rendition of his instrument's midrange timbre that I've heard in either of my reference systems. The Cayin could also unravel complex midrange textures. Pianist McCoy Tyner's chunky, dissonant chord clusters in "Passion Dance," from The Real McCoy (LP, Blue Note BST 84264), were clear and clean—it was very easy to pick out each note within the natural dynamic envelope of his phrasing.
I found the SP-10A's high-frequency reproduction to be detailed, airy, and clean, though I've heard other integrated amplifiers with more top-end sparkle. Well-recorded strings were slightly sweetened, in a tubey, slightly euphonic way—whether it was the interplay between violinist Jenny Scheinman and cellist Hank Roberts on Bill Frisell's Richter 858 (CD, Songlines SGL SA 1551-2), or the massed strings in the more dramatic passages of Fritz Reiner and the Chicago Symphony Orchestra's reading of Hovhaness's Mysterious Mountain (LP, RCA Living Stereo LSC-2251). In either case, strings sounded silky, attractive, and not overly cloying.
At the bass end of the spectrum, George Duvivier's bass solos on Eric Dolphy's Eric Dolphy (LP, Prestige 24008) were reproduced with natural woodiness, tactile definition, and not a trace of plumminess. The SP-10A was definitely not a hard-rock amp, however. I cranked up "Government Hooker," from Lady Gaga's Born This Way (CD, Streamline 0602577218385), to fairly loud levels, but the music never got much louder than forte during the accented downbeats. The Cayin didn't sound as if it was clipping, and the bass didn't distort or lose definition; the amp just seemed to run out of high-level dynamic gas when played so loud.
The SP-10A's ability to render ambience and a sense of room acoustic was most evident with classical vocal music. In Luc Ferrari's Chansons pour le corps (CD, Mode 81), with Yves Prin conducting the Nouvel Orchestre Philharmonique, the broad range of soprano Elise Caron was vibrant and natural—even the top of her range was perfectly reproduced, with no sense of harshness or rolloff, her voice floating on a bed of air throughout the recording.
The SP-10A's reproduction of transients was lightning-fast with every recording I tried, but with neither smearing nor unnatural sharpness. In Bang on a Can's recording of Terry Riley's In C (CD, Cantaloupe CA 21004), the transient integrity of the eclectic orchestration was preserved perfectly—the group breathed as in a live performance. The interplay of percussionists Reggie Workman and Doug James on Gaia, an early free-jazz album by pianist Marilyn Crispell (LP, Leo LR152), gets pretty cacophonous at points, but there was no trace of overhang or hardness, and the senses of air and extended harmonics were perfectly intact.
The recording that brought all of the Cayin's strengths together was Charles Wuorinen's performance of his Speculum Speculae with his Speculum Musicae ensemble (LP, Nonesuch 71300). Richard Fitz's cacophonous percussion interludes are separated by long passages of space, and every one of his battery of instruments popped out of thin air with perfect transients, and—for instruments with significant high-frequency content—a shimmering, extended, natural harmonic structure.
Comparisons
I compared the SP-10A ($2195) with my current reference integrated amplifier, a Creek Destiny ($2395) . Each was a very neutral performer with a warm, inviting midrange. However, their overall presentations of texture in the midrange, particularly of voices, differed a bit. The Cayin seemed to bathe voices in a golden glow, while the Creek enveloped them in a silvery sheen. The Cayin resolved a significantly greater amount of detail and ambience in the midrange (though the Creek was still excellent in this regard), and reproduced a linear, low-level dynamic envelope from pppp to p even better than the Creek did. But the Destiny was far superior in its rendering of high-level dynamics.
The Creek's high frequencies were more extended but less airy than the Cayin's, but both amps' overall timbral presentations were quite natural. Their reproductions of the midbass were equally natural, though I felt the Creek was capable of a bit more bottom-end slam. Each amp's reproduction of transients was very fast and natural, but again, with different textures. The Cayin's transients seemed a bit softer and more delicate, while the Creek presented slightly sharper envelopes.
Summing up
Cayin has created another winner with the SP-10A—a neutral, detailed, and involving integrated amplifier that performs at a level higher than one would expect for the price. And that cherry cabinet is dead gorgeous.